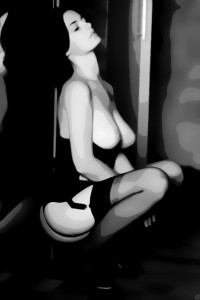 Dear Delicious Mona,
I want you too. Your outrageous stripping in front of the man you picked up in that bar got me so excited that I didn't know what to do with myself for several days. I wandered around the city muttering "I want you" to myself, imagining you locked in the words of your last experiment, speaking them to absolutely everyone who caught your eye, imagining you fucking strangers in mysterious rooms, imagining you wrapping your lips around the cock of that man you desired and let catch you stripping…and imagining your lips around mine, remembering my own glimpse of your tight curves as you stripped for me too.
I don't know what to do with you, Mona. You make it difficult on a secret sexual mastermind. I have the feeling that I could dare you to incite an orgy in a busy restaurant, and you'd immediately be naked and surrounded by a throng of buff, writhing waiters. Sometimes I think you're just toying with me, or generously pretending to be "challenged" when my dares don't scare you in the slightest. Are you capable of absolutely everything, my erotic goddess? And if so (or even if not): want to come over?
Here's what I've decided, Wild One. I've decided I need help. I need boots on the ground. I need first-hand intelligence. So here's the first part of this erotic experiment: get laid. And yes, I can hear you sniffing disdainfully from here – it does seem clear that getting a man into your bed is not a challenge in the slightest. I don't know how many times a week this occurs (though I imagine at least one), and I don't know how many studs you keep in your stable (though I imagine it's a stable), but I do figure you'll be having sex soon enough. That's the easy part. Here's the potentially hard part: this sex dare is to get the man in your bed to give you a sex dare.
Are you following me? At some point in your sexual interlude, I want you to ask your lover of the moment to give you a challenging dare. You might make this easier by explaining our strange relationship and some of the erotic experiments we've undertaken together, or you may wish to propose your little game completely out of the blue. I imagine the way you present the game will depend on the man you're with, and whether he's the type that needs pushing or the type that pushes you. Whatever happens, I want to know about it (of course). I want to know what he does to your body, and how your body responds. I want to know what he makes you feel like doing, and exactly how your lust leads you to do it. And then I want to know how you propose that he give you a sexual dare, what that dare is, and how you succeed (or fail?) at it. Of course I can hardly imagine failure when it comes to my lusty Mona, but whatever happens, I know that – as always – you'll turn me on.
Wet kisses all over those sexy curves,
X
Need to catch up? Read the Sex Experiment from the beginning: Table of Contents
Then subscribe to our newsletter for a free copy of Mr. X's hot, hot novel, The Known Experiment, and choose to get updates on blog posts, books, and special offers.