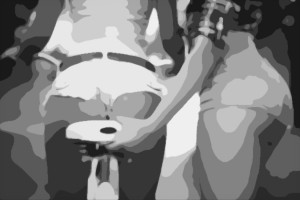 Here's a dirty cycling fantasy from reader ellariasand, which includes this sentence – "I might not be the best at off-camber handling, but I can still navigate other types of curves." – and then gets really, really hot. Let her know your thoughts in the comments section, and enjoy!
Almost a year since the original bicycle experiment, I've found a new object of lust. Odds of ensnaring him are rather low, but he is rather flirtatious online and has a reputation of being a bit of a heartbreaker.
I'm getting ahead of myself.
After a few drinks with some of my bike shop friends, I somehow agreed to join the shop's cyclocross team. Of course, I had no idea what this agreement meant, but let me just say that cyclocross is a level of pain/crazy reserved only for the most masochistic. Ride as hard as possible in short intervals, but with the stamina to last the full race and maneuver around tricky curves…. Yeah, you see where I'm going with this. Continue reading Friday Fantasy: Cyclocross Sex →