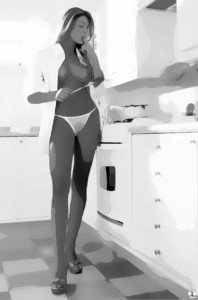 Dear Suntanned Savage,
That body that eased over against yours as you suntanned topless on that beach? That was me. That hand that caressed your thighs, then slipped past the elastic of your bikini to stroke your moistened pussy? That was mine. That cock you felt against the bared flesh of your ass, which then split you so deliciously from behind? That was mine too. You, my naked adventurer, are an amazing fuck. I've been wandering the beach ever since looking for you to materialize again like a mirage, for you to be splayed out on a beach blanket waiting for more, and more.
This experience (alas, only in my mind) also got me thinking about the anonymity in your fantasies. What I mean is this: whether you're attending an orgy, fucking a stranger in the bathroom of a bar, or lustfully waiting to be taken on that beach, the men in your fantasies tend to be anonymous strangers. I wonder if that's because the men you know don't inspire such fantasies, or, more likely, you haven't permitted yourself to fantasize about them.
Then I remembered your Dinner Experiment, where you were clearly attracted to your neighbor and let him know it. Then, of course, I began to get ideas.
More specifically, I decided to start my own little war against anonymity, and here's the way we do it: borrow something from the neighbors – olive oil, a power drill, salt, trash bags, whatever you find you need. Hopefully the husband will be at home when you knock at the door. If not, from your description the wife is a worthy non-anonymous sex object herself. Wear something casual, something you can strip off quickly. Stay as long as you wish, talk about whatever you like, go ahead and have that non-anonymous sex orgy right away if you get inspired, but when you leave, I want you to leave something behind.
Make it a purse, a key, a book, a phone, etc., and leave it in a place where it will only be found once you've gotten out the door. Back home safe now? What  a shame! So let's get dangerous now.
Remember that skimpy robe you wore to answer the door to that delivery man? I hope you still have it around. If not, I hope you have something similarly skimpy. As soon as you get in the door from the neighbors, put it on. Then, hopefully sooner rather than later, a knock will come at the door. Answer the door in the robe, revealing whatever you dare. Maybe you say you were just about to hop in the shower. Maybe you comment on how hot the weather's been, whether it's been hot or not. I'm sure you'll come up with a good excuse if you feel you need one.
Will your husband be around? I have absolutely no idea. That's entirely up to you, as is what "thanks" you give to the neighbor for returning your lost belonging. Whatever you do, you can be sure I'll want to hear all about it.
Your anonymous X
Need to catch up? Read the Sex Experiment from the beginning: Table of Contents
Then subscribe to our newsletter for a free copy of Mr. X's hot, hot novel, The Known Experiment, and choose to get updates on blog posts, books, and special offers.