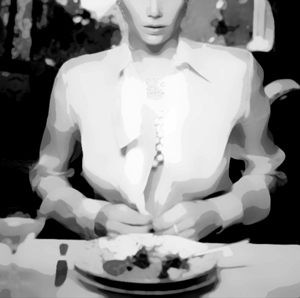 Reader Mallory sent me an email asking for some dares to fulfill on a business trip. I responded with a few ideas, and she used those ideas as inspiration to create quite an erotic adventure for herself. Here's her response, the second of two parts (here's part one). 
Day 3
I wrote these words the next morning, wildly turned on. I knew I could easily coat another pen. I closed my eyes and saw that handsome young man staring at me with those big brown eyes through those long fringes. I rubbed my pussy. I gushed with lusty, horny juices. I pushed a pen into me and rubbed my slippery and throbbing folds. I came instantly.
I took the second pen from yesterday with me. I used it to write notes at Session A, Part 1, all while wondering who would pick this pen up after I left it on the seminar table. My mind drifted between this and the presentation. I returned to the room after the beverage break for Session A, Part 2. I quickly scanned the room and noticed the man who was sitting in my previous seat. Ugh, no, no, no. I made my way to the same row, sat down next to him, and quickly took my pen back for a better opportunity.
A trip was arranged to an air force base. I wore a "dress" that is actually a top; I am short, so it worked well as a short dress for me. It also has a fluttering hem that blows easily. Runways are windy, so I put on a second tighter dress underneath that would not blow, just in case. This was perfect. It was getting dark when I arrived. The runways were windy and my dress billowed, lifted, skimmed around the bottom of my naked ass under the tight second dress. The place was crawling with air force guys in uniform. Talk about hot. They looked at me, and I looked at them. They stood so erect. I think they had me blushing. They were selling t-shirts, and caps and stuff. And they took credit cards! Oh yes, I used my pen to sign and left it with them.
It got darker and darker as I toured the place and stepped onto various aircraft. I got hotter and hotter thinking that there might have been glimpses of my legs and ass with the wind and my movements. I got hornier and bolder, and I thought about the little notepad in my bag. Did I dare? Finally, I went and got myself a couple of drinks and sat down with several cocktail napkins. I straddled the bar stool and dangled my legs a little. I felt part of my pussy press down on my hem. God, and part of my bare pussy on the cool seat of the stool. I hope I didn't stare too much at all the handsome, young, oh-so-erect men in uniform. I took my last pen out and wrote down my thoughts.
1) I WANT TO CLIMB ON THEIR FACES AND SLIDE UP AND RIDE THEIR BUZZ CUT HEADS.
2) I WANT AT LEAST 5 OF THEM TOGETHER, BANGING ME. ONE IN EACH OF MY HANDS, ONE IN MY MOUTH, ONE IN MY PUSSY, ONE IN MY ASS.
3) I WANT ONE OF THEM TO LIFT ME UP BY MY ASS AND MOVE MY PUSSY ON HIS COCK THE WAY HE LIKES TO BE FUCKED.
I pressed my legs together then. I felt myself shudder and get wetter. I was almost felt dizzy with lust. Now or never. I took out the notepad and put a few more clean cocktail napkins on top of it.
4) HEY, CAN I SPEND THE NIGHT HERE? WHEREVER THEY SLEEP? I WANT TO TASTE THEM ALL. I WANT TO FUCK THEM ALL.
I took with me all the napkins I wrote on, hopped off the partially wet stool, and left the notepad on the table under the blank cocktail napkins.
I walked away as quickly as I could to the ladies room, where I used the unwritten parts of the napkins to wipe my pussy. I was dripping wet. I was breathing hard. I could hear the pounding of my heartbeats. I thought about the poor copy of the nude picture I had posted on the Sex Experiment, which I had printed and hid in my bag. I couldn't do it, Mr. X. I hovered a little watching different groups of people drift and pause at the table with my notepad. I was nervous and shaking with a new kind of excitement. After a while, when I strolled back, the notepad had disappeared. Later back in my room, I had a video call with my lover and we masturbated for each other. I was incredibly turned on. I told him that all I could think about, as I rubbed my pussy for him, was fucking all those guys. I held up each of the napkins so he could read my dirty thoughts. It made him crazy, me so far away, and out-of-control with lust. He came so hard, he got some on his chin. I came hard enough for all my men: for him, for him, for Mr. X, for him and him and him and him.
Day 4
My hotel room was pretty tidy. There was a drawer with thick brochures of hotel offerings. I slipped Napkin 1 among the pages, discreetly enough for the maid not to touch it. And I left my third pen under the brochure. Shortly after, I had breakfast, and under my coffee cup I left Napkin 2, which I folded in half with the words of my licentious thoughts partially showing. Then I was ready to head out to the airport. The bellman got me a cab, and I tipped him with a bill folded over Napkin 3. I looked back after I got into the cab and saw him about to put it into his pocket, then glance at it and quickly look back up at my cab. The cab then turned the corner, and he disappeared from my view.
Immensely turned on my Mallory's daring adventures, I immediately wrote back.
Dear M,
You really got me hot with all of those military guys, and your longing for many of them inside you in many ways, and your saying it aloud to your lover. Just thinking about it now, the front of my pants is stiffening, and I'm imagining being one of those many. Truly, I am….
So what do we do now? Embark upon an eternal orgy?
Let me know your thoughts, naughty one.
X
She responded by sending a photo of one of those famous napkins. As if we needed proof – her lust was proof enough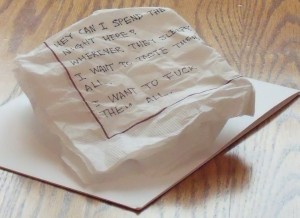 And then I wrote back:
Ha! Absolutely love that (and it's actually a beautiful shot) (and what penmanship!). Put a smile on my face this morning, and yes, of course, you can sleep here any time.
Big kiss,
X
Need to catch up? Read the Sex Experiment from the beginning: Table of Contents
Then subscribe to our newsletter for a free copy of Mr. X's hot, hot novel, The Known Experiment, and choose to get updates on blog posts, books, and special offers.