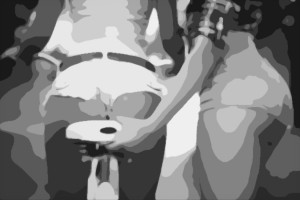 Here's a dirty cycling fantasy from reader ellariasand, which includes this sentence – "I might not be the best at off-camber handling, but I can still navigate other types of curves." – and then gets really, really hot. Let her know your thoughts in the comments section, and enjoy!
Almost a year since the original bicycle experiment, I've found a new object of lust. Odds of ensnaring him are rather low, but he is rather flirtatious online and has a reputation of being a bit of a heartbreaker.
I'm getting ahead of myself.
After a few drinks with some of my bike shop friends, I somehow agreed to join the shop's cyclocross team. Of course, I had no idea what this agreement meant, but let me just say that cyclocross is a level of pain/crazy reserved only for the most masochistic. Ride as hard as possible in short intervals, but with the stamina to last the full race and maneuver around tricky curves…. Yeah, you see where I'm going with this.
Practices for the shop team were on Mondays. There was an open clinic on Wednesdays where I met riders on other teams. Despite the competitive nature of the field, everyone was super-friendly and offered various tips to me to either a) improve handling or b) not hurt myself as much, as shouldering/lifting my bike left a lot of bruises, which I guess could be kind of sexy in certain circles. So, I friended them on the social network. One in particular caught my eye.
Remember how I said that the original subject of the bicycle experiment was the fastest I had ever seen? Well, it is true what they say. There is always someone faster. Not to mention that this one knows his handling and can obviously go hard and make it last. In pictures online, he's usually in full racing kit and covered in mud. So he's clearly not afraid to get dirty or push his upper pain threshold. I've watched him lean into turns so close that he kissed one of his teammates on the cheek and kept going. He also has a penchant for sticking his tongue out as he rides by…so of course, my imagination reels about what else he could do with that tongue.
Due to circumstances, I may just have to satisfy myself with being a fan/friend for now, which is fun in its own right. He's gregarious, funny, and kind of brash and loud, but not at an obnoxious or hubristic level. However, I've had more than a few feverish fantasies involving him lately.
One in particular…
A lot of races take place in rural settings. It provides many interesting surfaces to ride and potentially fall on: grass, gravel, sand, woodchips, and of course, mud. At these races, there can be a lack of changing areas once the riders have finished. Usually people change in their cars. I've seen and shown my fair share of flesh with only a rare second thought….
For this particular scenario, he picks an old barn to change in. In reality, this isn't like him since I've seen him change out of his kit into jeans and a t-shirt while still chatting with the group. Bear in mind no one wears underwear under their bib shorts, so pretty much the only thing between us and the Full Monty is a precariously-wrapped towel.
I slip behind the ajar barn door. Since I'm in a lower category, my race was earlier in the day and I've already changed out of my kit. This time, I'm not in my usual jeans and a green shirt. Instead I'm in a very uncharacteristic pink dress, short and rather diaphanous. He has a penchant for pink bicycles. I figure this form of nonverbal communication is pretty straightforward.
All the same, he turns around, already unzipped out of his jersey, bib straps hanging down to his knees. His expression is startled but smiling as if to say, "See something you like?" Then we exchange the cyclocross-related double entendre banter that I've never been good at coming up with on the spot. The whole time, he's walking me back into a wall. Our eyes are locked on each other, except I imagine mine are like a doe in headlights. The huntress has become the hunted.
He leans with his hand against the wall, scarcely any space between us, our noses touching. I close my eyes and feel his lips press against mine as he runs his hand against my thigh, up my dress. His kiss turns more insistent when he discovers that I seem to have forgotten to pack a pair of underwear with me that morning, and that the course isn't the only thing soaking wet that needs to be handled with care.
I bite his lip as I arch, riding his hand. He pulls back and licks his fingers before kneeling before me. I watch as he puts that wicked tongue of his to good use. It doesn't take me long to come. Besides, I've been aching to find out what's hiding in his bibs since I first watched him race. I trace his face with my fingertips, lingering at his chin, gesturing for him to rise. I spin, pushing him against the wall. Two can play this game.
I slip his shorts down, finding his cock hard and ready. Beginning with a slight tease with the fingertips, the tip of my tongue follows with the same delicate precision. I might not be the best at off-camber handling, but I can still navigate other types of curves. After I think he's had enough teasing, I take his cock in my mouth and suck, flicking my tongue around and over. His breathing is a bit more labored now, but I'm just warming up. I increase the tempo until he's just about ready to come, but stop and stand, smirking at him as if to say, "Your move."
He finds a rope nearby and grabs my wrists, raising them over my head and tying them to a nearby rafter. My back is barely against the wall. I have to grasp the rope above the loop to keep it from hurting too much. He wraps my legs around his waist and starts fucking me. Just like at the starting line, he goes hard and fast right out of the gate, the only way to gain and maintain a strong lead. His cadence never wavers. I try to keep up by keeping my legs wrapped tight and riding him harder than I've ever gone, trying to ignore the burn of the rope at my hands and wrists. It takes everything in me to keep from screaming as I come again. Everything and his mouth against mine.
Whenever he would race by, I'd listen to him breathe, wondering if this was how he sounded while fucking…if this is what he would sound like as he came with my legs still wrapped around him. When he's gasping for breath in the depths of pain, lactic acid building in his legs, sweat and mud dripping from his skin, is this actually his deepest pleasure? Of course, testing this pain-pleasure theory is a subject for numerous other fantasies.
Need to catch up? Read the Sex Experiment from the beginning: Table of Contents
Then subscribe to our newsletter for a free copy of Mr. X's hot, hot novel, The Known Experiment, and choose to get updates on blog posts, books, and special offers.