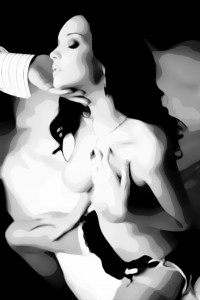 Dear Lady X,
I loved reading your sexy e-mail, and I hope I'm not going too far if I say that I am one of the many men you've made hard over the past few days. I didn't know what to expect from this experiment, but since it started I have hardly been able to think of anything else. But please be reassured: I give you my word that I will always remain discreet, and I promise again that as desirable as I find you, this is not some secret plot to get you into bed myself. I promise to remain at a distance. So with that out of the way…"dare" it is!
Good news. You're ordering delivery for dinner tonight. Chinese, Indian, pizza – whatever you're in the mood for. Hell, extra cheese if you'd like. Easy, right? Here's the catch, and please follow these instructions step by step: explain your husband that you feel like ordering out, and then you make the call yourself.
Once this is done, take a shower. Make the water as hot as you can stand. Slowly soap your body, not missing an inch, from each of your toes (are they painted? – I wish I knew), up across the arch of your foot, up your beautiful tanned legs, which so many men admired on the street the other day, then between your legs (don't rush it, even though I know your fingers will be racing there by now just thinking of these words). But don't linger: to your ass (all of it, your tight little anus too), your wide hips, your belly, your breasts, your neck, your face and then your hair. Let your fingers massage your scalp, and as they do, try to remember the feel of every inch of your body. There are men who would do unspeakable things just to get a glimpse of you, I promise, much less touch you. This must not take too long, however. The sex experiment will have just begun.
As you dry yourself, watch yourself in the mirror just as you did the other day. Your nipples should be hard. If they aren't, make them hard. Then put on the skimpiest robe you can find, something belted and open down the front. Surely you have one of these? If you have several, the one you choose should cover as little as possible. Then slowly slip the robe over yourself, taking one last glance at your firm and beautiful body, and loosely tie the belt around your waist. The delivery man should be arriving soon.
You ordered dinner, you pay for it. Hopefully you will have contrived to have your husband in another room, perhaps setting the table. Ideally he will be far enough away not to question the robe when you emerge from the bathroom (in which case he would likely jump on you immediately, thus ruining the experiment), but hopefully he will be close enough to see what you do next.
When the buzzer rings, or you hear the knock at the door, open it. Whoever it is, handsome or ugly, young or old, let the delivery man (boy? woman?) look at you. You will have placed your purse on a surface at some distance across the room. Now turn (he will be looking at your beautiful ass, the one you just soaped so carefully) and take your time in finding the money (Oh my! Where is that money?). Then turn and walk back to the delivery man, letting him look at you, from your toes, up your legs, across your sex, your belly, and your breasts, which may almost be revealed by now with your moving around.
Now are you ready for the dare? Ha! You'd thought we'd already gotten there? No, here it is: this is my story, I've written it, and I am confident that you will follow its instructions to the letter. So the dare is to make it your story, to add something to it that I'm not expecting. Only do what you feel comfortable with, but by this point, after the shower, after feeling your body, after hours of erotic anticipation, after the knock of the delivery man, I imagine that you will be comfortable with more than I might expect. Will your husband see? Will he guess what's going on? Will you reveal too much? Surprise me. That's the dare.
With extra cheese,
Mr. X
Need to catch up? Read the Sex Experiment from the beginning: Table of Contents
Then subscribe to our newsletter for a free copy of Mr. X's hot, hot novel, The Known Experiment, and choose to get updates on blog posts, books, and special offers.