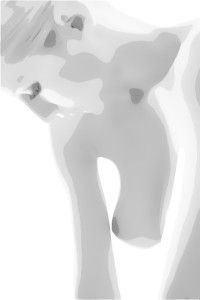 Señora,
Well you are a dirty little thing. Your success with our last experiment turned me on to such an extreme that I have to admit I reached for my own zipper and came as hard as your husband did in the dance club. You are, admittedly, a formidable woman: you stroke one cock and two men come. Savor that thought for a moment. I know I will.
I also have the feeling that you are becoming more sexually daring with every experiment. Will I be able to keep up with you and keep you interested? I have no idea. But from the brazen way you're using words that drive me wild, it seems clear you're getting closer to the heart of Fuck. Do you know the place? It's not on any maps, but it's a place just made for you, and I have no doubts you'll recognize it when you arrive.
So let's work on those words, my filthy angel. Dare to write the ones you've never written before. Here's what I mean: a glance through your e-mail contact list will bring up names of people with whom you wouldn't mind romping around a bed naked. I want you to have e-mail sex with one of these people, to describe for them a sexual fantasy you'd like to fulfill but never have before. Go into detail, be explicit, reveal a darker fetish you have never dared act upon. Tell your correspondent that you dream of living out this fantasy with them, and that the thought of it drives you mad with lust, day and night (and doesn't it, after all?). Then send it off.
Terrified? I would be too, so here's the catch: normally my "catches" increase the difficulty, but in this case it will lessen it. Create a fake e-mail address with one of the free online services and send off your fantasy from there (tip: log in to your new e-mail account via hidemyass.com if you want to guarantee anonymity). Don't use your name. What's required here is total anonymity, and my head spins to think what you might dare say when the risk of saying it is eliminated.
Of course you're always welcome to check this e-mail address from time to time. Who knows what your beneficiary might write back. Who knows what fantasies they might pile on top of yours. Who knows if your delicious pussy is getting wet right now dreaming of the possibilities. Who knows.
Admiringly,
X
Need to catch up? Read the Sex Experiment from the beginning: Table of Contents
Then subscribe to our newsletter for a free copy of Mr. X's hot, hot novel, The Known Experiment, and choose to get updates on blog posts, books, and special offers.