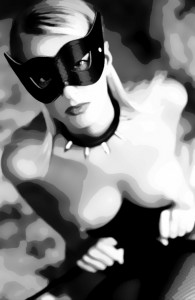 Alice's erotic adventures this week have only reaffirmed my belief in the vast untapped potential of the sex-crazed among you, by which I mean all of you, assuming you're human and breathing. So in honor of your sex craziness I'm inaugurating a simple little game to keep the collective blood flowing. I'm calling it the Group Sex Game, and here's how it works:
1) I'll post a modest little experiment on the blog from time to time and give you a while to accomplish it.
2) When your mission is accomplished, you'll respond in the comments here with a quick summary of how you did it – just a few sentences to give us a snapshot of the moment. (It occurs to me that you could all lie about your exploits, but then what would be the point? Where's the fun in that? So we'll all trust you to be honorably horny.)
3) As always on this site, anything you post will be kept entirely anonymous. Choose a pseudonym if you like, but stick to it so we'll know who's who.
4) Anyone who's added their comment when the next round begins will be eligible to continue on, and eventually, round by round, our contestants will be narrowed down to a winner. And what's the prize, you ask? I have no idea, but I'll be happy to hear your comments about that too. At the very least, an inestimable honor will be bestowed upon your head, and your fame will spread throughout the land.
Got it? Now – my hope is that as many of you as possible will throw your hats (and other things) into the ring, so I'm going to keep these experiments/challenges extremely doable, even if they'll occasionally be nerve-racking (this is about sex, after all, which is often nerve-racking). I'll also be careful to propose experiments that men and women will be equally capable of doing. So, for the first week of this Group Sex Game, here's your assignment (this idea is courtesy of Margot La Ravaudeuse, who writes her own sexy, heady blog).
1) Go to the Casual Encounters section of the Craig's List site (under personals at www.craigslist.org). Pick another city if you'd rather not post to your own.
2) Post a specific search for someone who will fulfill a specific sexual fantasy of yours. Push it as far as you can, out to the limits of the most delicious fantasy you can imagine living with someone.
3) Upload a screenshot of your post into the comments section here, or if you're not technologically inclined at all, include a link along with the text of your post.
4) Enjoy the responses you get.
Easy, right? Well then have at it, everyone. I'll be very curious to see how many of you are up to the challenge. Good luck!
Need to catch up? Read the Sex Experiment from the beginning: Table of Contents
Then subscribe to our newsletter for a free copy of Mr. X's hot, hot novel, The Known Experiment, and choose to get updates on blog posts, books, and special offers.