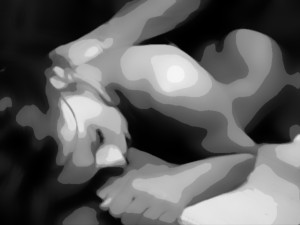 My wife speaks the truth when she says that she's entirely at ease in the nude. As the weather gets warmer, she flashes more flesh, and I get hornier. Of course Spring always gets me buzzing for sex and bikinis anyway, but her increasing nudity is like a visual representation of my mounting lust.
It's an immense pleasure to have a light-footed nymph cavorting around the house, but as they say about nudist beaches, it's not really sexual (which still sounds to me like claiming to read Playboy for the articles, but admittedly I haven't tested one of these beaches out to confirm just how unsexy the nudity is). Of course I love having my sexy wife naked and reveling in the feel of her own taut body. It makes me feel like a dissolute Roman emperor or a wine-stained Greek poet (incidentally, I think I was made to be one of the above, the more infamous the better, but then I'm getting off topic…but just let me imagine those lounging beauties, the casual immorality, the toga-strewn floors…for a moment…a second…there).
Here's what I'm thinking about nudity: you want it to have a few additional layers. Those nude Greek and Roman statues in the museums don't turn you on. They have perfect bodies, but we need more: a glint in an eye, a chemical connection, a history together, a story that needs to be written, a line to cross, a human pulse.
Let me be more specific:
My wife bopping around the house naked makes me happy, and sometimes horny.
My wife spreading oil over her body makes me horny, sometimes insistently.
My wife oiling herself in the sun, naked sunbathing where she could be seen by others, makes me insistently horny.
Knowing that my wife imagined fucking our neighbor while lying naked on that very terrace (starting this blog) makes me insistently hard.
My wife now imagining another unknown sexual fantasy with her eyes closed and oil all over her body makes me so insistently hard that I'm desperate to fuck.
My wife's hand now idly wandering down to her gleaming cunt as she fantasizes makes me desperate to fuck the entire planet.
See the layers build? All eroticism is in the layers. See my hand going down the front of my pants, my cock coming out rigid? That's because I'm drowning in the layers and can already taste the fuck. Put me on a nudist beach right now, and with my pants abandoned I would show you just how sexy nudity can be, at least until we heard sirens.
Is the fantasy done? She stirs on the terrace couch, lifts an arm in the air. Her body still amazes me, glistening with oil and sweat. Slowly she eases up until she's sitting. In this moment anyone could see her out in the neighborhood, and for a brief moment I think of running down to the street to witness her from another angle, like a schoolboy. Me as Peeping Tom – another layer.
Now want to watch? Here: she comes inside, slow and clearly steaming. My hand is still down my pants, and I'm eyeing her like meat. "You. Are. Something," I say and stand, for a moment, before pulling her down to the floor. In an instant my mouth is at her cunt, which is smooth and tastes of oil and salt. I am ravenous, I am seeing her through a thousand layers, and she is now the most fuckable woman on the planet.
I'm thinking of my camera, and how it wants her body as much as I do. I'm imagining photos being taken of us right now. Another layer.
I'm thinking, for a brief moment, of Mona, and her apartment, which I know is laid out similarly. I'm thinking of seeing her nude on her balcony not so far away, and then of her retreating into her room like this one, and how she lay on the floor and riddled her cunt with a sex toy. Another layer. I am growling with lust.
I am a sex toy. My tongue is a sex toy, my cock is a sex toy. My shirt is gone, I am as naked as my wife, and the sunlight dances through our hair as I slide my body over hers and enter her quickly. She is unusually wet.
What is she thinking? What has been her fantasy? How many layers is she seeing me through to be screaming like that? And me? My voice, it's breaking the Sunday morning silence too. Birds twittering out there, and we're both groaning into each other's mouths like savage strangers whose fuck is the last thing on earth left to do.
Need to catch up? Read the Sex Experiment from the beginning: Table of Contents
Then subscribe to our newsletter for a free copy of Mr. X's hot, hot novel, The Known Experiment, and choose to get updates on blog posts, books, and special offers.