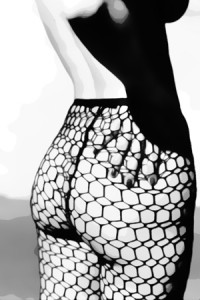 Today we're excited to begin a new series of dares with extraordinary women all over the globe. Readers Sweet Soumise in Paris and CC in Los Angeles have each asked for a monthly dare, and we'll post their responses on Fridays throughout the month. Want to join the experiment? Just write Mr. X with your results. We dare you.
The first dare borrows from Mr. X's first dare to Mrs. X (here's her response). We hope you'll be intrigued by these bold women and their lusty adventures, and please don't hesitate to contact us with ideas for future dares. Tune in next Friday for the first response, and in the meantime, happy experimenting!
Dear Lusty One,
Pick a day. A day when you feel that you are mentally and physically prepared to begin. You will wear a dress or a skirt. No especially daring attire is required. But this is your first experiment: you will not wear underwear, or a bra.
Dare as much as you're willing. How short will the skirt or dress be (not past the knee, but long enough so that you're not entirely uncomfortable, whatever that length is)? Will you wear a blouse open at the collar? Open how far? If you have a partner or husband (we'd like to know), and he occasionally sees you dressing, he must not see you dressing today.
As you slip your skirt, dress over your hips, feel the nakedness of your thighs, feel your ass naked against the fabric. Then, if you can, sit before a mirror. Spread your legs until you can see your pussy, but do not touch. You should simply understand how easy it would be to expose you. Then the top, or the blouse. Feel your breasts as you button it, and then, the erotic sensation of your nipples against the fabric. Will it be cotton? Or silk? I wish you would tell me. In any case, I want you to feel sexy, to feel it in your legs, your groin, your hips, your chest, the power you have over a man.
You will walk down the street, or sit at a table working somewhere, and they will be watching you. You are too innocent. How is it that you never seem to notice them all? So today, feeling your body more exposed than you typically might dare, imagine what they would do if they knew that underneath you are wearing nothing. Imagine the thoughts in their minds, imagine their cocks growing tight in their pants at the thought of running a hand up your thigh, or brushing a hand against your blouse. Can they see down your blouse? Look at their cocks as you walk down the street. I promise you will see the bulge in their pants. They will be looking up the line of your legs, or at the heave of your chest, and maybe you will be growing slightly wet at the thought of them seeing more. Feel your nakedness, feel the cool air between your legs, and imagine how close you are to being completely naked. Will you reveal more than is wise – as you sit, or turn, or bend over? Imagine if he came close. Imagine whispering the truth of today in his ear.
This is your first experiment, and I will be panting the days away until you write back with your results. Good luck.
Admiringly,
Mr. X
Need to catch up? Read the Sex Experiment from the beginning: Table of Contents
Then subscribe to our newsletter for a free copy of Mr. X's hot, hot novel, The Known Experiment, and choose to get updates on blog posts, books, and special offers.