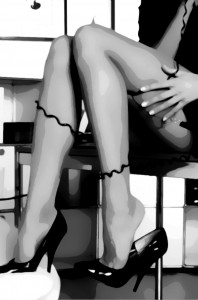 Dear Mr. X,
So you are getting pretty smart! You understand now that one Mr. X is not enough for Mona. No I need lots of Mr.X's, maybe even one for every night of the week, all these mystery men wanting me and telling me filthy things to do.
You were right that sometimes your dares do not scare me at all, but believe me that sometimes they really do. It all just depends on my mood or the situation around me, but it is true that when I am horny, I am HORNY, baby, and I will do almost anything you can imagine. So it was a good idea to order me to get my dare from another man. In the heat of the moment, as they say.
Remember the man I took home that night you had me say I want you to everybody. The yummy one who ACCIDENTALLY caught me taking off my clothes. He has this very sexy, hard body, Mr. X, and I thank you every day for that, because I have still been seeing him once a week or so. Sometimes we will go out for a drink or even dancing, although he is a little too old to get that excited by a club. Not that he's old! He's just not a boy anymore. He has style. And a huge cock! My god sometimes I think it will split me open but my pussy just seems to happily adapt to the situation. I take him all inside and scream like a crazy woman.
So I have been fucking this guy about once a week. He is not my boyfriend, and I have fucked some other people since I met him, but I like his company and it has been a long time since I met a man I like to hang with when he has his clothes on.
We usually fuck at my place. He divorced but has two kids at home. I have sucked every part of him, and he has fondled every inch of me. My ass is his favorite part. He likes to slap it and call it his "booty". I admit I am proud of it too, and the way his eyes shine when I strip for him almost makes that awful Stairmaster worth it.
Because of my sexy ass he likes to fuck me from behind. I like it too. I like it to start slow, and then I like him to ram it hard into me. He can do anything to me then.
So we are on my bed and he is fucking me hard. I am screaming, he is grunting, and his cock just feels so good as it splits me wide. We go so wild that he slips out of me and stabs left then stabs right with his enormous, dripping thing. My pussy is wide open, but he misses it, and we fall onto the bed laughing, also momentarily exhausted. So then I tell him about you.
At first he says you are sick. Are you sick, Mr. X? Then he says that you are a pervert and that I should be very careful with you. But then we knew all of that, didn't we? Then I tell him your dare for this time, and he likes you a little bit more. Or maybe not that. Maybe he just forgets about you.
So he has to dare me to do something he has never seen me do before. Not easy. I have done a lot with this man. His first suggestion is to tell him my biggest sexual fantasy. Please, I say. This is not a dare. Masturbate in front of him? Please. Let him fuck me in the ass with a dildo in my pussy? Please. Walk naked out onto the balcony? Double please. Let him come on my tits? Please. Fuck him with a strap-on? Not bad, but the strap of my strap-on is broken.
When he sees me bored with all his suggestions this gets him excited. He gets this look in his eye. I have never seen him so horny. He has always been a little guarded with me. But now I see he has new ideas about me. He asks me if I have ever had phone sex. I say "please" automatically. Not that, he says. What about now, with me here with you. You mean I let someone hear us together? The man nods. Meanwhile his dick has gotten hard again. I want it in my mouth but I try to concentrate. This man knows the fun I like to have. He knows I have sex with other men, and even if he is too proud to admit it, I think he is a little bit jealous about this.
My pussy is wet so fast that if I do not get something in there immediately, I will die. I roll over on the bed, get up on my knees, and show him my ass. He starts fucking me slowly. I ask him if he has someone in mind. He gives some vague answer. Basically "any friend of mine". I reach toward the bedside table and pick up my phone. I groan as the man starts to fuck me a little harder and I go through my contact list. I need somebody who will not hate me for fucking somebody over the phone.
Then I decide on a boy I know. He is twenty five and we are purely sex friends. I have even shared him in bed with a girlfriend of mine, so I do not think there is jealousy between us. I push the button to call, and the man stops fucking me. He wants to know if it is really ringing. I tell him to just keep fucking me.
My voice sounds so sexy and it jumps a bit every time the man rams into my ass. I can feel how excited he is behind me. You want to do me a big favor? I say into the phone. Listen to me fuck this guy. Then I put the phone on the pillow beside my head and really get into it. I always like to talk but this time I just say absolutely everything.
It was a dare and I knew it would get your cock hard. I love the feel of yours but this one is even bigger. I will let you see it sometime if you are lucky.
Right now he is fucking me from behind. Oh! My ass up in the air. Can you see me like that? God this man is going to split me open.
I want to COME! Rubbing my clit now and I have never been this wet. I want your cock in my mouth RIGHT NOW! I want this man behind me to see how I suck your cock.
Ooo! He's mad at me. FUCK. IT'S. GOOD. Have you ever heard a woman fucked this good on the telephone? How hard is your cock? Are your pants off?
I kept groaning into the phone. My lover is usually pretty controlled in bed, but even he was groaning, like he did not care if everybody knew he was fucking me like this. He even started slapping my ass, and I loved it. He was almost roaring. His cock had swelled up even bigger inside of me, and I knew that he was going to come so much faster and more powerfully than ever before. And he did, roughly flipping me over to come all over my stomach then kissing me deeply like he was saying, Thank you, thank you, Mona, for being such a wonderful slut.
You are unbelievable! he said.
You didn't know? I said. Then I remembered the phone and held it to my ear. You still there? I asked.
Don't stop, the boy said.
XXX,
Mona
Need to catch up? Read the Sex Experiment from the beginning: Table of Contents
Then subscribe to our newsletter for a free copy of Mr. X's hot, hot novel, The Known Experiment, and choose to get updates on blog posts, books, and special offers.