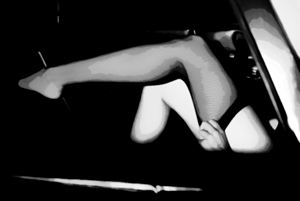 We've begun a new series of dares with extraordinary women all over the globe. Readers Sweet Soumise in Paris and CC in Los Angeles have each asked for a monthly dare, and we're posting their responses on Fridays throughout the month. Want to join the experiment? Just write Mr. X with your results. We dare you.
Dear Daring One,
I knew you were lusty, but the lustiness of your fantasy [SS] [CC] took me by surprise. Needless to say, it was a pleasant surprise. Your brain, at least, has proven to be so extremely willing that I'm tempted to dare you to run out into the streets and fuck the world. But let's take our time, shall we? Let's enjoy ourselves…. In public.
This one couldn't be simpler. I want you to have an orgasm. In a public place. Close yourself off in a bathroom, if you like, hide yourself in a corner of a movie theater, or alone in your car. Or strip and fondle yourself towards ecstasy in front of whole restaurants, concert halls, which of course would thrill us more. All that really matters is that your body be racked by pleasure, and that you tell me all about it.
Specifically, I want to know what's on your mind as your hand moves towards your moistening pussy, and I want to know about the situation you've chosen for your lust, and I want to know the specific details of how an orgasm feels to you – what happens in your body, and your cunt, when fantasy and a moving finger take you straight over the edge. I want you to tell me how you do it to yourself.
Deal? I hope so. Your fantasies have wound their way into my fantasies, and I want more.
Dreamily,
Mr. X
Need to catch up? Read the Sex Experiment from the beginning: Table of Contents
Then subscribe to our newsletter for a free copy of Mr. X's hot, hot novel, The Known Experiment, and choose to get updates on blog posts, books, and special offers.