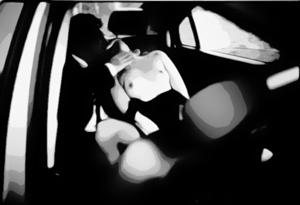 This is part of of our series of erotic dares with extraordinary women all over the globe. Readers Sweet Soumise in Paris and CC in Los Angeles have each asked for a monthly dare, and we're posting their responses on Fridays throughout the month. Want to join the experiment? Just write Mr. X with your results. We dare you.
This month's dare is based on The Public Experiment.
Dear Little Exhibitionist,
With the brazen way you've been showing off your naked body, one of my most persistent fantasies has been seeing you naked for myself. But if that's not going to happen for me, I'd hate to deny that pleasure to the rest of the world. So this month, ­I'd like you to lead ­a man (your choice) out into public somewhere, under sun or moon, with a mutual lust needing mutual quenching. Quick definition reminder: "public" means a place where other people might possibly chance upon you. How public is entirely up to you, but naturally it can't be one of your habitual places for fucking. Choose wisely, because fucking this lucky man is what I want you to do once you're out in public – although like a former American president, I won't get hung up on how you define that. What I will insist upon, my bared queen, is that whether it's reached via mouth, pussy, cock, hand, etc., the "sex" ends in orgasm. That will guarantee that whatever you've been doing, no matter how much clothing you're wearing, or how hidden you are, it was most definitely sex. Yep. Somebody's got to come.
So find your spot, daring one, and I'll be waiting impatiently to experience everything through your eyes.
Ready to watch,
Mr. X
Need to catch up? Read the Sex Experiment from the beginning: Table of Contents
Then subscribe to our newsletter for a free copy of Mr. X's hot, hot novel, The Known Experiment, and choose to get updates on blog posts, books, and special offers.