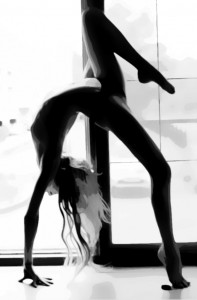 Recently I've been lucky enough to have an exciting correspondence with a woman named Liza, who writes a sex blog of her adventures at alwayseachother.blogspot.com, and she eagerly requested a dare. Here was my e-mail to her:
Dear Liza,
Spring is in the air. One can't help but imagine what you've been wearing as you move through your world. If it's gotten warm enough wherever you are, I presume the men around you are beginning to study what the sun has revealed of your body. April showers bring May flowers, apparently, and from keeping up with your sex blog, it does seem that with your erotic habits you've been doing your fair share of April showering. I only wish that I was occasionally there to soap your back (etc.).
Of course these seasonal thoughts have gotten me all horny too, and when I get horny I start dreaming up possibilities, writing erotica in my mind. More specifically, I think up dares, or sex experiments, and then I start thinking about you, and the newly explosive sex life you have with your husband, and then I dream a bit more…and then it all comes together (however you take that last phrase, it's probably true).
So I've been pondering you. I've been squinting at your thumbnails and avatars and wishing I could blow them up to more or less life size. And I've been wanting to challenge you – for a kick, yours and mine. And then you wrote asking for a dare. Even better, you gave me a setting for my imagination. You told me about your upcoming trip with your husband, and you actually told me that you intended to take a whirl on an amusement park ride! Does it get any better than that? I really don't know if it does.
So as soon as I heard this, I knew that we had the opportunity to conduct a ground-breaking sex ride experiment here. I also knew I wanted you out of your clothes. As you know, I've recently dared my wife's friend Mona to strip off her underwear in mid-stride, then write down a fantasy, and inspired by that I dared my wife to lose the panties while walking, too, then show me the proof. So perhaps I'm passing through a little obsession with disappearing underwear. And when you combine that obsession with an amusement park ride, all of life's mysteries are suddenly made clear.
Here's what I'd like you to do, Liza: amuse yourself on that ride. More specifically: lose one of your undergarments on that ride. I'll do the math for you: that means either panties or bra.
I'm having these images of you doing the loop-de-loop and your skirt coming up to present your bare pussy to the delighted screams. I'm seeing visions of your husband reaching over to smooth the skirt back down, then deciding that it would be more amusing to leave it up just as it is. Or, in my mind, your bra has come off and your nipples are hard with the excitement. Whatever happens, however you do it, I want to hear absolutely everything about this sex ride of yours.
Oh, and one more thing (forgetful me): Whatever you take off, panties or bra, I would like you and the undergarment to leave the ride separately. Lose it on a loop-de-loop, toss it out of the car in a darkened tunnel, present it to your fellow riders, leave it in the car, or do whatever with it that takes your fantasy, as long as you say goodbye, forever, to your bra or your underwear.
Sound amusing? It sure as hell does to me.
Dizzily,
X
When Liza responds with her results, I'll post them here. In the meantime, if you've got the itch I'm happy to scratch. Send me an e-mail or post something on the site, and we'll start imagining new experiments.
Need to catch up? Read the Sex Experiment from the beginning: Table of Contents
Then subscribe to our newsletter for a free copy of Mr. X's hot, hot novel, The Known Experiment, and choose to get updates on blog posts, books, and special offers.