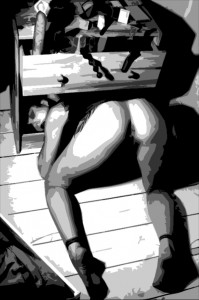 Dear Mr. X,
Did you miss me? I missed you. I wanted to send a postcard, or a sex toy, but then I don't have your address, do I? So instead I thought of you and walked into a sex shop.
My chance to meet your sex challenge finally came one day when my sister went shopping. I told her that I wanted to stay home and read, and the second she drove away I changed into some sexy clothes and flew out the door. A few days earlier I'd spotted a sex shop not far from her place, and as I walked my excitement over what I would find there was almost unbearable. I had butterflies in my belly and a slightly burning crotch (ever so slightly, but distinctly there), and I thanked you for making it so fun in my head.
When I got to the store I waltzed in with a loud "Hello, good afternoon," but there was no reply. The store was filled with videos and glass cases stocked with gadgets, chains, rubber clothes, huge dildos, fake vaginas and lots of strange devices I actually recognized (being the sex toy specialist that I am!). Then, from behind a magazine rack appeared a youngish man, about thirty-five, who was obviously surprised to see me. I guess I'm not the typical clientele. So I said hello again to give him some time to make sense of me, and asked if I could just look around for a while to see if there was anything of…interest. I said I lived in [where we live], where sex shops are few and far between. With this he got very friendly. "Of course," he said. "Just take your time, and if you need any information, please let me know."
Okay. So I looked around for a good ten minutes or so as he went on filling racks with new sex toys. As I did, I became more and more aware of him watching me out of the corner of his eye. Eventually I came upon this strange egg-shaped gadget and asked what it was. He immediately came (lunged?) over and started explaining what it did – something vibrating for men which, weirdly enough, can apparently only be used once. A disposable vibrating egg? The thought of that didn't have me panting with lust, to say the least. I explained that although my husband was into gadgets (particularly little gadget me!), he was more interested in gadgets that could be used on me. That made him even more nervous. His upper lip was moistening with sweat, and he even seemed short of breath, clearly over-excited. Unfortunately he wasn't very attractive (there was spittle at the corner of his mouth – though I guess I have to take the blame for that), but he was very friendly and doing his best. And after chatting for a while about other objects in the store, I was becoming aware of my pussy again. It was aching to have a big huge vibrating sex toy stuffed inside of it – right there and then. That's when he said: "Sometimes we have more than eight couples downstairs."
Aha! Now it was getting interesting. "What's downstairs?" I asked – the picture of innocence – and it turned out that downstairs in the basement they have several rooms where they project movies on the walls. There are beds down there too. Couples are free, singles have to pay (I got all the details). You go down and watch the movies, and then if you're in the mood you just start fooling around with whoever's within arm's reach. Last week they had eight couples and a great party, he said. Very. Interesting.
He said that normally he'd be happy to take me down and show me around, but that there was already somebody down there. One person, he said. I was tempted to go down and look for myself, but I lost the nerve. I was too scared that whoever it was would be unattractive. So we kept talking about these basement parties, and I asked the shopkeeper if the people who came were generally young or old. A mix, he said, usually fairly attractive, and then one regular couple who comes all the time and are seventy! Ugh! But then good for them, I thought. He gave me a card with a website and said that my husband and I could make appointments online to have sex with other people there if we came back into town. I got extremely excited by the thought of that. You know my orgy fantasy, greedy Mr. X, but again I got incredibly horny thinking of being in a room fucking other people with my husband.
When I finally walked out, I was swollen and sopping between my legs (through my underwear, yes, which I was sadly wearing again). I would have given anything to be fucked hard and good, but there were honestly no likely candidates out there on the streets to do it to me. As I walked I looked the men up and down, but most were shopping seriously with wives and weren't going to risk looking too long at simmering, dripping sex toy me. Oh well. It was a great experiment, and I'll certainly do it again. Next time, though, I'm counting on getting a proper fuck out of it!
Your seedy shopper,
Me
P.S. I got so distracted by telling you about that basement that I completely forgot to tell you about my big black cock! They had a half-dozen colors to choose from, but the blackest one looked like some kind of beautiful carved ebony African sculpture – hardly like a "sex toy" – so that's the one I chose. Actually it's made out of hard rubber, and it doesn't vibrate (no nervous, jittering cock for me in the end – at least this time). No, my black cock is heavy and smooth (and fucking big). I had it in my pussy almost before I was through the door of my sister's place. Fortunately she wasn't home yet, because my black cock would have taken some explaining. I found the closest chair to fall back into and watched what this toy could do to me, watched it part and spread my lips over and over again – so perfect, so sure. It's got prowess, my big cock. And it seemed to have a mind of its own. It moved in and out of me with steady, smooth strokes, over and over again, seemingly with no help from my hand, as I imagined it attached to some lean stud in a basement somewhere, and as soon as that image hit my mind I came with a scream.
Now I've just got airport security to worry about.
Need to catch up? Read the Sex Experiment from the beginning: Table of Contents
Then subscribe to our newsletter for a free copy of Mr. X's hot, hot novel, The Known Experiment, and choose to get updates on blog posts, books, and special offers.