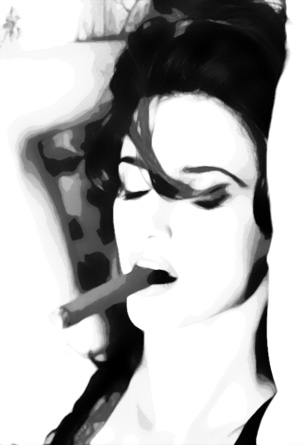 Recently the site's Your Fantasies Group has been a virtual laboratory of lust, with readers writing in with some of their most erotic hopes and dreams. A lot of it's so good that it seems a shame not to share it with the wider world, so here's another hot fantasy by reader Mallory, who's truly coming into her own.
Join us in the Your Fantasies Group for a whole lot more.
Have you ever wanted an anonymous, liberating adventure? Have you ever wished just to become someone else for a brief time and explore what another person inside you might experience? What if you were a blonde instead of a brunette? What if you wore clothes more risqué than you've ever dared? What would this other you discover? I decided I would take on this idea and see what naughty border(s) I might cross.
With my coloring, it would be difficult to pull off becoming a blonde. Instead, I opted for hair extensions in my own chocolate brown. Then I got some seriously crazy false eyelashes, and some wispy fringes for the outer corners of my eyes. I already own a short tan dress with leopard spots, which paired perfectly with my new, very daring Brian Atwood knee-high, lace-up, high-heel boots. So imagine long and voluminous hair and cat eyes: I became Puss in Boots. I went further and went all out: I wore those things that pushed up my tits but left them almost bare, with my nipples thrust out. And at this point, who needed panties?
Some of you might have read about my curiosity over being fucked by a cigar. Soon after my post on the SE, I received a private message from someone offering to help me fulfill this fantasy, and he suggested several cigar bars he thought would work. Yes, yes, especially the place with the dim balcony seemed to offer a little extra privacy. I chose a Friday evening and stepped into this smoking lounge, a foreign territory indeed. I wandered around and took in the high-end ambience, complete with buttery soft leather seats and imported fixtures. The staff was very attentive and helped me select the right cigar and a fitting drink. They told me to relax and enjoy, and that here in their smoking lounge, "Anything is possible."
I sat at the majestic candlelit bar – nervous, excited, and full of lust as I tried to mellow out and enjoy my drink and the eye candy. These lounges are certainly more like men's clubs, the number of men far outnumbering the women. Was I going to sit around all night and just check out the place? Merely have my drink and take home the cigar as a souvenir? I sat a while longer checking out the gorgeous men in their very proper suits and shiny shoes, most of them old enough to still sport a watch. Then I walked around the place and finally checked out the balcony. Yes, it was extra private, alright. I sat down there, and the plan came to me. I took some of the cocktail napkins and wrote on a couple of them: "I was wondering if you fucked me with your cigar, would you still be able to smoke it afterwards? Curious and Lustful, Puss in Boots on Balcony."
I returned to the bar trying to figure out how to return to the balcony later and possibly live out my fantasy. My pussy pulsed hot on the cool leather seat. People came and went, men looked and some looked longer. Then one sat down next to me and looked muchlonger. I fluttered my eyelashes at him, I looked back. I sipped my drink. He was still looking. I angled myself, my body, so he could admire me more easily. Finally I said to him that his cigar smelled wonderful, and as he set his drink down, I pushed one of the cocktail napkins forward. He stared, read, and choked, and I nodded and hopped off to continue setting up my adventure.
I strolled by the different sitting areas and spotted a couple enjoying themselves. I sat down in front of them and I said to the woman that it was nice to see another woman enjoying a cigar. She gave me a cool, polite little smile. The man didn't smile; instead, he looked me over thoroughly. Finally, he held my gaze for a very long moment and said he agreed: a fine cigar enjoyed by a stunning woman was a sight to behold. The woman gave him a lethal look. I placed a second napkin between their drinks, then got up and left quickly, thinking that I was going to get kicked out of there. Well, not before I made it up to the balcony for a few minutes.
I stopped in the ladies room to compose myself; I was hyper nervous – yet excited – by my insane ploy. I was on extreme edge; I couldn't even focus on the intense ache between my legs. I was thinking that this was crazy fun, but that I should head home before I got arrested. I had indulged enough; there would be a next time, maybe. Then that woman came into the ladies room.
She was distraught and was dabbing her eyes, but managed to cast a ferocious glare at me. I had nearly made it out of the ladies room when she said, "Stick to single men, you whore." I immediately started apologizing; I felt bad. She crumbled before my eyes and started babbling about "old" and "not look at me anymore." I felt worse, yet within a split second, "Seduce him" had come out of mouth before I knew what had happened. "Take off your underwear, and go up to the balcony, and seduce him. Use my napkin as instruction." I grabbed her drab long skirt and pulled it up. "Take it off," I ordered. She shook her head furiously but didn't pull away. I reached over and yanked her panties down to the floor. Well, surprise, surprise. She took a moment, but then she stepped out of them. I stuffed her panties into her hand, and then grabbing her by the arm, I pulled her out of the ladies room and marched her quickly up to the balcony. We sat down on the couch, and I told her to text her guy to tell him to come to the balcony.
Minutes later he approached. I stared at him, he stared at me. I took the woman's hand and helped her toss her panties at him. Then he stared at her – oh how he stared at her. I drew up her skirt without any coquettishness, pulled one leg to the side, and opened her wide. He fell to his knees. Nothing brings down a man like a woman spread out for him. I was in my own intense rush, and as he brought his hands up to caress her inner thighs, I turned and took her mouth with my own. I heard her moan, I felt her squirm. Then she was kissing me, unflinching, raw, and starved. I managed to move one hand to her breasts, pulling her bra apart, then squeezing her tit. I pulled my mouth from hers and bit down on her earlobe before I commanded her to tell him what she wanted. She urged, in low whispers, "Fuck me, fuck me Gary, fuck me, fuck me." I found my cigar in my bag, tore off the wrapper, and offered it to him. Gary's eyes had glazed over at this point as he looked at me briefly before grabbing the cigar. Without any tobacco foreplay, he pushed the cigar deep into her unquestionably wet cunt. He had her purring, and she had him panting. Curbing my own pounding, I quietly extricated myself and left the lounge – my heart a little warmer, my lust reborn and throbbing anew. Next time, next time, it'd be my turn.
Need to catch up? Read the Sex Experiment from the beginning: Table of Contents
Then subscribe to our newsletter for a free copy of Mr. X's hot, hot novel, The Known Experiment, and choose to get updates on blog posts, books, and special offers.