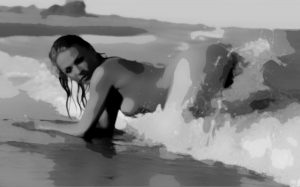 Dear Mona,
It's time. I have no doubt that you've been out there in the world living as sexily as you always do, but I've been having increasingly distracting fantasies of your body, your breasts, in increasing erotic situations, and it's time that you and I resume our sexy game.
Your last email indicated that you're as ready for this is I am, so I'm going to insist. If you were here in this room with me, I'd insist a lot more, so much that even the wild Mona might blush (actually, I doubt it, but I'd like to try).
Summer's here [editor's note: well, it was here when this email was sent], and I just know the prospect of lazy days in the sun – tanned bodies and a glass of wine too many – makes you as horny as it makes me (hornier, probably, since I can only imagine the pleasure you get from admirers dazzled by your body busting out of the bikinis I'm guessing you wear). You seem made for fantasies, curvy adventurer, and you've got such a brazen sense of humor that this time, this summer, I want to put you in a clichéd male fantasy and see how you'll give it your twist.
You'll be by the pool this summer, or at the beach. The sun will be shining, and although you're a blonde who tans well (I've noticed from a distance), at some point you will need to put on some sunscreen. And since you're an erotic queen, a lusty goddess among mere mortals, I'd like to think that you're above such mundane tasks as applying your own sunscreen. To be perfectly honest, I'm amazed you ever masturbate (do you?). I imagine you'd have oiled and exotic young men who leap into action at the clap of your hands, asking only, "Is it your pleasure to enjoy my tongue or my fingers, mistress?" To which of course you'd reply, with another impatient clap: "Both. Immediately."
Anyway, you see where this is going – every teenage boy's fantasy (and as you know perfectly well, we're all teenage boys): "Could you get my back?" Or the backs of my legs (please)? Or my front (I'm begging you)? Or my absolutely everything (I'll come running with exotic anti-sun potions from the Amazon basin)? As always, the details of the dare are yours to create. What's important here is that you be wearing something skimpy, that there be sunscreen on hand, and that someone – friend or stranger, man or woman – apply that cream to your hot little body.
Simple, right? Yes, I'm trying to lure you in again with a dare I'm sure you'll have no difficulty accomplishing. Or will you? Have you lost your nerve, sexy balcony babe? Haha! Then prove it.
And as always, whatever happens, I'm sure you'll have a story to tell.
Big kiss on the other side of those tan lines, wherever you like,
X
Share something sexy:
I'm a fearless explorer across the pale borders of tan lines. Tweet
Need to catch up? Read the Sex Experiment from the beginning: Table of Contents
Then subscribe to our newsletter for a free copy of Mr. X's hot, hot novel, The Known Experiment, and choose to get updates on blog posts, books, and special offers.