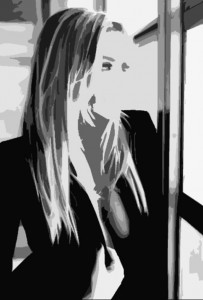 Dear Mr. X,
I love shaving my pussy.
Isn't that a good start? I love the cool feel of shaving cream on my pussy, and the slight tingling of the magic herbal formula, or whatever it is. I love the twinge of fear I feel when I put the blade to my skin – it always leaves me breathless for a moment. And then I love sliding my free fingers over the folds of skin there, and spreading the skin for the blade. Then, with every swoop of the razor, I see some other pussy slowly revealed, pale and bare and lickable. How did you guess that this is one of my ultimate turn-ons? Have you taken up residence in my libido, Mr. X (it's quite spacious, so don't get lost wandering from room to room)? I mean, shaving my pussy turns me on so much that I've sometimes asked my husband to watch me doing it. You'll be pleased to know that I've always found him to be suitably observant. Now, when I get the chance, I like to watch him shaving his face in the mirror in the morning. This never fails to get me wet. Razors are like sex toys for me. It's just one of those things.
Busses, on the other hand, I've never thought of as sex toys. As I'm sure you're aware, the men here tend to be "handy", so although I was excited by your challenge (and by my nude little vagina), I also had my doubts that the experience would be anything other than uncomfortable. I didn't want to let you down, though, and as it turned out the experience was both what I had expected, and entirely unexpected.
I dressed as ordered. In a modest (more or less) white tank top that showed off my unconstrained (as ordered) breasts, and a light, flouncy, polka dot skirt that comes down to my knees. The feel of the skirt brushing against my pristine pussy made me incredibly excited, but I wanted to really commit to the dare, if you know what I mean, so I decided to guarantee a little extra added excitement by slipping my famous Chinese balls inside of me, and that just got me drenched with anticipation. If I jump up and down with them inside of me, you can hear the metal weights clicking around inside of them. I decided I wouldn't jump up and down on the bus, but public transportation had begun to seem appealing. Public anything had begun to seem appealing.
So to the bus stop. The closest one is just a block from our house, but once I got there I waited and waited in the sun. Public transportation got less appealing rather quickly out there, but knowing how completely naked I was under so little clothing kept me excited as the cars zoomed past. I had a secret, and having a secret tuned me in sexually, so that I noticed quite a few men's heads swivel as they flew past in their air conditioning. When the bus finally arrived, late in its rounds, it was obviously packed. There were no seats to be had (not that I would have had them), and so once I'd paid the driver for my ticket, I pressed back to the middle of the bus, where there was some space to stand beside the back door. The university in the neighborhood had apparently just let out, and the bus was mostly filled with twenty-year-old young men, quite a few of whom couldn't help staring. I don't usually notice oglers (innocent thing that I am), but in my Chinese ball/experiment state, I couldn't help but notice that the blonde in her tank top and shaven pussy was being admired.
I grabbed onto a pole, and settled in for the ride. Where was I going? I had no idea, but I figured I'd know when I got there. As I travelled to my unknown destination, turning onto the Boulevard, the bus got more and more crowded, until I couldn't help but be jostled by all the people who were pressing in. You'll be proud of me, Mr. X: I looked from face to face for someone who might inspire me to rub up against them a bit, but the problem with public transportation is not that it's public or inefficient, but that nobody wants to be there. It's the moment in the day you just try to get through, but for me it was different: this was meant to be my moment, so I somehow had to make a moment out of it.
The university boys were laughing and bumping each other around, probably for my benefit. One of them glanced at me sweet and apologetic, and I smiled. That got him looking away pretty fast. None of them struck me as bedroom material at all, but I was managing to stay in the right place in my mind: I knew I wasn't there to find a lover, but to let myself be moved upon by invisible hands. And so I let my knees go a bit looser and swayed a bit more freely with the bus. A body would touch against mine occasionally, but none of them dared stay for a while, so I decided to close my eyes for a moment. I wanted to concentrate on the sensations I felt: the sounds of conversation, the groan of the bus's motor, and then, the movement of bodies past, and against, mine. A pants leg scraping against my own bare leg, a hip into my naked ass, and then an elbow gently (inadvertently?) across my breast. This way I could make it erotic. This way I was just a woman in a void being acted upon by other bodies.
When I opened my eyes a young man was standing in front of me with a rolled-up newspaper in his hand. I didn't look at his face, but the bus was so crowded that he was being pressed up against me through no fault of his own. He held the newspaper like a wand, and as the bus shifted left and right, the paper would press gently against the outer curve of my breast, as if it was trying to trace it. I let my head hang for a moment to look down at myself, and I saw that my nipples were hard and slightly visible. We hit a bump, and the newspaper pushed into me harder, sliding fully across a nipple and making my heart leap. I looked up at the boy, but he appeared to be paying me no attention. It occurred to me that nobody would ever admit to anything on a bus, that eye contact is hardly ever made on a bus even if other contacts are made, and that if I lived in a "first world" city, where eye contact is even rarer, then public transportation might just become my favorite way to get my libido around. There are no consequences on a bus, even if I worried there might be when I got off the bus.
The newspaper man had gone from a little light sketching to a full on portrait, it seemed to me. I know how you've imagined painting a portrait of me, Mr. X. I moved away slightly, and as I did I felt knuckles or the back of a hand move across the right cheek of my ass, from my hipbone almost down to my thigh. I knew that this was going too far, and part of me began to get scared, but another part of me was those Chinese balls, and it seemed like they had doubled in size, and my pussy was admittedly still so wet that for a moment I panicked that they would pop right out of me.
I closed my eyes again, as if I was tired, or bored, or just impatient to get to my destination. I felt the newspaper trace the edge of my other breast, and the bus took a sharp turn, and a hand briefly replaced the newspaper, nudging gently into my soft flesh. I felt hot breath on my shoulder and was momentarily disgusted, but I forced myself to give into sensations and let myself sway. The man behind me – I hadn't dared turn to see what he looked like – had his hipbone pressed into the ass cheek he had just touched, and his knuckles briefly raked across the whole of my other cheek. I was feeling the newspaper man pressing closer into me from the front, and the outline of the invisible man's hip shifting to what must have been his cock. It was going too far, and I was suddenly very scared. The sensation was agreeable in so many ways, but it could only be agreeable now if it stopped, so when the next stop came, just before the doors closed, I slipped out from between my rock and a hard place and jumped out the closing doors into fresh air.
My boys stayed on the bus, and I was free, Mr X, and in freedom all my confidence returned and I felt like the sexiest woman in the world. Ha! I'd come through the fire, and I was fucking indomitable. Now I felt like being rubbed from every direction all over again, and if some dashing stranger had provided a hotel room for all the lonely bus gropers to do it to me, in that moment I probably would have done it. And this is the lesson: often I've found that any kind of sexual risk, even if it flirts with the unpleasant, will leave me the horniest woman on the planet once the real danger has passed.
So what's a girl supposed to do with herself? And where the hell was I? I really had no idea. So you want to know what I did? I took a taxi home, and I'll leave you to fantasize about that!
Yours fully groped and freshly shaven,
Moi
Need to catch up? Read the Sex Experiment from the beginning: Table of Contents
Then subscribe to our newsletter for a free copy of Mr. X's hot, hot novel, The Known Experiment, and choose to get updates on blog posts, books, and special offers.