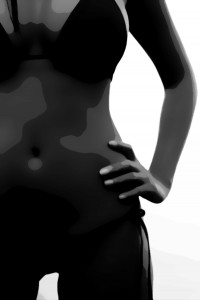 Dear Sultry One,
I'm still spending quiet moments contemplating the hot fantasy you spoke aloud during our walking experiment. I like to think of you being taken in sleek bathrooms. I'd like to take you as your hands gripped the sink counter and our eyes locked in the mirror in a brief, fearless fuck.
You constantly surprise me, but I'd like to see how you might surprise me with your flesh. I feel as if we know each other extraordinarily well after all these dares, or at least we know the dark parts of each other that stay mostly hidden from the world. I want to know even more about that dark places inside of you. I want to know how your darkness (which we could just as easily call "lightness") corresponds to mine, and how it differs. I want to be able to find you in the darkness of this eternally erotic world we've created together. I want to know the ways you're fucking, to discover more about what buttons to push and what dials to turn among the thousands in order to fine tune your sexual pleasure. Permanent orgasm – I'd like to imagine that for you. So tell me more about what's in your mind. Of course I always want your body – to see it, to touch it, to make it twist and pulse – but I wouldn't be Mr.X if it wasn't your mind that interested me more. I know you fantasize about orgies, strange women, and those anonymous bathroom fucks, but give me a new fantasy to make me hard. Give me details, and don't hold back. More and more I want you to get explicit with me. Talk to me about cocks and cunts and the gush between your legs. Tell me how it looks and feels.
And of course, as always, there is a catch, my little dreamer. In this case I again want to control the setting of your dreaming. First of all, I want you to be naked. Did that really need to be said? Good, then moving on: I want you to be naked in the sun. The weather has turned for good, and although tan-lines are a fetish of mine, no tan-lines happens to be another fetish, and in your case I want the sun beaming down on every little inch of your body. I want you to be sunbathing nude. Where you choose to greet the sun nude is entirely up to you, but I imagine you have a terrace or patio where you can strip naked without exposing yourself to too many curious onlookers (although that would be fun too and might inspire a sex fantasy…or a sex reality). I want you to oil yourself as you're sunbathing nude. I want to imagine you slick – oil over your breasts, your stomach, your pussy, your legs. I want to imagine you flipping over, ass hitched briefly into the air, and then I want to imagine you dreaming with your eyes closed. Perspiration eventually emerges across your enviable body, the oil heats up and slides down between your legs, a hand wanders, and you fantasize.
Then you write it all down and send it off to your fervent admirer,
X
Need to catch up? Read the Sex Experiment from the beginning: Table of Contents
Then subscribe to our newsletter for a free copy of Mr. X's hot, hot novel, The Known Experiment, and choose to get updates on blog posts, books, and special offers.