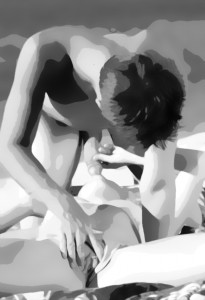 We're in bed, we're naked. My cock is hard and slipping up through her slick, split lips. I'm teasing her, refusing to enter, like a boat shallowly parting waters. I want her to beg. I want to hear her talking dirty in the way I know she's been preparing to talk dirty.
"Christ please just fuck me please!"
My tongue is at her nipples, teasing, and then it's at her ear, flicking, whispering. "I'm not giving you enough? Huh? Maybe you should find a lover to give you all you need."
The rhythm is broken almost imperceptibly: "You'd like that?"
"I'd love that. That would turn me on."
"And you'd watch, wouldn't you?" Her crotch arches up hard into mine.
"If there was something to see," I say coolly. Continue reading Talking Dirty: the result of The Phone Sex Experiment →