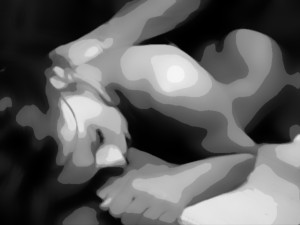 My wife speaks the truth when she says that she's entirely at ease in the nude. As the weather gets warmer, she flashes more flesh, and I get hornier. Of course Spring always gets me buzzing for sex and bikinis anyway, but her increasing nudity is like a visual representation of my mounting lust.
It's an immense pleasure to have a light-footed nymph cavorting around the house, but as they say about nudist beaches, it's not really sexual (which still sounds to me like claiming to read Playboy for the articles, but admittedly I haven't tested one of these beaches out to confirm just how unsexy the nudity is). Of course I love having my sexy wife naked and reveling in the feel of her own taut body. It makes me feel like a dissolute Roman emperor or a wine-stained Greek poet (incidentally, I think I was made to be one of the above, the more infamous the better, but then I'm getting off topic…but just let me imagine those lounging beauties, the casual immorality, the toga-strewn floors…for a moment…a second…there).
Here's what I'm thinking about nudity: you want it to have a few additional layers. Those nude Greek and Roman statues in the museums don't turn you on. They have perfect bodies, but we need more: a glint in an eye, a chemical connection, a history together, a story that needs to be written, a line to cross, a human pulse.
Let me be more specific:
Continue reading Infinite Layers of Fuck: the result of The Sunbathing Experiment →