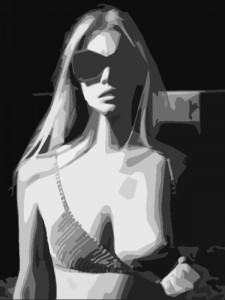 Dear Mr. X,
You really really turned me on! I like a man who knows what he wants and tells me exactly how he is going to get it. Usually I am the most confident person in a bar, but if someone even slightly attractive has the balls to come at me with even more confidence, then I am probably taking him home. Your e-mail made me wet! I took off my clothes and read it again and fingered my vazoom till I came. I keep it shaven to just a strip of hair, but then you're a stalker so you know that. Please also know that I like coming quickly and often. Something to remember if you ever dream up other dares for me.
Writing back to you made me even wetter! I guessed there was a chance you might be some creep looking for an eyeful, but hey, worst case was that some random man would see me naked. Baby – you wouldn't have been the first. So writing back made me finger myself again. I liked the thought of you sneaking through the trees in the middle of the night. I hoped you would be nervous. I liked imagining making you horny from my living room. So I came again and sent you that e-mail. Midnight!
That night I had completely forgotten about a dinner I had with friends, but around 11 I just told them I was tired. They protested. Usually it's Mona leading everyone out to the clubs (I love to dance and drink all night long), but I was happy to get home for my secret date with you. I put on some American jazz music that I love and changed into some seductive lingerie. You saw it, so I won't describe it. That lingerie has never failed me. Men fall apart! Then I poured myself a big bourbon. That's my favorite. Then I poured myself another. I lay on the couch listening to the music and lightly fondling my sexy curves, which you saw, so I won't describe. Did they make you hard? I hope so! As I waited I got super hot imagining making some stranger hard. I also hope you have a wife or a girlfriend and that you had to lie to get out of the house for Mona. You would not have been the first to do that either.
One thing I had not thought of was how I would know you were out there. I didn't know if you would try to stay hidden or come right out and try to get me to unlock the door. But since my friend says you have stayed anonymous, I guessed you wouldn't show me too much of yourself. I wasn't worried about the neighbors at all, if you thought that was going to get me trembling. I suntan naked on that balcony almost every morning, and I imagine quite a few of them have seen something.
When I tan I lie down on a mattress, so it's not like I stand there fully naked for all the world to see. That really got my cunt itching. I was watching the clock on the wall and smoking a cigarette when midnight hit. I stood up in my lingerie and walked across the room to the balcony. I didn't see anything at first. Then I noticed a cigarette burning across the empty lot. Was that you? Does naughty Mr. X have more bad habits than just Mona? I hope so.
I wanted to blow your mind. I like to be seen naked by men so I wanted you to see all of me. I wanted you to stare and lust at Mona. To reach for your dick and make it hard just looking at me. Did you? Then I wanted to leave you wanting what you couldn't have, but that was the one problem with your dare. You make me that horny at midnight but don't give me a man to fuck? That is not included in your services?
I have this huge dildo that vibrates and when I came back inside I took a quick shot of bourbon to slow my heart down, and then I lay down on the floor right beside the balcony and just out of sight from you, with my legs spread wide, and I put the dildo in my vazoom and came so fast it surprised even me. You had excited me, Mr. X, so I kept the vibrator inside and came a few more times! Even after that I couldn't sleep, so I ended up going out to meet my friends at club and dancing till late
I want you, Mr. X! Are you out in the darkness somewhere? Probably not. Oh, don't be scared. I won't eat you alive. At least not all of you. So give me something a little more challenging next time! Newsflash: I need to get fucked.
Yours truly,
Mona
Need to catch up? Read the Sex Experiment from the beginning: Table of Contents
Then subscribe to our newsletter for a free copy of Mr. X's hot, hot novel, The Known Experiment, and choose to get updates on blog posts, books, and special offers.