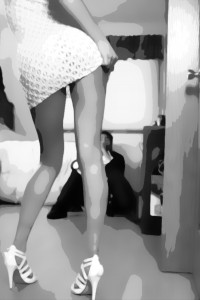 A couple of months ago I received an exciting e-mail from an unknown reader:
Dear X,
I recently found your blog, and I must say that it is the hottest thing I have read in a long time. I have been feeling extremely horny these last days. Three weeks ago I split up with my fiancé after falling in love with someone who lives thousands of miles away. I will call him Mr. L. This leads to some sexual frustration, as you can imagine. But I am a very sexual person and that doesn't go unnoticed. Former lovers keep knocking at my door, some blatantly, some less so. Yesterday, as I had just begun reading your blog, an equally distant former lover, whom I had promised a "show", approached me via video chat. It was in the middle of the afternoon here, late morning there, and he was still in bed…stroking his cock.
I was so worked up already (from reading your blog) that I immediately jumped into the game and began undressing myself in front of the camera. I know how much this man likes my ass, so I took some time removing my strappy sandals and rolling down my tight black pants, which I actually bought having Mr. L in mind. After re-positioning the camera, I lay down on the floor and began touching myself. I was so wet from the fantasies that had begun before the chat, and this former lover was just the happy beneficiary, probably thinking that I was hot for him – he has quite the big ego and is very proud of his big, thick cock.
But maybe he just didn't care and simply enjoyed being a voyeur to my lustful movements on the floor. He was quite surprised when I produced a Lucite dildo and began working myself with it. It was his glance – being looked at, being lusted after – that made me horny, not him or his cock. It didn't take long before we both exploded in orgasms. I quickly said goodbye, and that we'd talk later, and went on reading your blog for hours up until the latest post. I was just a horny something, my pussy wet and pulsating, and I was totally unable to think clearly, even less work.
It was evening by then, and I decided to take a bath. I rubbed my pussy with this body scrub made of salt, olive oil and mint, knowing that the essential peppermint oils would just heighten the feeling of my burning sex. I decided not to masturbate to orgasm. I was dizzy, probably hungry, so I made myself a yummy salad and checked my e-mails on my secret account. My lover Mr. L had sent me an e-mail writing that he had this fantasy of meeting me in a social setting where I was wearing this 30's style dress with a low cut back. He would approach me in a direct manner, but I would point out that I was with someone and then he'd imagine us together. Unfortunately he didn't describe what it was that he would imagine seeing. He is quite overcautious with e-mails. I knew that he was offline and wouldn't read my answer, and so I enjoyed keeping the suspense and not answering right away, even though I felt very tempted to do so.
This morning as I woke up I masturbated to this voyeur fantasy that I wanted to tell him (maybe I will): I want him to imagine himself getting head from a woman with long hair. He can't see her face, and he is just holding her head gently down. I hope she gives as good head as I do, taking his cock deep into her throat. Maybe she would even probe a finger back towards his anus. Mr. L is quite a bit older than I am and somewhat shy, even though I know he has a perverted mind. He's just afraid of opening up, but I know eventually he will. So that is the reason why I have been careful about exploring his anus, but maybe in this fantasy BJ-lady is allowed to do so. While he is getting head he is watching me being fucked by the anonymous man from his fantasy.
While I was masturbating I turned this into my own fantasy by giving it a little twist. I have a long term lover, I would say technically the best I have had, whom I'll call Mr. T. We have been fucking for over 9 years, since I was in my early twenties (he's about 4 or 5 years older) but mostly with long intervals in between our meetings. We know each other very well, sexually speaking, and he is the dirtiest man I have fucked. I totally mean this as a compliment. I am sure I am the same for him as he is for me. Actually I just had phone sex with him 2 days ago (he lives a couple hundred miles away).
So back to my fantasy: Mr. L was visiting me and in my mind we were on a trip to the city where T lives. We were going to meet at a fancy hotel, one I had also met T in six years ago. But this time I was with L, and we were waiting for T, so that L could see me getting fucked. L had some scotch and we kissed. We were nervous with anticipation. I opened the door after hearing a knock, and in came T. You should know that these two men are about 25 years apart, and T could be a younger version of L, who still is very handsome. So that might make it easier for L to imagine being T while seeing the younger man fuck me. As L and I know each other pretty well, he very quickly made me get down on my knees and suck on his cock. He wasn't there to give me foreplay, he was there to fuck me, and to be watched while doing so. I am not sure, but he might actually enjoy being watched. And I am not sure how L might feel being a voyeur to me completely losing myself in lust. But maybe you, Mr. X, can explain what might be going on in his mind.
In my fantasy, though, L would be sitting close, stroking his cock, maybe even having the woman from the first fantasy sucking on his very nice cock and looking at me. T and I have an amicable, sweet, but blunt way of communicating, even though there aren't many words required. And I would be totally at his mercy. Eventually Mr. L would stroke my cheeks while I was being fucked hard by T and tell me that it was going to be over soon – even though I know it wouldn't…
Somewhere between imagining myself in this scenario and being slapped and called a dirty little girl, I came. Hard.
Now I just have to decide how much of that fantasy I will tell Mr. L. So Mr. X, please do explain to me the appeal of the cuckold fetish: watching your wife being fucked and fucking someone else's wife.
I've written quite the sermon, I see. I've never done that before, but your blog was so inspiring that now I am sending a complete stranger a recounting of my sexual dalliances and fantasies.
Yours,
Grimm Perrault
Who was this fantastic specimen, and what could I possibly say to her. I imagined her in my mind, her voyeur fantasy becoming my voyeur fantasy (until that hotel room got rather crowded). I had no idea where she was writing from (although her English had a formality that led me to guess that although hers was excellent, it might not be her first language), and I had no idea what she looked like (though from the clues she had given, she seemed to be around thirty, and she was obviously widely desired). I thought about her…and thought about her. If I couldn't have her in the room next to me, I wanted to know more of her adventures, and so I attempted to respond to her questions with an e-mail of my own:
Dear GP,
Well you really are a woman out of a fairy tale, and it's a naughty one. I've been running a hard-on for about three days after reading your e-mail. I've been perpetually distracted with the thought of your (imaginary) ass and those strappy sandals – and then I go fully dizzy with images of you being fucked by T, and you watching the woman licking L, and everyone meeting eyes at angles until you're all vibrating with the same lust and pooling on the floor.
Give me a moment….
And then I love the way you talk of lovers and of sex. And I really love the notion that I can type individual letters into a computer that taken together get an obviously beautiful woman applying "essential peppermint oils" to her pussy and thrashing around in her bath. It's the magic power I always would have wanted to have.
Why do we want to see our lovers fucking others? I really have no idea. And why does my hand slip past my waistband when I read about a stranger who calls herself "Grimm Perrault" exposing herself on a webcam? I don't know either. Both "strange" phenomena, but then everything about sex is (or should be) strange. Somehow I think sex is about leaving the "self" behind – all those other foolish things we pretend to be. And the more we blow our minds in sex (unexpected passions, strange configurations), the further we leave our old selves behind. Maybe. I do know I believe that sex is a way towards self-evolution. And the only thing I'm sure about is that there should be no limits. Sexual jealousy makes no sense. Why would I deprive anyone I loved of pleasure? Why would I seek to control their pleasure for my own use?
And then maybe, maybe (the image of you losing yourself to lust in front of your lover makes this occur to me), I like the idea of women as supernatural creatures, tapped into a powerful lust, leaving this world behind. I love the look of dazed lust in a woman's eye. I love a confident woman, and I love one who can appreciate sex for the pure sex of it (which is rare).
So there are some unsexy thoughts on sex, none of which answer your question. Somehow I think your webcam holds more answers than my keyboard.
Final thought: you have, indeed, been a dirty, dirty girl. Keep it up.
Thanks for your kind words about the blog, and keep in touch.
Yours,
X
And then I didn't hear anything back. For a long, long time. Was it something I'd said? Was all that "self" talk a bit too much? I waited, and I waited. So I'll make you wait too.
Need to catch up? Read the Sex Experiment from the beginning: Table of Contents
Then subscribe to our newsletter for a free copy of Mr. X's hot, hot novel, The Known Experiment, and choose to get updates on blog posts, books, and special offers.