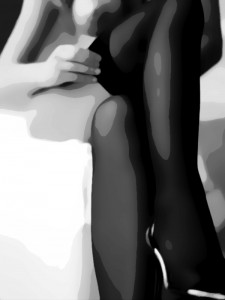 We're travelling over the holidays, and though I know we'll be getting up to adventures (which I'll duly report at some point), I won't be posting here till the first week of January. Don't panic. I need my sexual fix as much as the next person, so here's what you do: join The Sex Experiment social network, where like-minded lusties are proposing experiments to each other right now and explicitly (and artfully) reporting on their results. It's free forever, and it's a hell of a lot of fun in there. People are stripping in the Photo Orgy group and revealing fantasies that have long been secrets. I don't know of any bigger turn-on than that.
This week I was particularly turned on by the exploits of the well endowed and cleverly named Helena Handbasket. In the Your Experiments group she began by sharing a persistent fantasy:
"I've always had a fantasy about anal sex, yet my past lovers have never seemed to be into it, and I've been too shy to bring it up. Until now. Since I've discovered The Sex Experiment, my mind cannot stop thinking of new things I want to do, new ways I want to be fucked. Seriously, I cannot leave my nipples alone these days. They get hard like pencil erasers when I flick and pinch them. I mean, my own avatar photo makes me wet. I had no idea my own tits could make me so horny until I took a picture of them for this site. My clit gets just as hard, and my pussy gets sopping wet when my new lover plays with it. I've never experienced this level of arousal before, and I am embracing my inner bad girl.
Yesterday, I had a lunch date with a client, then came home and fucked my lover while wondering what my client's tongue would feel like flicking over my clit or snaking over my tight little asshole. When my guy first stuck his tongue into my ass, I nearly lost my mind. I'll never forget what it felt like. Incredible. Now, I'm practically begging for him to fuck me there, and he knows it. He'll make me get on my hands and knees and push my pussy and ass up back into his face, while he works my clit and my pussy. Then slowly, when I am almost ready to start speaking in tongues (LOL), he'll push his hot tongue into my asshole. He's just priming me for a good hard fucking. I know it, and he knows it. As he licks and rubs, it's like my entire body relaxes and my ass begins to open up. He's fucked my ass with his fingers while he licks my pussy and clit, but I haven't let him put his thick cock in there. Yet. There's always tomorrow afternoon."
My reaction upon reading this fantasy was enthusiastic, to put it mildly. Here's my hyperventilating: "It's a virus! It's spreading! Your nipples are the source, and after reading that my symptoms are significant dizziness and uncontrollable hand wandering." Forgive the rampant exclamation points. In my defense: this is a woman who inspires exclamation points.
And so we spent a day of intolerable suspense until a followup came. Helena Handbasket had been inspired by the recent exploits of Mona in her Fantasy Experiment, and she had a plan:
"You're inspiring me. I have a brunch date tomorrow with my new lover. I'm having a terrible time not playing with my pussy tonight, but my nipples have been fair game. We're meeting in a cafe that is quite appropriately named "Tryst", and my imagination is running wild. I've taken the liberty of typing up my fantasy and I plan to leave it somewhere in the cafe…or if there is a hot waiter, I will leave it tucked in with the bill. XO"
More hyperventilating from me, of course, so I'll spare you the exclamation points and get straight to her results, which came a day later:
"Due to a work crisis, my lover had to postpone our Tryst. While I was disappointed, I decided to go along to the cafe anyway, enjoy a leisurely breakfast and people watch. OK, to look for the opportunity to anonymously drop my fantasy into the right hands, then sit back and watch.
There was one particular waiter who looked to be around twenty five (deliciously into boy toy range) who kept stealing glances at my breasts as he walked past to his tables. I was wearing a deep V-neck tank top with a light sweater, so I could easily show a bit more or less, depending on opportunity. I caught him staring as I was preparing to leave. Our eyes locked for just an instant. I slipped my hand under my tank, and staring straight at him, I pinched my nipple. I could see him catch his breath and then he blushed and looked away.
I finished my tea, paid the check. As I walked past him towards the door, I handed him the folded piece of paper, saying only: "I think you dropped this."
I could hardly wait to get home, as I was so hot and bothered by the idea of what I had just done. As I drove, I was imagining the waiter opening the note and reading it in the middle of the morning rush, then slipping into the bathroom to take care of his hard cock.
I think I may have to have breakfast there again soon."
Helena, I think we all may have breakfast there soon. Thanks for the thrills, and to all of you: may your holidays be both happy and experimental.
X
Need to catch up? Read the Sex Experiment from the beginning: Table of Contents
Then subscribe to our newsletter for a free copy of Mr. X's hot, hot novel, The Known Experiment, and choose to get updates on blog posts, books, and special offers.