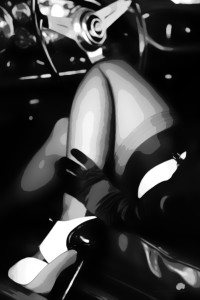 There's something about catching the eye of a beautiful woman across a crowded room – particularly when that woman is your wife and two men are pressing their cocks against her. It was a vision I found exciting, although perhaps that had something to do with the two brunettes who had marked me for a likely score and were wriggling around seductively in front of me. My wife has good taste in women – the long-legged, well-titted lovely next to me was as stunning as my wife described her. Yes, we were daring each other to be strangers in a bar together, and we were both feeling the thrill.
This was the first time I had inserted myself into our experiments, and even if I'm convinced she knows I'm Mr. X, it was strange to be playing myself while knowing everything that Mr. X would know. How to be…innocent? What I found interesting was that no matter how carefully you've constructed a fantasy to be lived, in practice there's always some angle you hadn't foreseen, and I think those angles are becoming my most insistent fetish: the little unexpected developments that take you by surprise, whether in bed or simply in being alive. Has a man ever been so proud to see his wife deposit her lacy underwear at his table as he fondles two hookers? Ha! It's the sort of bravura performance that almost requires you to take a clumsy pair of keychain knife scissors to the lining of your pockets in order to cut off your own underwear. Fortunately I'm commonsensical when it comes to underwear (if nothing else), and so what I lost in the game was nothing more than a pair of standard white briefs. What I gained was what came next after my wife and I skipped out of the bar arm in arm – which completes the story from where she left off.
She'd arrived early at the bar in her car, sexily dressed and prepared to flirt with strangers. I'd ridden my motorbike over from a meeting, preparing to watch her flirt.
"Follow me in the car," I said to her afterwards, outside after a quick and giddy kiss, and on my bike I led her out of the parking lot towards home. Or at least in that general vicinity. Images of her being lusted after by two Frenchmen were still ricocheting through my mind, and I wanted to be her stranger. So I took the long way home. I turned off into a deserted grid of streets where a new housing development is going up, where unfinished windows gape open like dark mouths, and I raced underneath the clicking streetlamps with the wind rushing through me and the sound of her motor at my back driving me onwards towards visions of hard and fleshy collisions. She was still following me, blindly in the night. After our dangerous bar dance I knew that she would follow me anywhere.
Eventually the grid dies out in cul-de-sacs, and I eased off the gas to slowly swoop around the perimeter of a dead end until our headlights were interlaced. I idled over to her window like the law. She'd had the window open, and her hair was a mess. "I'm going to need you to step out of the car," I said. She shut off the motor, then the lights, and she followed orders. I dismounted and looked at her fearless face in the glow of a distant streetlamp. "What have I done?" she asked.
"Ma'am," I replied. "Now I'm going to need you to step out of your underwear."
For a brief instant a smile leapt up onto her face – her underwear was still in my pocket, after all. "You and your needs," she hissed, and then her mouth was at mine as her arms pulled me close like a collision. Car sex, and we were the hot rods. My hands fumbled for the slit in her skirt, and in a flash I had fingers at her pussy. A jillion stars overhead. We live out at the edges, in more ways than one. Her hand shot down my pants pocket, which confirmed that the pocket had been cut clean through to a throbbing cock. I must remember to cut out all of my pockets in this way. Then moaning, mutually, and then her lips at my ear: "Fuck. Me. Right. Here."
Maybe after all I'm the prudent one. Or maybe the stars seemed too bright for what I wanted to do to her. Maybe I feared the gods would swoop down in protest. Her skirt was off by the time I ripped open the car door and fell with her onto the back seat. My pants were at my knees for a moment before I kicked them off, and god was she ready. As I lanced into her, my head bucked back and rammed into the roof, but in that moment the pains of car sex were just another variety of pleasure, mere punctuation to the pure pleasure of being inside of her. And then I wanted her completely naked, and so that silk Vietnamese shirt was removed in a flash – I've had fantasies about that shirt alone – and she was naked for me, in the backseat of a car. Sex was in our very fingertips. We were high school kids, we were prehistoric beasts, we were strangers in a bar, we knew each other's reflections as well as our own. Devastating maneuvers the back seats of automobiles on deserted streets. Even a quick, satisfying fuck feels like poetry when she's a stranger you've picked up in a bar, and the stranger happens to be your wife.
Need to catch up? Read the Sex Experiment from the beginning: Table of Contents
Then subscribe to our newsletter for a free copy of Mr. X's hot, hot novel, The Known Experiment, and choose to get updates on blog posts, books, and special offers.