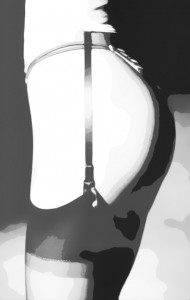 I promised a Third Round of the Group Sex Game this week. We lost quite a few nobly, horny souls in the Second Round. May they all continue on towards future sexual glories. Happily, though, there are nine competitors who have successfully completed both rounds and are still with us:  PoisonRaina, ForeignSexuality, Chris, Tori, wife10yearsin, UnpinnedStar, LadyfromParis, Willing Subject, and Sam T. Formidable contenders all.
A quick reminder of the rules of the game:
1) I post a modest little experiment on the blog from time to time and give you a while to accomplish it.
2) When your mission is accomplished, you respond in the comments here with a quick summary of how you did it – just a few sentences to give us a snapshot of the moment. As always on this site, anything you post is kept entirely anonymous.
3) Anyone who's added their comment when the next round begins will be eligible to continue on, and eventually, round after round, our contestants will be narrowed down to a winner.
Got it? Good. Then…(drumroll)…here are the specifics for Round Three. Although Round Two winnowed us down more than I expected, I'd promised to increase the challenge in this round, so here it is:
Get a phone number from someone you find attractive in some way. Walk up to them and ask for it. You will undoubtedly look foolish, because almost everyone looks foolish doing this, but I've found that your own foolishness will often work to your advantage in phone-number situations. You don't want to look predatory (particularly you men). So just smile, admit your foolishness ("You'll probably think I'm nuts"), and do your best to make a joke of the situation ("I never do this, but I know I'd feel even more foolish even I didn't do it today. Just give me a wrong number if you like"). That's one technique, but you'll probably have others. You can even say you're doing this on a dare, if that somehow makes it easier. My only restriction is that you can't invent a pretext or lie, i.e. ask a plumber for his number because you've got plumbing problems, then count it as a victory. Finally, for those of you in happily monogamous relationships, feel free to throw the number away as soon as you've obtained it. You know you love your other, and there's no betrayal in numbers. We're just playing a game, after all.
So out into the wide world now, ye horny beasts. Get those numbers, and good luck!
Need to catch up? Read the Sex Experiment from the beginning: Table of Contents
Then subscribe to our newsletter for a free copy of Mr. X's hot, hot novel, The Known Experiment, and choose to get updates on blog posts, books, and special offers.