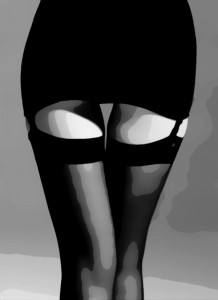 This is part of of our series of erotic dares with extraordinary women all over the globe. Readers Sweet Soumise in Paris and CC in Los Angeles have each asked for a monthly dare, and we're posting their responses on Fridays throughout the month. Want to join the experiment? Just write Mr. X with your results. We dare you.
This month's dare is based on Mona's Sidewalk Experiment.
Dear Movie Star,
Spring is here, so this month I'd like you to set off from home one day wearing a spring-ish skirt or dress that makes you feel like fucking. Also: your sexiest shoes. Also: either a g-string, a teeny bikini, or the skimpiest, sexiest pair of panties in your arsenal. You might also want to make these panties a pair you're willing to lose, because you're going to lose them.
Ideally this little hint of fabric will (un)fasten with a button somewhere, so that it can be loosed through your skirt or dress with a little expert finger work. Then I want you to tantalize the city by walking along some street. And this is your experiment: when you come to a trashcan, mailbox, or any kind of bin, I want you to interrupt your walk for a second, loosen that g-string and wiggle those hips so that it falls to the sidewalk. Then reach down, sweep it up, and toss it in the bin. Make the street as busy or calm as you wish. But make it sexy. Which really goes without saying.
Then just keep on walking, and let me know where you go, and what happens next. Of course in my mind, I'll be watching from across the street, and I assure you I'll have an interested bulge in my pants. Maybe someone will tap you on the shoulder, maybe someone will follow, maybe someone will pick up your panties….
Most importantly, what lusty thoughts does the experiment inspire? What does your newfound "freedom" make you want to do next? Surprise yourself in your mind, and I know you'll blow mine.
Impatiently,
Mr. X
Need to catch up? Read the Sex Experiment from the beginning: Table of Contents
Then subscribe to our newsletter for a free copy of Mr. X's hot, hot novel, The Known Experiment, and choose to get updates on blog posts, books, and special offers.