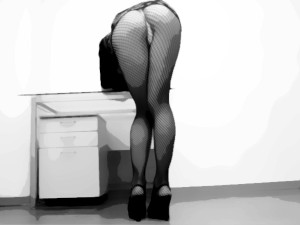 Dear Sultry Shaven Seductress,
I dream of you from many directions now – I dream of you naked on your balcony in the night, and I dream of your shaven pussy being adoringly licked through your pantyhose. You're a wild one, and I only wish I could be wild with you.
So this week we're going to focus on that wild pussy of yours – because I'm focusing on it, and because I'm convinced that you focus on it much more than the average woman does (which is one of the qualities I most admire in a woman). So take off those hose – it's ridiculously warm out right now – and wear a skirt or a dress that makes you feel like fucking. Also: wear high heels. Also: wear a g-string, a teeny bikini, the skimpiest, sexiest pair of panties in your arsenal. You might also want to make these panties a pair you're willing to lose, because you're going to lose them.
Ideally this g-string will (un)fasten with a button somewhere, so that it can be unloosed through your skirt/dress with a little expert finger work. Then I want you to tantalize the city by walking down the sidewalk along a busy street. And this is your experiment: when you come to a trashcan, or a mailbox, or any kind of bin, I want you to interrupt your walk for a second, loosen that g-string and wiggle those hips so that it falls to the sidewalk, then reach down, sweep it up, and toss it in the bin. Make it a dance, Mona. I'm imagining you accomplishing this trick in one fluid movement so that your admirable stride is hardly interrupted.
Then just keep on walking, and let me know where you go, and what happens next. Of course I'll be watching from across the street, and I assure you I'll have an interested bulge in my pants. Maybe someone will tap you on the shoulder, maybe someone will follow you, maybe someone will pick up your panties… I'll let you know…after I've followed you myself and ravaged you in a dark doorway further down the road. After I've hiked your skirt over your hips and put my hand to your shaven pussy. After I've pulled your breasts from your shirt and have frantically kissed your nipples. After I have your ass firmly gripped in my hands, and you unzip my pants. After my cock is pressed against your thigh, and we don't care anymore about anything but the fucking.
Your horny X
Need to catch up? Read the Sex Experiment from the beginning: Table of Contents
Then subscribe to our newsletter for a free copy of Mr. X's hot, hot novel, The Known Experiment, and choose to get updates on blog posts, books, and special offers.