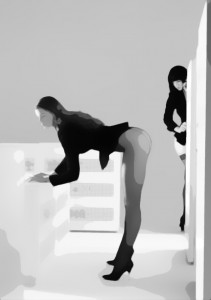 Dear Mr. X,
Well, I thought this little striptease was going to be your hardest challenge yet. Exposing myself to a delivery man was difficult, but that was just for an instant, and I could always shut the door if I wanted. But trying on lingerie (yes, lingerie– did you doubt I would ever choose anything else?) in a semi-public place seemed much harder, because I would have to keep myself out there for a while and stay seductive. I was extremely nervous. But then have I ever disappointed my horny monster X?
So lingerie it was, the nicest store in the center of town (sorry, that's all the information you'll get, although I will say that it's the sort of place that sells very expensive little silk delicacies that are inevitably stripped off in seconds. In terms of price per minute enjoyed, they're probably more expensive than caviar, but they do make an impression, and you know I like to make an impression). It was an unusually hot day, and by the middle of the afternoon, the activity out on the streets had slowed to a heat-induced crawl. I was feeling lazy and languid (and siesta-time horny), and so I decided to go for a stroll and see about fulfilling my obligations to you.
As I walked into the shop, I noticed a shopgirl at the front desk, probably surfing the Internet, and another drifting from rack to rack straightening camisoles and lace slips, etc. I said hello and asked if I could look around. They both had nice smiles and seemed happy to have a customer to relieve their boredom. There was nobody else in the store.
I like lingerie that makes me wish I smoked cigarettes, out of a jade or ivory holder – lingerie made to be worn on a divan in heels. Silk, and colored black or white or pearl – not the flashy, trashy stuff that makes you feel as if you should be wearing bunny ears. So I browsed through the store in search of something appropriate, all while observing the shopgirl out on the floor, who was half observing me too. She wasn't particularly beautiful, but she had a sweet, persistent smile and a lot of curves packed onto a small frame. She was wearing a pair of tight white jeans that spread dramatically over her hips and ass, a sleeveless green turtle neck that made her thrusting tits look almost cartoonish, and her face was animated by a cute pair of dimples. Otherwise, as I've said, she wasn't stunning, but she was…refreshing, I guess.
So I shopped for while (is shopping a fetish of yours, Mr. X?). Eventually I picked out two items: a black lace body suit cut very high on the hips, an effect that looks good on me (I've been told), and a sheer silk camisole with thin straps of ribbon and lots of flowing material that would dance down to just below my ass and the blonde wisp of my pussy. Its color was a pale, pale green, in honor of the shopgirl's ballooning green shirt. She had begun to circle closer to me as I looked around, and had taken my selections from my hand as I decided upon them.
"Shall we try them on," I eventually asked with a  smile. She winked, as if simultaneously confirming that my taste was impeccable and that we shared feminine secrets. This part, at least, wasn't at all as difficult as I had expected. She was there to make me feel sexy, after all, and when women are alone together in a completely feminine context, we're often more liberated to feel sexy. It's men who make us more aware of our effects and can consequently make us doubt ourselves.
The changing room was just a tiny little curtained-off space on the far side of the store. There was a large mirror on the wall, and then another curtain blocking off just one changing stall. The girl led me through the first curtain with the flick of her hand, and in the mirror I couldn't help but look at her body again, which was like a swooping little Italian racecar. Then she turned, handed me the two pieces of lingerie and casually indicated the second curtain with her other hand. "You can go in there if you like," she said, clearly (obviously) having led hundreds of women back there to perform a striptease and try on skimpy nothings. She obviously wasn't going to make it all that complicated.
I took the lingerie from her and bit my lower lip. "Would you mind staying close for a second opinion? It's been a long time since I bought lingerie, and I have no idea about sizes anymore."
"Of course," she said, with an open smile and another wink—winks were obviously her thing. "I'll be right here if you need anything." So I went off through the second curtain, which she held aside for me, and began a little striptease of my own. I had dressed for the heat, so this didn't take long. I pulled my sundress over my head and hung it on the hook over my purse. There was another smaller mirror in there, and as I unhooked my bra I studied my breasts in it. They really are miraculously perky, Mr. X! Recently I've had this idea that I wish my nipples were a bit bigger around (and you know I wish the breasts were a bit boobier), but honestly everything looked great, particularly my perky little nipples, which had already popped out to say hello to the world. I look good naked, Mr. X!
So don't think I left on my underwear. I wriggled out of my shoes and peeled the panties off ass first, relishing my own striptease (and with the ass, at least, I was as curvy as the shop girl – and it suits me). Now, was I already wet? I had to find out for sure, as per your instructions, so I quickly dropped a middle finger down to slide it up the line of my lips, just teasing myself, and the finger came away with a thin trail of sweet ooze up it, which I immediately dried across a perfect nipple. I was in love with my own body, and loved the bodies of women – big and small, young and old. I was ready to go.
The bodysuit I tried first, hooking my legs through it and sliding it up until it caught firmly against my crotch. Then I stretched it out and over my shoulders until it snapped into place like a second skin. The legs were cut open up to about my ribcage, which showed off the sweep of my hips. I turned and looked over my shoulder at my back. The lace scooped down beneath my shoulder blades, and though there was some lace covering the line of my ass, it was also half-mooned in from the hips so that the white skin of each cheek swelled out like pale fruit in need of plucking. Facing the mirror again, studying myself even more closely, I could see my nipples faintly through the pattern of the lace – two tender buttons of flesh criss-crossed by the open material. In that moment I found the sight of them incredibly exciting, and I didn't have to feel for my wetness. I knew I was going moist clear through.
I'm not always so ravishingly confident about myself, but that day I really was (luxury is a big turn on for me, as is being waited on), and so as I slid the curtain aside to reveal myself to the shopgirl, I didn't hesitate for a second. I must have had a big smile on my face, because she immediately lit up in response. "I think it's sexy!" I giggled. "I do too," she said, her eyes studiously investigating my every nook and cranny. I turned around so she could see the rest. I felt her fingers at my spine and the scratch of the tag being folded back into the suit. I looked back over my shoulder and smiled. "It doesn't cover too much of my butt," I said uncertainly.
"No, no," she said, pinching the edge of the material across my ass and pulling it out a bit. "That's exactly how it's supposed to be. It's like it was made for you. You really do look great." I felt like a supermodel being readied for a catwalk, and I thanked her. Then I turned to look at us in the big mirror, where we smiled at each other. "All I need now are your tits," I said, and we both burst out laughing. She cupped them, rolled her eyes, and said: "I'd be happy to give you some. They're too much for me. Maybe you could take some of my belly too!" I laughed and said "Anytime," completely at ease. Then I took the pale green camisole from her and said that now we'd see how we both looked in green.
The ice was broken, and I didn't even bother to close the curtain for my second striptease of the afternoon. I peeled off the body suit in front of her, letting my breasts pop out, then peeling it over my pussy. My whole body was a ripe fruit. I'm probably the least shy person I know when it comes to showing my body, but even so, I was absolutely dominating this experiment, X. It was just one of those days. Or maybe you're just slowly honing my libido.
We were sisters now, best friends. I really liked this girl. Hell, I wanted her to try things on (to get a glimpse at those bouncy boobs!). She didn't take her eyes off my body as I stripped and reached for the camisole, and it was the most natural thing in the world. "You'd look good in anything," she said, and although I knew she was trying to sell me lingerie, I could tell she meant it too. I was flattered. I wanted to change in front of the whole wide world.
The camisole slipped over my head easily and fell over my body. It showed quite a bit of cleavage, and I felt my breasts through the silk, looking at myself in the mirror. Then I felt at the back hem to see how far it fell, and my nails tickled across the tops of my thighs. I looked highly fuckable, Mr. X. I felt like some kind of 1950's pinup girl. "Let's have a better look," the girl said, and I stepped out to her so that we could investigate myself in the big mirror. "You'd look better in this than me," I said as she studied me, and when she dropped into a crouch to play with the hem a bit, I put a friendly hand on her shoulder. "Something like this needs to be filled out," I said. Her hand brushed against my hip, and I felt like closing my eyes and letting her fiddle with me for hours.
Then she stood back up and we looked at each other in the mirror. "I think it looks cute on you," she concluded, so I did a little ballerina pirouette with my hands in the air and let the silk fly out in a circle, completely exposing everything she had already seen. "You see!" she said with a smile.
"I'll have to spin for him," I said, and she said she was sure he'd like that. I asked if she got to wear all the wonderful things she sold for her boyfriend or husband. "Sometimes," she said coyly, and did a little belly dance of her own in the mirror. We both laughed, and I did another striptease, this time not even bothering to remove myself to the changing stall. I glanced at myself in the mirror one last time, and it seemed a shame we weren't both standing there naked, spending the afternoon trying on dozens of sexy things. In the stall I slipped my panties back on, hooked my bra, let my sundress fall over my shoulders, and wriggled back into my shoes. I decided to get the bodysuit, and my new friend checked me out. "I'll be sure to let you know how it goes," I said, she gave me another winky smile. I walked back out into the sunlight feeling light as air. I felt as if I was still naked and the world was all mine.
So good one, Mr. X, and thanks. We make a good team.
Need to catch up? Read the Sex Experiment from the beginning: Table of Contents
Then subscribe to our newsletter for a free copy of Mr. X's hot, hot novel, The Known Experiment, and choose to get updates on blog posts, books, and special offers.