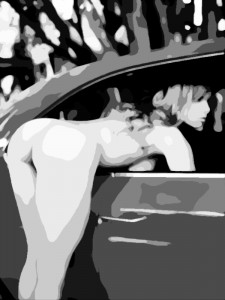 Dear Mr. X,
I'm horny all the time. It's hot outside and I walk around the house wearing just a scarf tied around me. I think of my sexy photographer, but I think of other people too, men and women, I start fingering myself and I want to have them all. But you've been a bit of a stranger recently, haven't you? Have I overtaxed your poor little libido? After all of my adventures, are you still trying to catch your breath?
Well I won't stand for it, Mr. X. I love my husband, and I love more than anything to do dirty things with him in bed, but I need you too, to take me to the scary places, to make me tremble with anticipation, to make my pussy just swim. Wouldn't you just love to see my pussy, Mr. X? Wouldn't you love to lick it? Oh, I know I'm off the subject and being cruel, and that's not like me, so I'm sorry. I'll make it up to you. Here's how: since you're too busy (or too bored?) to come up with an dare for me, I've got one for you. And it had better get done, mister. I've been a good little slave, and now I've got negotiating power. If you fail me, I might just start feeling prudish (believe that?). Besides, I want to see if you can take it as well as you give it. Ready?
I imagine you've got a wife or girlfriend(s), considering how sexed up you are. Of course you might just be an imaginative, sex-starved creep, in which case you'd better get a wife or a girlfriend fast. If you are, in fact, the elegant, seductive gentleman I'd (foolishly?) like to imagine you to be, then you should feel quite free to choose the wife or a girlfriend for this one. The important thing here, X, is that there needs to be a woman involved. I hope that's clear and that you won't require illustrations. Also, and I hope this goes without saying, she should ideally be a total sex nut. My kind of woman, if you know what I mean.
Then: I want you and this woman to move from one place to another. You know that old saying? That it's the journey, not the destination, that counts? Well that's what this "experiment" is about. I want you to hail a taxi with this object of your affection. I want you to both get in the back seat, and I want your destination to be at least a fifteen minute ride away. I hope you're with me so far, and I hope the other Mr. X is beginning to perk up. I'm perking up all over just writing to you like this, to tell you the truth. I think I like being in control.
So you're in backseat of the taxi with this sexy woman, and now here's the dare: go as far as you're willing to go. It's a challenging one, I'll admit. First, you'll have to seduce your fellow rider in an unconventional situation, and second, yep, there will be a rearview mirror and a taxi driver just a few feet away. But I've been brave, Mr. X! I've given you multiple hardons and hopefully much more. So I want you to take some risks. Kiss her deeply, kiss her passionately. Don't manhandle her, but seduce her, get her so hot and bothered that she'll let you do almost anything, even with the taxi driver there. But it's not enough just to play puppet-master this time, mister. I want you to be overcome, too. I want to imagine the possibility of you being exposed, too, of her unbuttoning your shirt or rubbing your crotch until your hardon can't be hid. Get me? I want you to lose your head.
And then I want you to write me with every little detail. I want to feel your lust. I want to imagine I have a cock, and I want you to make me want to explode. I want to know all about what turns you on, and more than anything I want to know how far you'll go with taxi sex.
Got it? Good.
Feisty me
Need to catch up? Read the Sex Experiment from the beginning: Table of Contents
Then subscribe to our newsletter for a free copy of Mr. X's hot, hot novel, The Known Experiment, and choose to get updates on blog posts, books, and special offers.