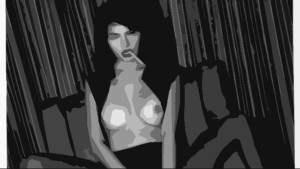 Dear Mr. X,
You make me so horny, and I love your whole mystery man thing, but I also hate it, because I really want to fuck you. I want to take off all my clothes for you slowly, not all at once like that night on the balcony, and show you my tits first and let you kiss my nipples, then show you my pussy which will be shaven in a strip, and put your hand between my legs to feel how wet I am. I just imagine the look on your face, and I imagine unzipping your pants and putting your yummy cock in my mouth. I could definitely show you things. You want to fuck me now, don't you?
I had all of this in my mind at a few parties where I did not feel like doing your sex dare, and then I went to this big party at the house of my friend last weekend. I was planning to masturbate there somewhere for the dare, but then I started laughing and drinking and dancing, and maybe it was in the back of my mind, but more or less I had forgotten about it. Then I sort of picked up this guy, very cute, I had seen him around in the discos. We were both getting drinks at the bar, and I caught him looking at my breasts (like you naughty boy!), and I laughed, and he laughed too, so we started talking and he kept looking at my breasts from time to time. So I was wearing a low-cut white top, a short red skirt, sheer black stockings, and no underwear. So I had come prepared. And this guy? A black dress shirt undone a little over a strong, hairy chest, and only blue jeans, but I had already noticed they had a nice tight bulge. He had thick lips and a mean stare that got me wet. And like I said, I had seen him around and danced with him a couple of times at clubs, and I knew he wanted to fuck me.
After talking a while we went out on the terrace for cigarettes. When he lit mine I saw him staring hard at my lips. I wanted to jump him right then but acted like he did not interest me at all and turned away to press up against the balcony railing that looked down on the street, sort of like at my house, lover! I leaned out over the railing and brought the cigarette to my lips, which gave him a nice little view of my skirt riding up towards my ass and my sexy sheer stockings down to some SCANDALOUS red heels. I wanted his cock inside me right then, and I knew my curvy ass was having its effect when I felt him press gently up into it, like he was just admiring the view, too, but I knew we were looking at two very different things. He was kind of at my side, so his hipbone was at the outside curve of my hip, but he was close enough in that I could feel his cock against the outside of my ass, and it was as hard as the balcony railing I was gripping in my left hand. Don't worry! I let him stay right there!
After a while I wiggled a little bit, and he knew what I wanted, so he shifted until he was right behind me and I could feel his cock right on my ass, and I pushed back against it. Then I felt his chest against my back and he moved my hair away to kiss my neck. I groaned. Mmm! I wiggled some more and said, "I bet you want to fuck me!'" How about you, Mr. X? I bet you want to fuck me now, too.
I think he was so shocked or so excited he didn't know what to say, so he just went on kissing me, and I threw my cigarette away and turned to kiss him on the mouth. Right away one of his hands was up fondling my breast, and I said, "Not here but I know the place." I took him by the hand and led him back through the party. It was really rocking now, and I led him back to the bedroom of my friend, which I I know pretty well because one time we had a sort of a threesome in there! Gulp!
As soon as I shut the door behind me, he attacked me, and normally I do like it hard and rough, but I did not really want anyone to find us fucking in there, so I pushed him away. Then I really thought of your dare again, so I pulled my skirt over my hips and leaned back on the bed without lowering my stockings. He smiled real big and just stared down at the slit of my shaven pussy through the sheer back material. Then he dove for it, grabbing them to pull them down. "No!" I cried. "Just your hand, just like this."
He didn't know what to make of me, but he was certainly entranced by the sight, so he lowered himself to his knees like he was at the altar of Mona's cunt and began stroking me through the stockings. I was already fucking wet down there, and I pulled out a breast to pinch as he went on rubbing my clit with his thumb. I pressed up hard into his hand with my hips and came in like thirty seconds. "OH MY GOD!" he said, like he had just come as well, but I was already tucking my breasts back in and straightening my skirt. He did not know what had hit him!
Afterwards we went back out to the party and for the rest of the night I pretended he was not in the room, just to amuse myself. Whenever I glanced over he looked like a little wounded puppy – pretty cute, and I'm sure I will fuck him sooner or later.
So next time I will try to masturbate myself as you ordered, but this time it just turned out easier to have someone else do it for me! I wish it had been you, Mr. X!
Need to catch up? Read the Sex Experiment from the beginning: Table of Contents
Then subscribe to our newsletter for a free copy of Mr. X's hot, hot novel, The Known Experiment, and choose to get updates on blog posts, books, and special offers.