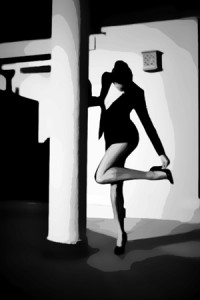 Reader Mallory sent me an email asking for some dares to fulfill on a business trip. I responded with a few ideas, and she used those ideas as inspiration to create quite an erotic adventure for herself. Here's her response, the first of two parts. 
Day 1
I am on an adventure, and the first thing I did was to get a massage. I asked for a strong masseur and got Derek, a tall man with large hands. He slicked my body with lavender-scented oil and kneaded my tight muscles. He rubbed and pressed the tension slowly out of my body. I breathed in deep and absorbed the firm pressure he exerted on me. I breathed in deeper and took the hard force he applied with his fingers, palms, and knuckles. I breathed out and felt the soreness of my muscles, the coiled up tightness of my body, dissipate. The lavender filled my senses and led my thoughts adrift into a realm of sensuality.
Later, I slipped into the massive bed and luxuriated against the fresh linen with my nude body. My muscles relaxed, my soft flesh pink from the steamy shower, my skin silky from body cream. When I travel my lovers always say it's a shame, me alone in a big bed like that. But sometimes I like my solitude. I enjoy these occasions when I can spread myself out naked and wide open, picture my darkest fantasies, feel my arousal mount with my thoughts, and then fuck myself scandalously. I started on my first dare then, and fucked myself with a pen, actually two pens. And oh fuck them I did, pushing them in and squeezing them tight deep inside my pussy. I wanted to come all over them, and I did, hard.
Day 2
The next morning the horny slut set out early with one of the pens to sign up for a class. The pretty young woman at the desk moved with some nervous anxiety. I thought of her mouth on the pen and left my cunt coated pen there, on top of her sign-up sheet. I proceeded with my day, with images of the young woman chewing and sucking on the pen. I imagined what her mouth and tongue would feel like eating me. I pictured all the men who would play with the pen while flirting with her, their fingers touching my cum. All these strangers who would be tasting me. All these strangers who would have my cunt.
Now for Mr. X's inspiration: I am petite and I wear my skirts and dresses short, and I brought my high heels to go with the short dresses. I got a lot of attention from both men and women. Women always check each other out; they always check me out at these functions. The men were especially anxious to find the conference rooms for me; a few even escorted me. I decided that during the time period allowed for us to peruse the exhibitor hall, talking to vendors about their goods and services, I would have the best opportunity to walk around without any underwear. I was already braless; it was easy stepping out of my panties in the ladies room. Was it my imagination, or did all those salesmen insist on loading my goody bag with their toys? Was it my imagination or did they all look a little deeper into my eyes? Were they trying to tell me privately that they wanted to slip their hands up my dress and between my thighs? It was not merely my imagination: a particular young man, probably half my age, specifically asked if I would be attending the evening's dinner on the beach. I looked into his liquid brown eyes and said yes. He said he would look for me. I stared and stared at his very long and full eyelashes and could almost feel them fluttering, caressing my clit. That became a fantasy. We had a refreshment break after this time period, and I used the little notepad giveaway from the young man to jot down the following fantasy scenario in my best block letter handwriting.
"YOU HAVE THE LONGEST, FULLEST EYELASHES I HAVE EVER SEEN; YOU MUST HAVE THE ENVY OF ALL WOMEN WHO EVER USED MASCARA. BUT NEVERMIND THE OTHER WOMEN. ALL I CAN IMAGINE ARE THOSE EYES OF YOURS STARING AT MY BARE PUSSY, YOUR THUMBS PUSHING BACK THE HOOD AND YOUR EYELASHES CARESSING AND SWEEPING MY SWOLLEN CLIT. DID YOU IMAGINE WHAT MY CUNT WOULD FEEL LIKE GLOVED TIGHT AROUND YOUR COCK? NO, I THINK YOU JUST WONDERED WHAT KIND OF A FUCK I'D BE AND MAYBE WHETHER I HAVE ANY TRICKS TO TEACH YOU."
I carried the little notepad around the rest of the day and thought hard about whether I had the guts to leave it somewhere. Later, during dinner at the beach, I did bump into this beautiful boytoy of my fantasy. He and I went nuts over the dessert offering and decided on teamwork. He held the two-foot-long wooden stick, and I stuck the marshmallows on it. He roasted them until they were all gooey. I gathered the other components. Then he and I made s'mores, sandwiching the melted gooey creamy sweetness between the hard, crisp layers of graham crackers and soon-melted dark chocolate. We consumed the decadent products of our teamwork by the fire, the goo dripping on the sides of our mouths and our fingers.
Need to catch up? Read the Sex Experiment from the beginning: Table of Contents
Then subscribe to our newsletter for a free copy of Mr. X's hot, hot novel, The Known Experiment, and choose to get updates on blog posts, books, and special offers.