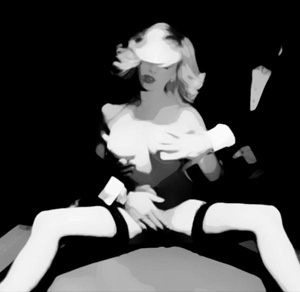 Nothing dulls like routine, and nowhere is that truth more felt than in the bedroom. Our existence turns in cycles. Sex indicates the life we need to lead, and then life, for a while, indicates the sex we need to have. Our separate selves teach one another about who we're meant to be.
Sometimes, too, circumstances create the cycles. For a few months now I've been mostly working in a European capital, and Mrs. X has been a flight away. We have been in a work cycle, rather than a fuck cycle, a fact she has expressed by e-mail to the mysterious Mr. X. Like old lovers, they exchange occasional messages, and they've been slowly playing through an evolving dare that I'll report soon enough, but for a while, at least, their rhythm has slowed. Fortunately there are airplanes (which she's made forever sexy to me), and fortunately, after some initial romantic sex when she comes to visit, we're inclined to dare even more together with the time we've got. She's even been using my address (the mail's more reliable here than back at home) to upgrade her Chinese balls to jiggle balls and anal beads. The neighbors must hear the screams and look at me suspiciously in the elevator.
Our experience with the masseur broke down some walls for my wife. She demonstrated herself as a sexually ravenous woman with commanding needs, in my presence. Since we met we've been fairly open about discussing our desires, but there are always little reservations, and seeing ourselves in such an unhinged fuck removed some of those reservations, and jealousies, and fears. So before she arrived for a long weekend last month, I'd done the research on the most elegant sex clubs in town, and I proposed not a dare, but an adventure. She giggled a bit nervously, but her eyes were already cloudy with possibilities, and we picked a night.
Our greatest fear was aesthetic. We wanted some glorious orgy in stunning surroundings – yes, something like her orgy fantasy – and although this is a city known for its beauty and sophistication, we feared that banality might make the sex seem crude and mechanical. We didn't want cheap mattresses on the floors, but on the internet the place looked fairly glamorous, and hell, at the very least we'd have each other. At worst it would be a laugh. We dressed sexy but warm – it was bitterly cold outside – me in a wool suit and open shirt, she in a dress shirt, open low, and sleek pants that showed off her spectacular ass. That was our first mistake of the evening, but fortunately it would be our only one.
We decided to walk, as the club is less than a mile from where I'm staying. Maybe we were nervous about asking a taxi driver to drop us off at the address we had. Could it be common knowledge where strangers met to fuck in this city? Our nerves only added to the excitement. The street was residential and quiet. When we came to the address, there was only what looked like a narrow, gated driveway for deliveries. We wondered if the place had closed or if we'd mistaken the address, but we pressed a buzzer, and the gate clicked open. We walked up the dark driveway. A laughing couple came out of the apartment building behind and walked past us to the street. We looked everywhere trying to find some sign of a sex club. Then we saw the unmarked black iron door a little further up the driveway. The number of the club was posted beside the door, and so we smiled at each other one last time and tentatively knocked. Almost immediately an older woman with wild hair and a loose halter top flung the door open. She was sexy enough, but in a seen-it-all, done-it-all sort of way. "Sorry, but you can't come in without pants," she said to my wife. "It's our only rule."
Strange rule, I thought, if the goal was to get out of your clothes. "What if I get out of them right here?" my wife said with a bright smile. The woman smiled back. "I'm really sorry, but you'll have to come back in a skirt." Then she shut the door, leaving us out in the cold. "Well?" I asked my wife, deflated. "Well, we'll just have to go home and change," she said matter-of-factly. "We've come this far. Now way we're turning back now." So we quickly walked out to the nearby boulevard and hailed a cab, which waited while my wife disappeared to change into a short leather skirt and sheer stockings. We'd passed our first test, and the taxi driver was pleased.
Back at the club – so quiet, so hidden in the middle of this unsuspecting neighborhood! – the woman took our coats with a smile, and we sat down at the bar for a drink. The place was dark, with a dance floor raked by colored light on which nobody was dancing. Indistinct couples and groups sat in the corners watching other couples and groups. One couple sat at the bar next to us, and we had some polite conversation, but it was clear they weren't our type, so they moved on. Nobody that we could see was very attractive. Nobody was turning us on. Just then, however, a beautiful Japanese woman detached herself from a group and strode past us like a panther. We were both impressed, and we had been told there were rooms in the back.
We finished our drinks, and still nothing was happening. Had we showed up too early? We looked at each other uncertainly. We were getting bored. So we decided to wander back and check out these back rooms. Hand in hand, we stepped back into a gloomy corridor, which turned back and forth past all sorts of rooms – rooms with windows, different shaped beds, extravagant couches – but there was nobody back there either. Where had the Japanese woman gone? The question seemed as urgent to my wife as it was to me. "Well, we may as well fuck," she growled, and I realized just how excited she was. We began making out in the hallway, hands groping for familiar places that suddenly felt unfamiliar. Kissing her neck, kissing down into the V of her shirt. And our lust was like a magic spell. In our innocence (well, sort of), we had broken something open, and now we were surrounded by all sorts of people, watching us kiss, watching us fondle, fondling themselves. Slowly they moved into us. They wanted us right there in the corridor. That much was clear.
A solid, muscular man with a reassuring face had begun to stroke my wife's back, and as I fondled her she eased back against his body. I unbuttoned her shirt all the way and reached between her and the man to undo her bra until her breasts were revealed to everyone. The man immediately reached around to cup them in his hands, and her head fell back against him with a groan. Then she turned her lips from mine to his, devouring his lips as she continued to work my cock through the front of my pants. I wanted to watch them take her. I wanted to watch her suck cocks, and groan, and lose herself entirely.
By this time I was not unaccompanied. My wife's new project had a beautiful black girlfriend in a tight, shimmering dress, which she had shrugged from her shoulders to offer her full breasts to my ravenous tongue. And on the other side of me, a blonde so sexy I thought I was dreaming, lowering herself to her knees in an equally revealing dress to work my belt free. She was an expert, dear reader. Within seconds she had my throbbing cock in her mouth as I gobbled at my black obsession's breasts and the blonde's diminutive escort looked on, clearly finding his own pleasure this way – and in the sight of my wife's skirt coming off, a development of which I was not yet aware.
I had never had my cock sucked by two women at once, but this was a pleasure the black woman seemed intent on offering me. Her dress was on the floor now, as was the blonde's. All that remained on these two remarkable bodies were two pairs of lacy, almost matching underwear. They kissed around my cock and murmured to themselves. My shirt came off – I couldn't tell how – and my pants were flung aside as they shot pleasure through my guts.
I hadn't lost sight of my wife for long. Her pleasure was entirely linked to my pleasure, and when I looked up from the two beautiful faces driving me wild with their expertise, I saw that she had pulled the man over to a little room just next to us that was no more than a wall-to-wall bed built for two or three. She was on her back, completely naked, her head thrown back in ecstasy with her legs spread wide in the air. The man was naked too, driving his ass hard between her legs, and she was growling as if she had something caught in her throat. I almost came right then. I wanted us to fuck the world forever right then.
The women must have sensed this, and they drew their firm bodies up along mine to kiss at my neck and lips. I lowered myself then, kissing their breasts and pulling their underwear from their hips to reveal two perfect, shaven pussies, whose wetness I felt with my fingers. The blonde wanted to fuck me then, in front of her escort. She placed her hands on the bed where my wife was still moaning, occasionally meeting my eyes with blind lust, and offered her ass to my throbbing cock. I took it eagerly, and she bucked back against me hard (should I say that there were bowls of condoms everywhere?) as the black woman pressed her chest to mine and licked my neck. I simply couldn't believe how quickly the night had turned to ecstasy. I couldn't believe the perfection of the ass I was rocking into, fingers pressing into the pussy of the woman who danced beside me. I couldn't believe my wife pulling this man's ass towards her so he would go deeper, harder.
Have you ever been too excited to come? My wife came with a scream, which almost sent me off, but then I just kept going until we all fell in a heap of laughing exhaustion. Later, as we slowly pulled pieces of clothing on, we all thanked each other with unusual formality. They were going to wander off to other rooms and start all over again, but we'd had our fun and didn't want to spoil the moment. Before leaving, however, we did wander up and down the corridors, looking into rooms where everybody was fucking now. There were foursomes, but also a group of ten in an orgy, splayed out like some multi-headed mythical beast. Some rooms looks absolutely mouth-watering, but others we had to turn our eyes away. It was interesting how people who looked more or less the same seemed to have congregated together – the old people, the fat people, the slim people. But there in the middle of a conglomeration of bodies more unattractive than in any other room was the Japanese woman, rearing up over them all and writhing in ecstasy, as beautiful as a swan.
Giggling, we ran out into the street and hailed a taxi. Yes, we have a history in taxis, and there were giddy, whispered discussions of whether we should dare more, again more, whether we should crack rearview mirrors with our lust, but we were tired, and satisfied, and it was too cold for walking home.
Need to catch up? Read the Sex Experiment from the beginning: Table of Contents
Then subscribe to our newsletter for a free copy of Mr. X's hot, hot novel, The Known Experiment, and choose to get updates on blog posts, books, and special offers.