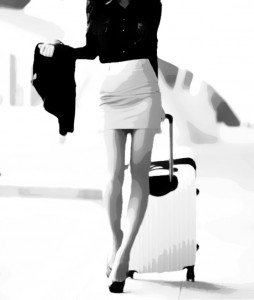 Long Distance Lady,
I keep picking up the phone, hoping to hear you telling me to do something dirty on the other end of the line, but I just keep getting dial tones that won't tell me how bad I've been.
And yet, as I pine away, I glimpse new possibilities. The holidays are here, and I spy the prospect of you jetting off somewhere to see family and friends and sit on Santa Claus's lap. So this experiment is a conditional one: follow its instructions to the letter if you do find yourself on a plane, and if you don't, well…then just come sit on my lap.
Air travel: formerly glamorous, now as degrading as a doctor's exam for an unpleasant condition. Do cattle have raging libidos? I doubt it, because every time I'm treated like one, my libido vanishes. So this is your mission, Beauty: restore sex appeal to the 747 and save humankind from airborne celibacy.
The challenge is not as daunting as it seems, particularly when one is equipped with your formidable sexual arsenal. Your first step will be to find the peace of mind to let your desires begin to creep down the aisles. Maybe you wait till a pause in the relentless service, or until the lights are turned out – then let yourself relax and find a lust object (or two). Maybe you spotted them while waiting in the terminal. Maybe you fell into line behind them while boarding. All that matters is that they be within sight as you begin the experiment. Maybe you'll want to choose the aisle seat to facilitate lusting.
Once you have this person targeted (even an arm or a cheek will do), I want you to imagine everything you would do to this person, and everything this person would do to you. Pick a location, pick an atmosphere, pick a fetish, pick a surprise. Tell me about it. Do not hold back.
Is the sex fantasy rolling now? Have you imagined reaching out to put hand to flesh, and have you taken something into your mouth? Very good. Now get up from your chair and go to the bathroom. Again, you will likely want to do this at a moment when the plane has quieted. I imagine it will be crowded for the holidays, and you will want to to have the bathroom (and your sex fantasy) to yourself for at least a while.
So: privacy at last! Close the bathroom door behind you, and now here's the catch, the little detail that will keep me up at night for the next week or so, like a kid waiting for Christmas: do not lock the door.
Move your underwear to your knees, move your stockings too if you're wearing them, and put your fingers to your dream-moistened pussy. Fondle yourself towards ecstasy, but do not lock the door.
This, my Sexy Elf, is my Christmas gift to you. What's that? Me? What would I like? You really shouldn't. Your Mr. X is a simple man with simple needs: And all I want for Christmas is to hear what comes next when the doors are unlocked and you've got sex on your hands.
Merrily,
X (mas)
Need to catch up? Read the Sex Experiment from the beginning: Table of Contents
Then subscribe to our newsletter for a free copy of Mr. X's hot, hot novel, The Known Experiment, and choose to get updates on blog posts, books, and special offers.