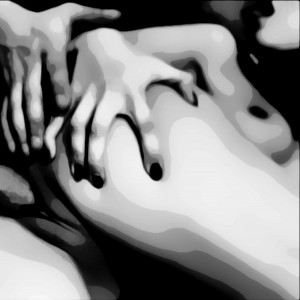 So my wife has turned out to be an exhibitionist, and I've turned out to really like it. I've always liked the looks she gets from men when we're out together – they undress her with their eyes, just as I occasionally do to their girlfriends or wives. The thrill is in imagining crossing the borders we place around our lives, but my goal is to set new borders for us out at the far edge of imagination, and watching my hot wife reveal herself to a stranger was out there in the realm of pure erotica. The problem is that the border is always shifting, and now I want more! I haven't described her yet, so here's a glimpse: on the surface (by which I mean clothed), she has a lot of flare. She likes high fashion but she's got enough taste to mix and match couture skirts with fanciful creations of her own. In bed she is similarly adaptable, if not as creative. She likes to be dominated, and there's a bit of a masochist in her. Often in the heat of the moment with her ass waving in the air, she hisses: "Hit me!" She is completely unashamed of her body, and has that European tendency to take off her top by the pool, which I've always liked. Her eyes are green, her hair is a pale blonde that waves down to her shoulders. Her breasts are small but perky, with small, girlish nipples, and her body long and sleek – she's older now, of course, but it's the sort of body that will always remain fuckable. It doesn't seem to change, and her pussy is still as eager as ever, quickly wet and nearly bare with just a few wisps of blond hair. Then her ass…mmm…which is where she gets her curves. It is full, but absolutely smooth and firm, and just below it, on the top of her thigh, there is a little brown birthmark that catches your attention, gives you an excuse to look and maybe make some clever remark…and drives me wild. She's truly sexy. Erotica in the flesh. I was staring at her ass, and the birthmark, as she opened the door to the delivery man in that skimpy robe I'd bought for her a few years ago, secretly hoping that she'd let herself wear it in public someday, imagining horny men gathering around her to pull it from her body. She was clearly nervous about the sex dare, flittering around after work and not making eye contact, but when she emerged from the bathroom when the knock sounded at the door, I saw she was ready. Her skin was glowing from the heat of the shower and her eyes had that drunk and dizzy look they get when she's horny. In my pants my cock was already hard. My erotic imagination was being made real. Once my wife opened the door to that shocked kid, she was revealing even more flesh than she realized. The robe had already slid up over her hips, such that her ass spread out from it in a way that was driving me crazy. Even from the front you could see a little halo of the hairs of her pussy, and a nipple was already beginning to edge out to freedom. That delivery man could have done anything to her, as far as I cared, but it was clear to me that he was too intimidated by her beauty (and me standing there!) to do anything. But my cock just kept getting harder. Afterwards, after she'd impulsively showed him her tits, I couldn't stand it anymore. I wanted to fuck her into a new dimension. I wanted her to scream and beg for cock. The door shut, and I roughly threw her up on the dining room table. I slowly extracted the Chinese balls from her cunt, letting the tip of each one emerge, then spread her swollen lips, which closed again only to spread for the next ball. She was clearly delirious with the thought of more inside of her. My mouth hungered for her taste, and I spread her legs and dove for her pussy. She was sopping wet, the hair already matted with her juices, and when she groaned that she would have fucked the delivery man (as if her fortune cookie had been cracked open and this was what she was reading to me – pure erotica, pure delivery man lust!), I raped her with my tongue. With her hands tightly pulling my hair, she rammed me into her, over and over again, growing wetter and wetter until she came. Then she violently pushed me to the floor, tore my pants off me and began to suck my cock as if it had magical powers that might sustain her erotic delirium. She was possessed, her eyes glazed over, and the thought that she might be fantasizing sucking the delivery man's cock brought me right up to the edge of orgasm. Then she abruptly stopped and turned to offer her ass to me. "Now fuck me from behind," she said, with a force that surprised me. "Hit me!" So I got up on my knees, and we assaulted each other with hands, with tongues, and fingers, and all the burning parts of our bodies until we both came in a heap, groaning, dripping, slick with sweat and all the dirty remnants of our sexual fantasies. In the couple of days since, we haven't talked about the experience at all. I am still obsessed with the image of her revealing herself to a delivery man, but for all I know she's put it out of her mind. We made love last night again, romantically, fond and quick in the bed before sleeping, and I kept waiting for her to whisper something dirty in my ear, something erotic to drive me wild and spur us on to further perversions, but she was a blank, and I probably was too, and afterwards we rolled our separate ways and quickly fell asleep. It's time for Mr. X again. We both want it, we just don't know how to do it without him at the moment.
Need to catch up? Read the Sex Experiment from the beginning: Table of Contents
Then subscribe to our newsletter for a free copy of Mr. X's hot, hot novel, The Known Experiment, and choose to get updates on blog posts, books, and special offers.