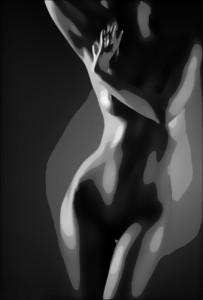 Dear Little Exhibitionist,
How I would have liked to see you taunting your delivery boy. I can imagine that he's still masturbating to the memories of the sight of you, and the extended sex fantasy the memories must inspire. I know I still am. I've promised to remain anonymous, and I will remain anonymous, but how I would have loved to run my hand up the inside of your soft thigh as you wore that little robe of yours. I would have loved to watch your husband pulling it from you, too full of desire to be shocked by your audacity anymore, and then to have watched him take you towards explosions with his tongue. And maybe you would have glanced across the room and seen me (the bastard) standing there, but you wouldn't have said anything. You would have shut your eyes and groaned with your own pleasure, and the pleasure of what you were doing to us both. But enough of that….
You've accomplished your challenges and then some over the past couple of weeks, and I can't help but admire your daring. I get the feeling you're breaking through barriers, discovering new and naughty parts of yourself, and letting fantasy and desire reconfigure the world around you in a way that puts you at its center. You're pulling more of the strings now, blossoming like the flower, prowling like the cat, whipping along like the breeze. Your body is extremely desirable, and you know it. You are a sex fantasy. Men are desperate to fuck you. But your body has been the focus of us all, so for this challenge you're going to have to use your mind.
I'll give you a couple of days, no more. Call a friend (female, I insist) and ask to meet her for coffee or a drink. Talk about whatever you talk about, catch up on the news. Your first challenge will be to somehow turn the conversation to sex. I've read your e-mails, so I don't imagine that will require a huge leap. Then I want you to tell this friend your most urgent, naughtiest sex fantasy. You must give this some thought in advance. I need you to imagine the details of what you will tell your friend, and the parts of the sex fantasy that turn you on the most. Why do they turn you on? Could you realize your fantasy? How? You've got enough charm to make this natural, I'm sure.
But that's not all (it never is, is it – I have a reputation as a bastard to keep, right?). As you tell your friend this fantasy, you may not slip into yourself or shyly avert your eyes. I want you to observe your friend closely – not lustfully, necessarily, but I want you to notice how her body reacts to the sex fantasy more than whatever she might say. Does she wet lips with her tongue (or can you see them become lined with thirst)? Do her eyes gleam (or grow dull)? Does she play with her hair? When you look at her breasts can you see her nipples stiffening? What about her legs, her feet? Study her closely as you reveal all of the details of your fantasy, letting yourself get excited by the words, but not so excited or embarrassed that you neglect to notice all the subtle little transformations your words are making across the body of the woman in front of you.
Afterwards I want to know your sex fantasy, and I want it to excite me. I also want to know the details of the effect your sex fantasy has on your friend. I want you to be specific about her body.
Sweet dreaming,
Mr. X
Need to catch up? Read the Sex Experiment from the beginning: Table of Contents
Then subscribe to our newsletter for a free copy of Mr. X's hot, hot novel, The Known Experiment, and choose to get updates on blog posts, books, and special offers.