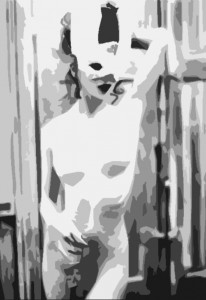 Dear Mr. X,
This challenge actually turned out to be harder than the last one (but then you probably knew that). Letting my tits pop out of my robe for the delivery man somehow just seemed like a game, but there was no wiggle room on this one (and you know I do like to wiggle!). I know my sexual fantasies, of course (long erotic books could be written with dirty illustrations, like a modern day Kama Sutra starring yours truly), but I spent hours nervously debating which of my friends wouldn't be too shocked by just how slutty I've become. Then I thought, screw it, and I called up a friend who I'll call Mona. She's a good time girl, cruising through her second divorce, and I figured that she could at least giggle about it with me.
We met at my café, a place I can now no longer even walk past without thinking of you and getting excited. For a few days after your first challenge, I ate my lunches there with a perpetual blush on my face, worrying that someone there might have seen me flashing my excited pussy that day between my uncrossed legs, but then you know what? I realized that most of the time nobody's paying attention to anything anyway, and that if anyone had noticed my little sexual demonstration, then he (or she?) was as complicit in the game as I was, and was just as sexual (and hopefully as turned on) as me. We're like a little secret club of sexual adventurers out there, aren't we? Most ordinary people couldn't even begin to imagine that we exist. Well that's the way I like it, and that's what got me dreaming about my fantasy.
Mona has a nice body, and she always wears tight clothes to show it off – tight pants that make her ass pop out and always these low-cut tops that show off her huge tits, which are her best feature. My husband has often mentioned that he would like to get lost in there for a while, and he admittedly has a point. Her hair is long and blonde, and she's always playing with it, pulling it forward over her chest, like one of those Renaissance paintings, but really she's just drawing attention to her assets, which she knows. Mona also has a bit of a belly, but somehow it's still smooth and firm, and on her it seems more like an sign of sexual power than a fault. She always has a cigarette in her mouth, is incredibly scatter-minded and loves to talk. Now that she's divorcing, she's out almost every night and particularly loves to talk about men she inevitably manages to bed. She's always saying that I should take a lover or two. Passion is the only thing that matters in her life, and I think she imagines me to be a bit of a prude. If only she knew! In any case, of my friends I figured that Mona would be the easiest to talk to.
We had coffee out in the sunlight on the terrace so that she could smoke, and after a while I mentioned that with the warm weather now here, I was finding myself horny all the time. "I'm having all sorts of crazy fantasies," I said with an embarrassed laugh. This got her attention, and she lit another cigarette and leaned a little closer. If there's a secret club of the sexual elect, Mona would make a good president. "Well?" she purred impatiently when I didn't say anything else. So leaning a little closer to her, in a quiet voice, I began to tell her the sex fantasy that's been making me all hot and bothered these last few days. "I've been dreaming of a party where something more exciting happens than the same old boring talk," I told her. "Wouldn't that be nice?" I had been imagining that my husband and I have been invited to a party, I told her, out at some private villa, with one lavish room after another, and when we get there we realize that in the dim light of these many rooms there are people undressing, kissing, beginning to fuck. I'm fairly shocked, and my husband probably is too, but he plays it cool, so I do too. He goes to the bar to get us drinks as I stand there in the middle of the room feeling a bit lost and awkward. Through a doorway I see two beautiful women kissing, running their hands over each other's firm, full breasts. This turns me on immensely, even if I'm a bit suspicious of the scene. When my husband returns we find a seat on a couch and begin to watch the strange display all around us. He puts a hand on my thigh, and I look down at his crotch, where it's obvious that he has become as excited as I have. Here I paused in the story to catch my breath, to make sure I wasn't making a complete fool of myself, and for once Mona didn't say a word.
She had crossed her legs tightly against each other, I noticed, and was moving her hand back and forth across her thigh as if she was giving it a massage. I watched as she brought her cigarette to her lips, letting her fingers linger gently there as she inhaled. Seeing her lips around the cigarette so sensually, it flashed into my mind, strangely enough, that she was already imagining herself at the sex party with her lips around a cock, and I had a fleeting image of her naked body crouched over a cock that was unmistakably my husband's. Then she slowly exhaled, closing her eyes against the sun, and for some reason I knew I'd guessed right. I went on. I told her that I imagined two anonymous men in dark suits coming over to sit beside us on the couch (everyone at this party was a stranger), and then without a single word, just an exchange of glances with my husband, they put their hands on my legs and begin stroking them. Then my neck, softly, and then one of them kisses me gently. He smells wonderfully, and I let him kiss me more as my husband sits there placidly – approvingly or paralyzed, I don't know. Mona snorted at this and said, "He'd love it." She was letting her long red fingernails play along the collar of her shirt, like some nervous tic, lightly tracing across the skin of her chest, down into that fabulous cleavage of hers as if she had an itch, then back up again. It was clear her mind was in the middle of that orgy.
I told her that the men kissing me then lead us into another room, the room where I saw the naked women. They walk with me held tightly between them, and my husband follows at a distance. Then we're kissing some more, and their hands are all over my body, and they're pulling my clothes off, and I want them, I want them all, but then I see my husband kissing the naked woman, and although I've never been particularly attracted to women, I want her too.
"It's just some crazy fantasy," I told Mona. But the sight of him kissing her turns me on immensely, and stripped down to my panties now, with my two men following me, I walk over and begin kissing her myself. Her lips are full and moist, and then I begin to stroke her tits and kiss them. She begins rubbing her whole body up against me as I feel my men undressing behind me.  I didn't risk getting into the details of their cocks pressing up against the top of my ass, the small of my back – hell, I didn't even know if I could say "cock" aloud – but I noticed that Mona had now uncrossed and recrossed her legs several times and was playing with the clasp of her ridiculous heels, which are always strappy and whorish and expensive.  "At this point it just doesn't matter anymore," I said. I completely lose control, I told Mona, and so does my husband. He's kissing the breasts of one woman and the other has her mouth between his legs as he groans with excitement, and it's that image that excites me the most. Mona has abandoned her heel to flip back her hair and massage the back of her neck as she lights another cigarette. I tell her that then the orgy scene becomes a blur. There are breasts everywhere, and men rubbing themselves up against me, and my husband is watching, but he doesn't care. It's just turning him on more as he handles his own little orgy, and the night goes on forever, men and women everywhere, I kiss them all, particularly the breasts, and, um, I really wish our lives could be like that a bit more often. Um, I guess. Idiot me.
Then Mona stubbed out her second cigarette in the ashtray and licked her lips, consciously this time, meant for me to see, as a joke, probably. "Baby," she said, "you most definitely need to take a lover." I laughed, and we drifted off into a bit of distracted small talk, and then she had to go. She stood up, smoothed her hands over her hips, then rushed off for a taxi, tits bobbing provocatively as all the waiters stopped midstride and stared. I laughed to myself, knowing I'd actually made some success of your most difficult experiment, and then I realized that in her distraction Mona had left her cellphone on the table. Ha! I'm still wondering how many cigarettes she smoked that afternoon, and for how many of them she might be imagining them to be my husband's cock (or maybe placing it between her marvelous tits? I wouldn't mind watching that little erotic scene). What was clear was that I'd had an effect, which pleased me…although I'm still half embarrassed…and still waiting for that orgy.
Longingly,
Me
Need to catch up? Read the Sex Experiment from the beginning: Table of Contents
Then subscribe to our newsletter for a free copy of Mr. X's hot, hot novel, The Known Experiment, and choose to get updates on blog posts, books, and special offers.