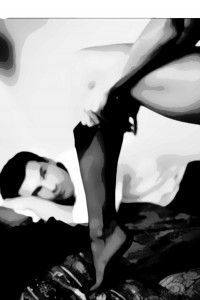 My wife still had Mona's cell phone when she came home that evening from rendezvous to reveal her sexual fantasy. I had no idea how the meeting had gone, or even whom she'd met, because she hadn't yet written to Mr. X. I'd been checking my e-mail every minute, of course, glued to my computer, so over dinner when she said she had to run over to Mona's house because she'd left her cell phone behind after their coffee date that afternoon, I knew: 1) she'd made the right choice of friend to confide in; 2) she'd likely revealed a sexual fantasy hot enough to distract the otherwise seen-it-all Mona; and, well, 3) I couldn't help but think about Mona's tits (she's the sort of woman that calls up an immediate image). Now that I've read her response, I can't stop thinking about them, except that now my cock is firmly placed between the two. I can't imagine my wife ever bringing a friend into our bed for a threesome, but if she did, Mona would be near the top of my list.
What's interesting to me is how far my fantasies go these days. I think my wife is right (I married her, after all), and that there is a secret society of the sexually inclined of whom we're becoming a part. I've always been drawn to erotic limits – this sex blog is one example – but now when I imagine myself between Mona's tits, I find myself wanting that extra thrill, too. I can hardly keep my hands from myself when I imagine my wife's orgy scenario, and I want to see the cocks pressed up against her, and the tits she drowns herself in, and mostly the glaze of rapture in her eyes that says everything is possible, everything is permitted. When I get like this, there is nothing more exciting to me than that image, and I would see her fucked a thousand ways if it was her desire leading the way. Her desire IS leading the way these days, and even if I am playing a game of my own, and keeping a secret from her, at the same time we are drawing closer to one another, breaking down barriers together, each in our own way, little by little moving towards some infinite mad erotic orgy where we explode in one vast orgasm that changes us both forever.
So onward! To new experiments, new discoveries, new configurations, new erotica, new orgies, new explosions!
And a side note….
There's another bonus to this blog, I'm discovering, besides the intense, constant sexual excitement (that makes working, sleeping, or any other ordinary activity exceedingly difficult). Several readers have been writing in with their own sexy fantasies for the wife (another thrill, I'll admit), or for their own wives, or for themselves, or for strangers they may have seen across a crowded room. If something you read here excites you, or tickles a fetish, or gets you to dreaming up your own sex experiments, then please leave a comment below, or on future posts that may get you all randy. You can post anonymously if you wish, and I'm sure a lot of us would like to have a conversation about what's turning us on.
Need to catch up? Read the Sex Experiment from the beginning: Table of Contents
Then subscribe to our newsletter for a free copy of Mr. X's hot, hot novel, The Known Experiment, and choose to get updates on blog posts, books, and special offers.