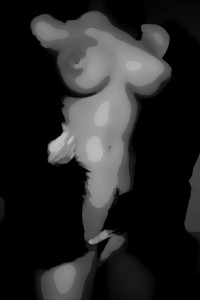 This is part of of our series of erotic dares with extraordinary women all over the globe. Readers Sweet Soumise in Paris and CC in Los Angeles have each asked for a monthly dare, and we're posting their responses on Fridays throughout the month. Want to join the experiment? Just write Mr. X with your results. We dare you.
This month's dare is based on The E-mail Experiment
Dear Orgasm Incarnate,
I feel like a scientific researcher who's made some discovery far surpassing his imagination a mad experimenter who's combined a few simple compounds, and – poof! – has unwittingly created the loveliest possible sex monster in the world. Roar! I think I like it.
Your emails are entrancing. I lose myself in your words, so this month let's stay in the realm of words. Dare to write the ones you've never written before. Here's what I mean: a glance through your e-mail contact list will bring up names of people with whom you wouldn't mind romping around a bed naked. I want you to have e-mail sex with one of these people, to describe for them a sexual fantasy you'd like to fulfill but never have before. Go into detail, be explicit, reveal a darker fetish you have never dared act upon. Tell your correspondent that you dream of living out this fantasy with them, and that the thought of it drives you mad with lust, day and night (and doesn't it, after all?). Then send it off.
Terrified? I would be too, so here's the catch: normally my "catches" increase the difficulty, but in this case it will lessen it. Create a fake e-mail address with one of the free online services and send off your fantasy from there (tip: use Hushmail or hidemyass.com if you want to be sure your location is also hidden). Don't use your name. What's required here is total anonymity, and my head spins to think what you might dare say when the risk of being known is eliminated.
And then does it really need to be said that I want to read that email, and to hear all about how writing it makes you feel, and what fantasies it inspires.
And of course you're always welcome to check this e-mail address from time to time. Who knows what your beneficiary might write back. Who knows what fantasies they might pile on top of yours. Who knows if you're getting wet right now dreaming of the possibilities. Who knows.
Admiringly,
X
Need to catch up? Read the Sex Experiment from the beginning: Table of Contents
Then subscribe to our newsletter for a free copy of Mr. X's hot, hot novel, The Known Experiment, and choose to get updates on blog posts, books, and special offers.