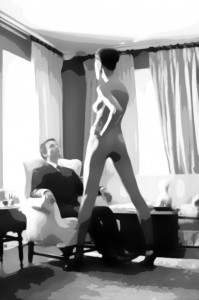 Recently the site's Your Fantasies Group has been a virtual laboratory of lust, with readers writing in with some of their most erotic hopes and dreams. A lot of it's so good that it seems a shame not to share it with the wider world, so with this hot fantasy by reader PleasurePrinciple, we'll inaugurate a new, occasional feature on the blog: the Friday Fantasy.
Join us in the Your Fantasies Group for a whole lot more.
I stood laughing with a group of impeccably dressed ladies in the bar of our hotel. A designer had commented on a ridiculous request that one of the buyers had made for that night's Fashion Night Out event, and I was so distracted with our laughter that I never saw him come in. He obviously saw me, because by the time I noticed him he was headed right in my direction. The eyes of every woman in our group was on him. Their mouths parted in awe of the God walking our way. Even my beautiful lesbian friend who had threatened to tame me with her tongue on numerous occasions couldn't help but acknowledge his carnal beauty. I knew exactly how they felt as my mind traveled back to our last meeting at the market. I instantly remembered his touch and every word he had whispered in my ear, especially those that played over and over again in my mind as I had fucked myself that afternoon: "If you were mine."
Both he and his male companion introduced themselves to our group and gave us the name of the company they worked for as he signaled for the bartender to bring us another round of drinks. I gathered from the few words I heard that he was in finance. I tried to pay attention, but I was so distracted by his mouth – by the things he had said he'd do to me with those very lips that I now couldn't take my eyes off of. I felt the dew forming between my legs as my eyes slowly traveled from that luscious mouth of his down and over his tailored suit. My God, what is it about a man in a suit that makes me weak in the knees? I guess an even better question would have been what it was about THIS man that made me want to fall to my knees. I sipped my glass of wine as my girlfriends offered way too much information about us: the fact that we were staying at the hotel and our roles in Fashion Week. We all began to talk about having to leave to get ready for the show and then to prepare for day two of the conference.
I'm not sure how it happened, but his sudden move to shake my hand goodbye left me wearing the Chateau Margaux that had once filled my glass. I'm not sure what was more embarrassing: standing there with a wet, nearly see-through shirt, or my nipples reacting to his touch as he swiftly tried to wipe away the spill. He apologized profusely as I tried to play down the mishap. He said he could get me the info for the "best dry cleaner" in New York. I declined his generous offer and told the ladies I'd meet up with them at the show. As I walked away, I heard him excuse himself, and before I knew it he was at my side extending the offer again.
We entered the elevator, and he continued to insist that I give him my shirt so that he could have the stain removed. There was something about the dominant tone of his voice that caused me to stop declining his offer. I looked into his eyes and simply replied, "Yes Sir!"I'm not sure if it was what I said or simply the chemistry we so often shared as we passed each other on the streets, but we were instantly drawn together. He had my hands over my head and was exploring my mouth with his tongue as his cock made its presence known against my leg. We quickly parted as the doors opened to my floor. I said goodbye AGAIN and walked out. Again, within seconds he was on my heels requesting my shirt. I continued to walk to my room with him behind me. As we approached my room, my mind and heart both protested, trying to convince me not to let him in, but their objection was overruled by my body, which wanted nothing more than to feel this man's hands and mouth on me, his cock inside me.
As the door to my room closed, I put on a brave face and watched him fervidly as I slowly removed my soiled shirt, revealing my hard nipples. The next thing I felt was his hard body pressed against mine. It reminded me again of our encounter in the market. He kissed me hard and began walking me in the direction of the king-sized, four-poster bed that sat in the middle of the bedroom floor. I let go and released my body to him. My breathing was rapid, my body tingled, and my pussy throbbed. He explored my neck and aching tits with his tongue, sending me into a heated state of arousal. My pussy grew wetter with each touch. Suddenly his lips were on my ear, and he was whispering, "Do you trust me?" I couldn't catch my breath to answer, but I nodded my head frantically. I watched him remove his tie with ease and use it to bind my hands behind my back around one of the posts of the bed, and then he was on his knees: kissing my stomach and pushing up my skirt. I thought I would cum when I heard the lustful gasp he released as he took in the sight of my black lace thigh-highs and garter. I was so happy that I had chosen the sexy ensemble without panties that morning.
My head fell back as he placed my leg over his shoulder and slowly licked the lips of my warm pussy. My body quivered at the touch of his stiff tongue stroking me over and over again before taking my clit into his mouth and sucking frantically. I came within seconds! My leg, still resting over his broad shoulder, shook from the electricity that shot throughout my body from the welcomed assault to my clit. Just when my breathing began to return to normal and I started to regain some composure, his fingers found their way into my pussy. There was no resistance. My pussy was so wet that it shamelessly welcomed the three digits as they stroked my g-spot. The combination of his fingers manipulating me from within and his tongue devouring my clit caused my body to convulse as warm cum violently shot from my pussy, drenching his face.
He stood and wrapped his arms around me just as my legs gave way, and he gently placed me on the bed. He grabbed the handkerchief from his front pocket and used it to remove the evidence of my satisfaction from his face. I blushed as I watched him close his eyes and deeply inhale my scent from the piece of cloth. Our moment ended with him gently stroking my hair, promising to get my shirt back to me and passionately kissing me, leaving me covered in my own intoxicating scent.
The rest of the night was a blur. I smiled and chatted with designers and buyers just as I was supposed to do and even received numerous compliments for a job well done. My body was there, but my mind constantly made its way back to the events that had taken place earlier in my hotel room. When I finally made my way back to my room, I called my husband to share with him how successful the night had been. I had truly missed him the last 48 hours that I had been away. I told him that I loved him and looked forward to seeing him at the end of the week. He said the same, and we said our goodbyes.
My mind immediately went back to "him". A smile made its way to my lips as I thought about the fact that he still had my shirt. It meant that I would more than likely see him again. I drifted off to sleep knowing two things for sure: he was still perfect AND we were definitely NO LONGER strangers!
Need to catch up? Read the Sex Experiment from the beginning: Table of Contents
Then subscribe to our newsletter for a free copy of Mr. X's hot, hot novel, The Known Experiment, and choose to get updates on blog posts, books, and special offers.