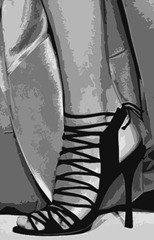 Reader Mallory wrote in to the site's Your Experiments Group about a dare she was recently given. These were her results.
I was rushing to work yesterday morning when I noticed the state of my heels. I commented that I needed to get new ones. You frowned at my worn, black patent leather Ferragamo Vara pumps and asked if I would be getting "those" again. "Of course," I said. "These are classic. Okay, maybe I'll get them in black calf instead." You shook your head: "No, no. I'm buying." You pulled me over to my closet, handed me a short black skirt. You told me to change into it later, but to keep my black fishnet stockings on. You said you would pick me up at my office. Frowning again, you warned me not to even think about sneaking out and getting yet another pair of "those."
At the end of the day, I was getting ready to leave when you showed up. I was actually a little surprised. You came in and closed my office door, telling me to change into the shorter skirt. I slipped out of the long pencil skirt I had worn to work. You told me to wait a minute, that my stockings were not right. You grabbed a pair of scissors and ordered me to spread my legs while you kneeled in front of me, grabbing the crotch and cutting it out. You looked more satisfied then: "That is much better. Now put the skirt on." Astonished and instantly going from zero to FUCK me, I silently put the skirt on and slipped my feet back into my old shoes.
You held my hand in the cab and occasionally stroked my thighs, which I kept open in invitation, but you ignored this. Just before getting out of the cab, you told me you wanted to see this same "invitation" when I tried on "better shoes". I was very anxious to please you by this point.
With your arm around my shoulders, we walked through the large door held open by the store's doorman. We strolled around and browsed the collections. I teased you and showed you another Vara in a new blush color. You gave it a cold stare. I whispered for you to pick out whatever you wanted. You rewarded me with a glide of your hand down my spine, which came to rest at the small of my back. You looked over the store staff and summoned one of the young men. Before I knew it, this lovely Italian man was escorting me to a sofa and shoes magically appeared. Instead of sitting next to me, you sat across from me and teased me with your eyes while the salesman kneeled between my legs. When he slipped the new shoe onto my foot, his hand started to shake a little and his face suddenly snapped down to the floor. I felt my cheeks grow warm. I looked up at you, and you stared at me until I parted my legs a little more. Then you gave me a smile.
It seemed to take a long time to lace up the lovely new shoe and no time for me to start dripping in my seat. Then the other shoe was slipped onto my foot. This time, the salesman's head was not so bent down. I looked at you staring at him as he looked up between my legs and stared at me. I could hardly stand when my feet were both fully laced up.
I began to saunter around after the salesman helped me to my feet. He gave me his arm to steady me. I did a little modeling attempt for you. You looked me over critically, as if I were modeling for the store's trunk show. Then you shook your head, "No, it's not working for me. I think they look better without the fishnet. Why don't we try that?"  I must have looked crestfallen. The salesman quickly came to my rescue and assured me that I was very "bella" and that Signore may be right: "Too much pattern distracting the beauty." Would we like him to escort us to the fitting room? Well, okay…. He led us to an expansive dressing room and sat me down again to undo the lacing and remove the heels. When he glanced up at me, I returned the look. Then he excused himself from the dressing room.
I looked up at you while I wiggled my skirt up, arched my hips to pull the fishnets down, and tossed them to you. You caressed your face with them, taking deep breaths to draw in my scent. You kissed the top of my head: "Let's see that invitation again."
Then you pocketed my stockings and called the Italian man back in. Once again, he was on his knees, lifting my feet into the lovely shoes, lacing them up to my ankles. All the while, this time, glancing up between my parted legs and swallowing a few times. After he finished with the shoes, his composure was a little shaken. He told us to take our time deciding, and he left us. I again did a catwalk walk toward you, showing off my newly elevated, bare legs. You grabbed my arm when I approached and swung me around. I knew what you wanted, and I planted both hands against the wall of mirrors and pushed my hips and ass out and up high. Our eyes were fixed on each other in the mirror. You pushed my skirt up, your pants down, and your cock into my cunt. You clamped one hand over my mouth, gripped my hips tight with your other arm, and fucked me hard for a good few minutes. Then you pulled away from me. You bit down on my earlobe while I panted for you: "Shhhhhhhhhhh."  I was shaking and desperate to have you back inside.  You held me tight for a minute until my tremors subsided, and then eased your hand from my mouth. I said I would take the shoes.
During the cab ride home, you stroked my inner thighs while we discussed how helpful our salesman had been and how beautiful I was in the new shoes.  You said that they aligned me up to fit even more perfectly with you. I wanted at least your finger in me, but you would not move one higher. I was insane with need.
The rest is a blur until we were in the bedroom. I was standing in just my new shoes, naked in front of the dresser, looking back at us in the large tri-fold mirror.  You said NOW we can resume, and YOU would like that invitation now. I was spreading my legs, pushing my ass back and up, your hand gripping my hair, your other hand around my hips and your cock thrusting into me over and over, over and over again….
Need to catch up? Read the Sex Experiment from the beginning: Table of Contents
Then subscribe to our newsletter for a free copy of Mr. X's hot, hot novel, The Known Experiment, and choose to get updates on blog posts, books, and special offers.