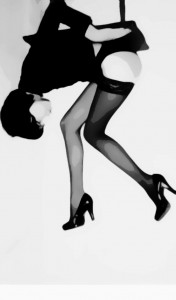 The Group Sex Game has a winner. You sent off your sex fantasies to strangers, you stripped for the camera, but only one of you rose to a more mathematical challenge of phone numbers. Her name is Tori, she is charming, she's got a way with words, and she's made me wish I were a cowboy. Congratulations, Tori! It was well-played and well-deserved, and when the storied history of The Sex Experiment is written decades from now, you will be its first competitive legend, the girl with the whole package, the one with the kind of charm that wins championships. Bravo! I hope you can hear the roar of the crowd from wherever you are.
And I know that the last time we heard from you, you were begging for more. I fear that you may be out there alone in the big leagues (while we amuse ourselves with slow-pitch softball), but the weather's hot, vacation's here, and sex is in the air – which seems to me the perfect conditions for a new game. I'm calling it the Sex Experiment Relay (hell, I'm on vacation, too), and here's the concept:
1) I post an experiment.
2) You post your experimental results in the comments section, as well as a new experiment for the next round of experimenters to fulfill. You don't have to write pages for this: just a vivid paragraph recounting your own experiment and a creative (but do-able) next experiment.
3) Once at least three people have completed the round's experiment, I'll choose one to repost as the next experiment for everyone to attack. I'll also be taking guidance from readers in the comments section on what experimenter to choose from round to round.
4) Once we've had fun with this for a while and have quite a few "round winners" (some readers may win several rounds), we'll start with eliminations, the rules of which I haven't figured out yet. But maybe each round winner will be given a chance to propose their own "killer" experiment to the other winners, or maybe we'll set a time limit and crown the experimenter who's won the most rounds, or maybe you'll have brilliant ideas about how the game should evolve as we play on. As always, I'm happy to change the rules if someone dreams up better ones (and I also take bribes).
To start us off, I thought I'd start us off where this blog started off, at The First Experiment. Click the link or let this paragraph be your guide:
"Today you will not wear panties or a bra. You will wear a blouse open at the collar, and you will not wear stockings. If your husband occasionally sees you dressing, he must not see you today. Let the skirt be long enough to make you feel comfortable, but it should not go past the knee. This is imperative. As you slide it up over your hips, feel the nakedness of your thighs, feel your ass naked against the fabric of the skirt. Then, if you can, sit before a mirror. Spread your legs until you can see your pussy, but do not touch. You should simply understand how easy it would be to expose you. Then the blouse. Feel your breasts as you button it, and then, the sensation of your nipples against the fabric. Will it be cotton? Or silk? I wish you would tell me."
Enjoy performing the experiment, then enjoy dreaming up another one for others to fulfill, then tell us about it in the comments. And gentlemen? I realize you will be at a disadvantage in this game, but I have a feeling you won't mind watching. This round's not for you, but your comments will help control the direction of the game, and then there are sure to be other rounds that won't require you to have breasts. So stay focused, keep in training, and be ready when the coach motions towards the bench to send you in.
Above all, have fun! If April is meant to be the cruelest month (if you're inclined to believe poetry), then August is definitely the sexiest one (if you're inclined to believe me), so banish the bras, blur the tan lines, and let's all become scientists of the sexy inside.
Need to catch up? Read the Sex Experiment from the beginning: Table of Contents
Then subscribe to our newsletter for a free copy of Mr. X's hot, hot novel, The Known Experiment, and choose to get updates on blog posts, books, and special offers.