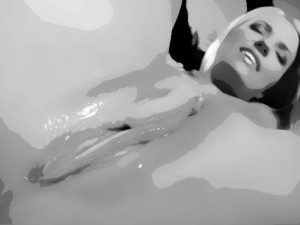 I'll call it a vagina and probe it by the book. I'll call it a cunt and tongue deep till I'm buried. Call it a vulva, it's a fruit, a peach. A muff: I'll be young and grateful and eager to please. And pussy, oh pussy: you'll make me into a green-eyed cat.
She'd shaved it bare, making it like she likes it the best. She'd worn nothing under her skirt, and she'd boarded a bus to be fondled. Then she got home, and she was pressing it into my hip, an insistent mound of flesh, her eyes unfocused with lust. In these situations you quickly discover that beneath that skirt she's not wearing underwear. I got rid of the skirt and got her down on the bed. She squirmed like a woman possessed by demons, but I held her still until the demon leapt from her into my tongue.
Maybe the gods are pagan, but it is an act of devotion as I study her folded flesh. The first thing I notice is her scent: it has changed with the shaving. Usually when I come close I smell the floral swampy scent of woman, which works on me like a drug, but today I must come closer, and then she is only like a blue sea on a warm breeze inhaled at a distance. Is she another woman entirely? She may be, and the truth of woman is that she never fails to be other than I think she will be. I study her bare pussy as if it is some unknown mystery: the soft angle of her pale thighs, the shaded half-moons of the mounds she has shaved. I lower my tongue, and with its point I trace the line where her thighs meet the smooth, virginal mound that has been named after a goddess – Venus. I feel like a god myself as I trace its edges, all powerful, master of all worldly flesh.
Then I draw back to study that cunt again. Cunt? I am rock hard and hell bent on tonguing as deep into her as I can. But I take my time. Look at this: my tongue moves in to trace another line, probing into the place where the mound folds into her, creating another, softer ridge of flesh for me to glide across. I lick up the right side, flick across the hood of her clitoris (which does not concern me yet), and back down the left side, all the way down, until I press into the taut skin between her pussy and her anus. I tease it with little flicks of the point of my tongue, and then I lick like a cat, letting her feel the whole width of my tongue sliding over her most secret spot.
But there are further narrowing layers to discover: the squiggled line of lips, which are already lined with her own wetness. Gently, not yet wanting to break the final seal, I follow their line with my tongue, stopping every millimeter or so to wetly kiss parts I've already covered, all the way out to the smooth sweep of her thigh. She is moaning with pleasure now, and I know that when I finally reach her center, an orgasm will rock her in an instant.
From her anus working up, my tongue splits her middle ever so slightly until I arrive at her clitoris. The clitoris: perhaps we pay it too much attention, perhaps we don't pay it enough. I err on the side of caution (or incaution?) and slide my tongue up into the hood, pressing the protective skin aside, circling it, slipping over it hard as if I'm trying to pin it down with a tack. She screams a banshee scream, but I hold her in place with my hands locked around the cheeks of her ass, smothering her clitoris with every part of my tongue. And my lips: I kiss it ardently, like a lover I haven't seen in months. Then I can't hold myself back any longer. I have to kiss it deeply, and so I put my lips to her bare, blue sea lips, and finally tongue deeply past their limits, deep into an endless sea so improbably wet that I lose feel of my tongue for a moment. It is a drop of water in an ocean, but I won't let her feminine desire swamp me. I begin to fuck her with my tongue as her body bucks madly up against my chin. I want to go deeper, I want to swallow her. I slide over the elastic upper wall inside of her and back out to stab at her clitoris. Then my tongue is fucking her again, and my teeth, occasionally, are nibbling at her soft ridges of flesh. Nibble up and down, the full width of my tongue hard against her clitoris, then quickly extended into a point to dive as deeply into her as I can. She is thrashing with pleasure. I could be anyone, I am just a mouth, but when my mouth kisses her deeply again, lips and tongue and everything, she shrieks as if she's been transformed yet again, and shudders, shudders, shudders on out on the edge of an endless orgasm.
We are on a beach, and waves are crashing over us. A pussy is the world, and I'm happy to be in it. I am so happy to be licking pussy.
Need to catch up? Read the Sex Experiment from the beginning: Table of Contents
Then subscribe to our newsletter for a free copy of Mr. X's hot, hot novel, The Known Experiment, and choose to get updates on blog posts, books, and special offers.