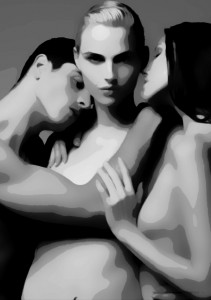 The good news is that I heard back from the elusive Grimm Perrault yesterday. The other good news is that I may never be the same again. She's got me feeling downright virginal and in need of some serious kink to sully my perfect innocence, my bleached-out purity. Wow. You thought you knew a menage a trois? You didn't know a menage a trois. Again, wow. And now instead of filling a page with Wow's, I'll leave you to her:
Mr. X,
Well, before I get to the events of that Monday two weeks ago, I should first quickly outline the weeks in between. I had very diverse encounters following the ad in that forum. I met with many people. If I had a good gut feeling, I pretty quickly proceeded to suggest a face-to-face meeting instead of endlessly writing back and forth, because I believe that you can't feel the chemistry in a message. People who seem to be eloquent and smart in writing may be a bit trite when you're sitting in front of them – just like my first date after coming back from abroad at the beginning of July. The next man was looking for an affair while separating from his wife and seemed unhappy with his life – not a great start for a hot encounter. Then I met this extremely good-looking preppy guy with whom I had a delicious dinner and a great single malt before sharing some hot goodbye kisses. I became friends with two guys and met one potential boyfriend, an extremely bright artist with whom I have had three great nights out talking, drinking and more. Let's see how that develops. But now for the saucy parts.
I actually sent almost the same account of events to my long distance lover, and it is exciting him a lot. Who would have thought…. So the man in the couple I had met at the gallery and I had been emailing back and forth a bit, sometimes sharing snippets of fantasies, which gave me the feeling that we would click if in fact we met. Then came the expected email proposing THE date, and there I was, deciding what to wear, which dress and what underwear? I had actually asked if there was a dress code, to which he replied, "Come as you are." Not much help. I didn't want to go over the top, so I decided to wear a tunic-like transparent dress, which with its two layers becomes opaque, and I belted it with a bold leather belt. It looked sexy yet casual.
The evening was what I expected, if one can imagine something like that beforehand, although actually it unfolded quite slowly, maybe even a bit awkwardly. I arrived at the man's place before his girlfriend was there. I was already late and sweaty from the ride. He French kissed me and offered me a drink in the kitchen. We chatted while he was preparing some salad, and melon slices with prosciutto were already on the table. I actually told him that I had just relived the evening we had met in written form for a special friend (actually two: you, and after hesitating, my long distance lover) and that doing so had excited me.
The girlfriend arrived soon. She was much more made up than the first time I had seen her. She was wearing a high necked, knee-length little black dress and black boots, and her hair was carefully coiffed. She almost looked zaftig, at least compared to me. We joked about both only having painted the nails of our left hand red and not having had the time to finish the right. Then she asked about me. We talked about the cities we had lived in and about art. Meanwhile the man was occupied improvising a pasta, because she had arrived hungry. It was a delicious meal, and eating broke the ice quite a bit. With a wink she proposed he should take me on a short tour through the apartment. So he did, showing me some art pieces on the wall, which didn't really interest me in that situation, while she was still in the kitchen smoking. While standing in front of one picture in the hallway, he cupped my breasts from behind with his hands. I was still nervous and a bit tense thinking about her sitting in the next room. At the same time I was aroused.
The girlfriend asked amusedly from the kitchen if we shouldn't move to the living room, and she brought the wine and the glasses. There was a wide enough sofa where I sat down, with him joining me, and an upholstered armchair, which she occupied. She bluntly said she wanted to watch us: "You do your thing. I am going to watch you for a while." He had maneuvered a hand behind me, around my waist, and another down between my legs (he is very tall), and I was brought into a half-lying position on the couch. She was making approving sounds, smoking (we still do that in Ole Europe) and saying she knew exactly how good that felt. I have to admit that his talents definitely lay in his hands.
So there I was, my legs spread, facing her to the left of the couch, him reaching around from behind me to insert his fingers deep into the wet crease between my legs. I wanted to incorporate her into our play and reached first for her calves in high boots, then leaned over to kiss her. She commented on how women have a whole different way of touching, almost better than men, and that one kisses and touches women far too seldom, particularly because they know how women like to be touched. With that she pushed me away. Around that time he unbelted my dress. It went over my head, and I took off my shoes. I was standing there in my underwear. For the special occasion, I had worn the black sheer La Perla panties my long distance lover had given me as a parting present and a black and white lacy bra.
The man proposed we should move to the bedroom. In there the woman again sat in an armchair, this time facing the bed. She was smoking and sipping the white wine that we had been drinking for dinner. He had lost his clothes along the way. I got my cunt licked and sucked and fucked with his fingers, his hands minus his thumb and his dick. She seemed to be having a ball watching him making me squirm and squirt. From time to time I was trying to get her on the bed. The fact that she was watching half irritated and half aroused me. Eventually I managed to pull her onto the bed where we kissed while he looked on, but she straightened herself and her dress and said she wanted to enjoy more of the show. She was still fully clothed and said that he had made a good choice with me, since I was naughty and a squirter. I must say I don't remember many details, nor if I did much to him. Actually I felt a bit like their lusty animated toy, but I didn't really mind. What especially turned me on was her commenting half approvingly, half mockingly what a minx and a naughty bitch I was.
Still sitting on the chair, she took off her panties, also sheer and black, and began lazily touching herself. I began touching her inner thighs while he was definitely doing me in some way or other, and after a moment of hesitation she joined us on the bed, taking off her little black dress and boots. She left on a sheer black stretchy camisole and a black sequined bra underneath. Now comes the part that is difficult to transcribe. Basically everyone had their hands all over everyone. Both of them were fondling me, while I kissed and sucked her breasts and then had my fingers, and eventually my whole hand, inside of her (a detail that actually blew my mind) while she sucked his cock, and so on. Well, now I know how it is to go down on a woman. I just did what I would have liked and hoped for the best. That means I licked and gently sucked her clitoris while I fucked her with my hand.
It's all so difficult to remember and thus describe, because there were almost too many impressions to take in. At some point he lay between the two of us, his feet facing our heads, and fucked us simultaneously with his fingers. She came first and ordered him to fuck my ass. I had no chance. At that moment I was thankful that his cock was not too big. I succumbed to it and seemingly ended up coming too. We all collapsed for a moment, until they began touching me again. I thought I couldn't take it anymore, so I fled the room to get some of the chocolates from the kitchen.
She was drunk and in a great mood and went to put on some Johnny Cash. We moved back to the living room where I put my clothes back on and danced and kissed her briefly. He looked like a proud father at the two of us and seemed completely sober and happy. I felt it was time to go and rode off on my bike. It was almost 2 a.m. by now, and downstairs in front of my house I met the Turkish shop owner. He seemed to be coked up or high on something and was very flirty with me. I just wondered if he could smell all the juices in my hair.
By the way, I LOVED the taxi and the dinner experiment. You make me wet with your stories….
Grimm Perrault
Need to catch up? Read the Sex Experiment from the beginning: Table of Contents
Then subscribe to our newsletter for a free copy of Mr. X's hot, hot novel, The Known Experiment, and choose to get updates on blog posts, books, and special offers.