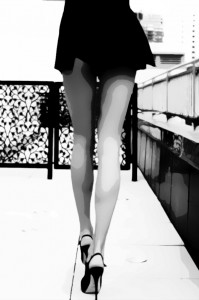 Most Eager and Excellent Readers,
We have a new winner in the first round of The Sex Experiment Relay, the second of our daring games on this site after The Group Sex Game. For those of you who have taken a moment to sign up for the site, there's also some serious experimenting going on in a couple of our member groups: Your Experiments and the Photo Orgy. If you like sex experiments or naked photos or orgies, feel free to join us. If you don't, well I'm afraid you're in the wrong place.
This round was based on The First Experiment, and so it was gender-specific: women were dared to go without bra or panties for a day. Competition was stiff (insert your own extremely clever joke here). G&N Couple took off her panties and even included (very sexy) photographic proof (she also proved to have a sexy site of her own, which is undoubtedly even sexier if you read Greek). I spent quite a bit of time with that photo, highly impressed by this woman, but then part of The Sex Experiment Relay is proposing a general dare for the next round, and I feared that G&N Couple might be playing in a league of her own. She proposed that the women out there remove their panties in a restaurant and leave them behind under the table. Although I would like to personally meet every single one of you who could pull that off with ease, I feared that there might not be that many of you. I have no doubt that she will continue to be a highly formidable competitor. She makes an impression
Then there was the always charming Tori, reigning champion of The Group Sex Game. Tori puts a smile on my face, and though she wasn't quite as daring as G&N Couple, she captivated us by walking through airport security sans bra or panties.
Then, at the last minute, an intriguing newcomer named Sloane made a move. Smart and well-vocabularied (even when claiming to be tipsy), Sloane was my kind of woman, and yes, I happily perused her own very sexy photographic bribe (I love bribes! Why didn't I get into government?!). She gave us a vivid picture of her days at work, and the occasional sexual pleasure she takes from her position of power (Forget government! Why don't I work for Sloane?!). She left the underwear at home and wore a thinner, lacier bra (keeping one on because she's curvy up top), and I loved the way she described how sexy that made her feel, and her increased awareness of sexiness everywhere. These games are really about the mind, after all, and Sloane let hers be overcome. And for that, I decided Sloane deserved to be the winner for this round of The Sex Experiment Relay. Congratulations, Sloane! Her reward? A nice chunk of sexy points on the site, with which she can do some bribing of her own.
Now you all know how this works. 1) a dare is proposed; 2) you write in the comments section about how you completed that dare; 3) you also include a new dare for the next round; 4) based on these two factors we name a winner and a dare for the next round, in which everyone is welcome to join us again.
So what does Sloane propose for us? I wrote her and asked, and this is her response: "All of your followers on here are obviously turned on by words, so something with writing that doesn't involve them maybe feeling too exposed with posting photos, or even writing too much about themselves. Also something easy, in the sense that it doesn't take them long to complete….
So what would you text message to a lover? The subject is left for them to come up with, like what they want to do with that person that night for example, but the creativity comes through, as they would have to express a lot in few words…. It would also not take them long to complete.
Not as daring as you may have hoped for, but I would certainly say doable."
You like it? I like it. I also like the possibility that some of your concoctions might actually get texted (which reminds me of a sexy adventure I once had with Queen Green). So let us know your most compact and dirty thoughts, and don't forget to propose an experiment for the next round.
Now go out into the world and titillate its peoples. Enjoy the risking and enjoy the reading.
X
Need to catch up? Read the Sex Experiment from the beginning: Table of Contents
Then subscribe to our newsletter for a free copy of Mr. X's hot, hot novel, The Known Experiment, and choose to get updates on blog posts, books, and special offers.