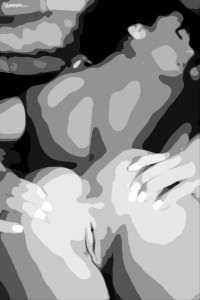 My Duke,
I must report to you.
As you know, I told you I would see my love on Thursday.  Wednesday, as I was leaving work and signing off of our chat, the last thing I said was, "I lust for you to ravish and explore me."
I had to go to the bank after work.  All the drive up lanes were full except for the lane right next to the teller window.  I never have a deposit slip and always have to ask for one.  After doing this for several weeks in a row, I have realized that Alex (a male Alex) is always working, and I always ask for a deposit slip and a pen.
Well, Wednesday was a very nice day, and I drive a convertible, so I had the top down.  I was also wearing a dress.  Nothing too suggestive, but sitting down it came high on my thigh and my boobs looked particularly big in it.
After finishing my transaction with Alex and beginning to pull away, I wondered if Alex had been looking into my car.  At my legs, maybe trying to see down the gap in top of my dress.  I wondered what Alex thought and if he looked forward to my visits.  I'm very polite and "please, thank you, and have a nice night" are always said.  I wondered what Alex thought of that, and if he appreciated my visits more than others.
Thursday morning when I woke up, I sexted my next message: "I want to feel your cock get hard for me."  He responded that it was already hard for me. I took a shower, which takes me longer than the average person.  I have all sorts of body scrubs, facial masks and hair serums.
I then sexted him that I was naked and my pussy was wet and waiting.  He replied that he loves that he makes me wet.
After getting ready, which also takes me quite some time with the lotions, makeup and hair, I had a an appointment to go to.
An hour later, after my appointment, I simply sexted, "Lick and taste me."  He said, "As you wish…"  I began driving to where we planned to meet.  About halfway there he sexted me, asking me where I was because his cock was hard and he was ready to slide in and out of my wet pussy.  I continued on my way.
After a few lights, I sexted him that I wanted him to fuck me hard.  A moment he later he said to hurry.  Another minute later he asked where I was.
He was indeed waiting and was already at my car door as I opened it.  Before saying anything we embraced and kissed. I pushed up against him, and it was true, he was semi-hard.
I got into his car and we drove to a nearby hotel.
I gave him a small notebook filled with quotes about love that I had handwritten.  I told him he could look then, or wait until his flight (he was going on a business trip).  He decided to look, which was good, because I went into the bathroom and changed into a black lacy camisole, a black lace thong with peach trim, a black lace itty bitty "skirt" with peach trim and garters, black thigh high stockings and tall black heels.
I came out and he was looking at the notebook, so I quietly walked towards him and whispered, "Surprise," as I crawled on top of him.  I held his head in my hands and kissed him over and over.
I took off his polo shirt and slid down his body to unbutton his shorts and slide them off.  He told me to look at how hard he was for me and to put my hand on his cock through his boxers.  I took off his boxers and began to lick and suck his cock, not forgetting about the balls.  He held my hair back because he wanted to see me.  He kept saying how good it felt and came quickly.  He pulled me on top of him and kissed me deeply.
He rolled me over, so that he was on top of me.  I sat up slightly to suck his cock as he took off my top.  He pushed me back down onto the bed and grabbed my breasts, licking and sucking my nipples, burying his face in my chest, squeezing them together and sucking on both nipples at once.  My nipples aren't very sensitive and so being a little rough is good.
He kissed and licked my neck, breasts and stomach and smiled at my panties – I never wear panties unless I have on a dress or skirt.  He rubbed my pussy through my panties, occasionally sticking a finger through the side and caressing my lips.  He finally moved my panties to the side and began fingering me, saying he loved how wet my pussy was for him.
After a few minutes, he pulled me to the edge of the bed and took off the "skirt" and thong.  I had one leg over his shoulder and one foot resting on the side of the nightstand.  He licked and fingered me until I was so close to coming.  I pulled him to me and kissed him, as he told me that he loved the way I tasted and that he wanted me to come for him.
Due to past sexual, mental and emotional abuse by an ex-boyfriend from when I was 16-21, I've been left  very self conscious about myself and sex.  My lover is the only person that I have ever been able to be completely comfortable with.  I can talk dirty, I don't have to worry about my body, I can tell him what I want.  But still, I have never been able to come other than through self stimulation, specifically with a vibrator.  It is all mental and I have to be very conscious to clear my mind and stay present.  Still, I have not been able to fully let go.  That is something that I have been working very hard for the past few years to overcome.  I suppose this is relevant to the story so that you aren't wondering why I never said that I had an orgasm.
He went back to licking my clit, bringing me so close to orgasm.  He had one hand on my breast and my hand was over his.  It felt incredible, but I still could not come.  I pulled him up, kissing, and he began to tease my pussy with his cock.  I kept bringing my hips up, trying to capture his cock with my pussy, but he would pull away at just the last second.  I begged him to fill my pussy with his cock, but he refused.
He sat between my legs and rested my ankles on his shoulders.  He slowly rolled down each of my stockings and slid off my heels.
Finally, he slid his cock into my wet pussy and we both moaned in pleasure.  I told him he felt so good inside of me.  We fucked for hours, both sweating and fully utilizing the king sized bed and my flexibility.
After a wonderful time together, he had to go on the business trip and I had to go home.  We won't see one another for over a week.
Thank you for the challenge.
Your Queen
Need to catch up? Read the Sex Experiment from the beginning: Table of Contents
Then subscribe to our newsletter for a free copy of Mr. X's hot, hot novel, The Known Experiment, and choose to get updates on blog posts, books, and special offers.