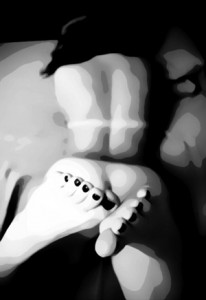 Here's a brave and erotic threesome fantasy from sexy reader Mallory, posted recently in the site's Your Fantasies Group. Let her know your thoughts in the comments section, and enjoy!
It figured that when I finally got to live out my top-of-the-list fantasy, my flight was delayed.
It was after two in the morning when I arrived at the hotel. I quietly entered the one bedroom suite. Exhausted slumber filled the stillness. The inner bathroom light gave a slight illumination as my eyes adjusted and focused on the familiar nude body of my husband, Paul, spooning the petite, lithe body. Her head tucked under his chin. Clothes strewn about. Their bodies glued together, until Paul's low little snore shifted him. I watched the motion of his arm as his hand kneaded her breast briefly before it traveled down the line of her torso, dipped into the valley of her waist, raised to caress the curve of her hip. They shifted together slightly until his mouth rested on the top of her head and his hand moved over the crest of her butt cheek. My breathing paused as she pulled closer to him in response to his touch and the weightless, slow motion with which his hand stroked and caressed her skin, firing off those sensory afferents. As familiar as I was with Paul's touch, seeing him touch her skin drugged my own sensations, and arousal. His touch, oh his touch. His skin would be barely in contact with me, and I would be whimpering with wanting him deep inside me. Seeing him touch her, his palm gliding over her taut, radiant skin, his body wrapping hers with his heat. It was like he was fucking through me to get to her.
Paul met Lexi five years ago during a temporary assignment in Texas. I had been aware of their friendship since, which included mutual attraction and lighthearted flirtations. Six months ago, when I teased him about their "getting room to get it over with," it started our exploration of including another woman in our bed. Just the conversations alone about this fantasy and all the iterations of it fueled our explosive sex for weeks. He told Lexi about using her as the focus of our naughty thoughts. Who knew that would lead to actually making arrangements for this? The plan was simple. Paul would meet Lexi first, and consummate their hots for each other. After, I would meet her over dinner, and see if she and I hit it off. Then my flight was delayed and I missed dinner.
Dizzy from deciphering phantasm versus reality, I could not tear my eyes from them on the bed. Burning up with lust, I rid myself of my clothes, crawled onto the bed, positioned myself next to Paul's back, and drew myself against him. I spooned him, he spooned her. My eyes started shutting down, and I started sinking into the heated lust. I smoothed my palm over his back, caressed his spine with my fingers. I felt, and then examined closely, the slight welts from scratches on his back. I traced them over and over until Paul jerked softly and turned over slowly to face me. We smiled and kissed hello. He moved to get up but I brought my finger up to my lips to shush and stop him. He turned into me more, our faces close, and he kissed me along my jawline up to my ear.
"You okay?" he whispered.
I nodded and gave out a short low moan.
"Really. Is this okay?" he asked again.
I whimpered out a "yes" and pulled his hand between my legs. He cupped my wetness, kissed and murmured into my ear.
"Darling, it was incredible. Crazy hot. I think I saw stars."
I spread wider and his finger sunk into me. I shuddered and quivered and humped his finger vigorously while he continued.
"I never thought sex could be hotter than when you and I fuck, but god, dear GOD, to fuck her, with you in on it, it made my heart and head explode."
I squeezed and rode his finger in a panting frenzy, picturing his – my – cock in her. I bit down hard on his shoulder to keep from screaming as I came. I slid down his body immediately after. Anxious for him to cum for me, I swallowed his entire shaft before he tried to stop me. I choked and gagged, recognizing his taste, and realizing hers. I looked up at him. It was almost impossible to see his eyes, which had become black pools, staring back at me. His momentary hesitation quickly dissipated, replaced by his hands in my hair moving my head at a maniacal pace until he emptied himself into my mouth. We floated off to sleep.
The next morning, I woke to the sounds of distant laughter and chatter. My entire body ached as I tried to stretch against the soft linen across the huge bed. Lifting my head, I saw them through the double French doors. Paul and Lexi had ordered room service and were having some breakfast. Lexi was sitting on one of Paul's thighs, one of his arms around her, under her camisole. I quickly shook off my drowsiness and made out their conversation. You would have thought they were having a power breakfast as they exchanged ideas about branding and fostering a corporate culture committed to creating the great customer experience. She said something about "embodying the brand," and he fed her a slice of succulent pineapple. I dashed into the bathroom to get myself together in a hurry.
It started off pretty awkwardly when I joined them for breakfast. Lexi attempted to discreetly extricate herself from Paul's lap when I came into the room. The two of them gave each other a look and made room for me between them. Ironic, how I became the so called third wheel. It took us a while over eggs, fruit, and croissants to relax with one another. I started feeling more at ease when the caffeine finally got into my bloodstream. I began to understand why Paul was attracted to her. She spoke intelligently about her work and showed a work ethic commonly lacking among those of her generation. Never mind that she was a beautiful young woman with a sexually open mind.
It was a lovely, breezy day out, and I suggested that we take a walk. Very much the firm, body-confident young woman, Lexi started stripping off her cami and pants even before reaching the dressing room. She was clearly trying to give us a little show. What I was unprepared for were the hickies and bite marks all over her body. The sight was such a shock, I gasped loudly and stumbled on some piece of furniture. Then all I could do was stare at her, and the marks that showcased my husband's eyes, touch, dialogue, and physical presence on her. Lexi was confused for a few seconds, but then it clicked for her. She became deliberate and flaunting, forcing me to sense Paul's burgeoning lust and fervor that had splattered her tits, collar bone, hips, and places unseen. I turned to look at him then, his face equivocal and emotionally laden. His eyes looked deep into mine as his hand firmly held the back of my head.
His face leaned down onto mine and hovered, and I felt him pulling Lexi onto us. His lips brushed mine and moved over to kiss her long and deep. His fingers kept their firm grip on my neck while his palm rubbed my heated nape. Then it was my turn. My tongue was in his mouth, plunged into his hunger, getting a faint taste of her that he had not gulped down. Paul wrapped his arms around me and Lexi, and pressed both of us up against him. One of each of our breasts mashed against him. I saw Lexi rub her face on his and kiss along his jawline before she brought her hand up to stroke my cheek. Lexi and I both brought a hand down and reached under Paul's robe, and found that he stood very ready. Her fingers and mine grasped him; we stroked and rubbed him. We intertwined and caressed each other's fingers, and we rubbed Paul together. We kissed Paul together. Our autonomic functions took over. We paused and took in a breath before our lips became fused. Lexi and I were kissing each other. After we broke the moment and opened our eyes, the three of us looked at each other, we knew. We had crossed over the gulf to each other.
We spent the rest of the morning rediscovering sex in this slightly more crowded context, developing our own new triangular language. Paul and I saw each other through new eyes. I tasted him in a different flavor. I heard him roar with lower frequency growls. With Lexi's mouth on Paul's cock and balls, his mouth on mine, I digested his groans while my back bore the pressure of his fingers. I felt the force of his cock fucking her cunt with each pounding thrust of her tongue into my pussy. His breath, drawn deep with the mix of dual female scents, filled his lungs and his cock. I licked Paul's tongue and he licked mine while we both lapped at the fleshy petals covering her wet sex. I watched his initial touches of desire and seduction, his culminating caresses wooing Lexi's arousal. They coaxed my own unbearable stirrings. I slid down beneath them taste them both as he plunged into her over and over again until her climax, churned with his, dripped and gushed into
my mouth.
Need to catch up? Read the Sex Experiment from the beginning: Table of Contents
Then subscribe to our newsletter for a free copy of Mr. X's hot, hot novel, The Known Experiment, and choose to get updates on blog posts, books, and special offers.