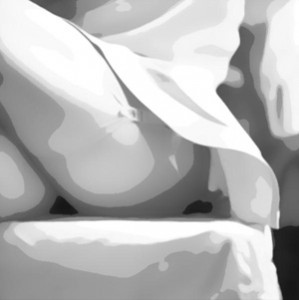 Dearest X,
It has been sort of a dry spell (though never, ever dry down there, I promise!) so your dare was a perfect little change to the routine. I was a little nervous about another one of your technology dares – that phone number you had me set up was not exactly a roaring success if you recall – but it turned out to be very easy and so far a lot of fun.
I won't tell you the site I put my profile up on – coy little me! – but yes I used a few of those sexy photos my husband took last year. Not my face for now, but a couple with me bending over and my curvy little ass in the air, and then a couple of me in this sexy, sheer lingerie. They also have it where you put photos in a private gallery that only people who you give permission can see, and I put some naughtier ones in there. Me with a finger in my pussy, and then one from my neck down to my little red-painted toes with my legs spread and my pussy noticeably wet.
There are obviously a lot more men than women on this site which I guess is no surprise. I said on my profile that I was interested in men, women, and couples, and I got dozens of messages on the first day, all men except for a few couples who wanted to share me (tempting!). I chatted with some of them and although photos of men with hard cocks isn't normally my thing, after seeing one after another you do get a little dizzy! You were also right that there are a surprising number of secretly mouthwatering me in this town. Yes, I put the correct town because I was curious to see what I would find. I haven't seen anybody I recognize – yet. I was also looking through some of the women's profiles, which got me hot. You'll laugh, but mostly I found myself looking at younger women with big tits! Really original I know, but thinking of having some of those tits all to myself really got me turned on, and I think my biggest fantasy right now is probably to have two other women at the same time. Greedy me.
I haven't done the video chat yet, but I probably will soon. I did have two really intense experiences, though. One was with one of these big-titted girls. Her photos were what attracted my attention – they looked like they'd been done by a professional, and when I started chatting with her she told me that they had been taken by her ex-boyfriend. She was single now and wanted to try some new experiences. She was REALLY cute and told me she'd had a woman once before, which was a great experience and the first time she had ever licked pussy, which she loved. So naturally I opened my private album so she could see mine! This was all getting me really excited and I had pushed my skirt up to my hips and moved my underwear aside so I could fondle myself, and everything she was writing, and her photos, just made me so, so wet. We chatted for about twenty minutes. By the end I was pinching my nipples and writing some very naughty things. As soon as I went offline I came fast almost without touching myself again, which is about unheard of for me.
The other interesting encounter was with this really young guy – 23 – but who was funny and intelligent and not even undressed in his main photo. It showed his face, and he was tan and clean cut, but with this mischievous look in his eye. After we'd chatted for a while I was almost dying for him to ask me to open my private album. I wanted to show myself to him – that was a big turn-on, and I wanted to really turn him on too. He opened his first, though, without my asking, and my god! Again, huge cocks have never particularly excited me, but these were just beautiful photos, and I couldn't stop looking at them. I told him that too, and I opened my private album. He got really turned on and we started having what I guess you'd call virtual sex. I even took off my clothes and lay down on the bed with my computer so I could really fondle myself. I told him I loved looking at him and that I wanted his cock inside me. I told him I wanted to suck it and see how far I could take it into my mouth, and then I told him when I came. I felt incredibly naughty and (I'll admit it) particularly delicious. He actually sent me his phone number so we could meet up. I haven't called, of course, but who knows. Whatever happens, thanks for the dare, and I promise to let you know when I have more online adventures.
Big, sloppy kiss,
Me
Need to catch up? Read the Sex Experiment from the beginning: Table of Contents
Then subscribe to our newsletter for a free copy of Mr. X's hot, hot novel, The Known Experiment, and choose to get updates on blog posts, books, and special offers.