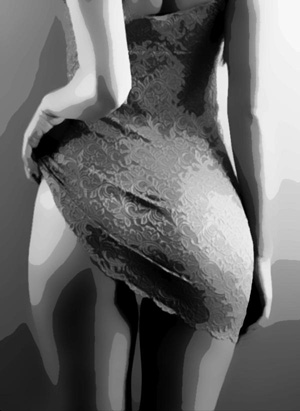 Dear Daring One,
I think it's time for another experiment. Here it is: take me to bed. Show me the places on your body where you were fondled by your husband and your masseur. Let me touch those places, lick those places. Let me kiss your adventurous mouth and remember all the borders you've already crossed in your mind.
The report from your massage has kept me buzzing for weeks, blonde beauty. I always sensed you would keep going further, but somehow you surprised me all the same. I lust for you intensely and revel in your constant awakening. I want to throw men and woman at you from every direction, with cocks to slip into your mouth and breasts to surround with your hands. I want to dare you to fuck the world.
But seduction is an ebb and flow, I realize. Actual fucking is just high tide, but nobody ever tried to argue to that low tide is less beautiful. So here's some ebb for your flow, proposed with the full knowledge that soon enough it will be high tide again, and that your waves are gathering increasing force.
I assume you've played Truth or Dare at some point in your life. Here's a simple challenge: at some point over the next days, I would like you to say those words to someone with all of your seductive charm: "Truth or Dare?" And then I simply want you to play the game with complete honesty. If your interlocutor chooses dare, do whatever they dare you to do. If they choose truth, respond to whatever question they ask with the whole truth, and nothing but the truth, so help you X.
These conversations, and possible actions, may come at anytime, with anyone who might be an intriguing partner in the game. You might play once on a Tuesday and again on a Thursday. All that matters is that you play the game, and if I've learned anything about your skills, this game is one you know exceedingly well how to play.
Massaging you in my mind,
X
Need to catch up? Read the Sex Experiment from the beginning: Table of Contents
Then subscribe to our newsletter for a free copy of Mr. X's hot, hot novel, The Known Experiment, and choose to get updates on blog posts, books, and special offers.