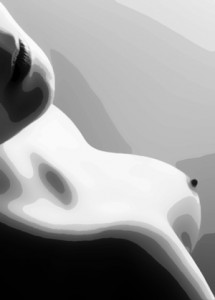 Absence makes the cock grow harder. Isn't that how the saying goes? If not, it should.
Mrs. X and I are still spending most of our time in separate cities, but this summer we got to spend a couple of months in the same bed, and catch up on adventures. In recent months she'd discovered the Internet. By that I mean she'd discovered the excitement of meeting erotic strangers at the click of a mouse.
She'd been dared by Mr. X to put up some sexy photos on an adult encounters site. She'd chatted a bit with a few men and women who looked particularly sexy with their clothes mostly off. And one night, with a proud smile that was also the slightest bit guilty, she told me all about it, and about a few of the people she had met. Of course there was no reason for her to feel guilty. As she sat there behind her laptop, I would have been thrilled if secret admirers had reached out through the screen to caress her thighs.
She also told me that the site had a video chat function, and that one night she and a young man she'd been chatting with for a couple of weeks masturbated together on camera. She hadn't showed him her face – she'd worn a mask she'd also worn for a sexy photo shoot of our own – but she'd showed him just about everything else, and he had too. Across the room, where I sat in an armchair listening, my cock was already hard. I put my hand to my crotch, molding the fabric around it so that she could see its state. I had to admit: my cock looked imposing in my pants like that.
"Did you show him your breasts?" I asked.
"Yes," she said softly.
"Did your nipples get hard?"
"Yes."
"And your pussy? Did you put your fingers inside?"
"Yes."
"How many?"
"Two."
"And your ass? Did you turn around and show him your ass?"
"Yes. He wanted me too."
"Did it excite you?"
"Oh god." Her legs were sprawled out on the couch, and the flimsy wrap she wore had crept up so that I could see all of one hip. Her right hand was at her breast now as her left clicked at her touchpad (the other touchpad, the one on her laptop).
"And what about him? Did he come?"
"He really came," she smiled.
"Tell me about his cock, his body." Silence. "Describe it. I want you to tell me aloud. I want it on your tongue, your lips."
"He was skinny, but he had muscles. I liked the way his hard stomach rippled. After a while he let me see his face. He had a really sweet smile. Also his cock…well…it looked enormous to me. You know that a cock has never been what excites me most about a man…but just watching his hand going up and down on it…it was so hard and shining with this oil…I got so excited I wanted to stick huge things inside of me. So there."
She wasn't wearing underwear. She rarely does around the house in summer. I asked her if she was wet now thinking about the experience, and she smiled. I asked her if she was connected the site right now, and she laughed. And the guy with the rippling abs? She clicked once, twice – no he wasn't connected.
"How do you do it when you're online with someone? How do you show yourself?"
She made a few more clicks. "There are so many men out there. You click through different videos, just one cock after another, in close up. Sometimes it's exciting, the total anonymity, and sometimes I see a particularly beautiful penis and stop and type a few lines back and forth. The most enticing ones, of course, are the ones who show their faces. If he's cute and I'm sort of in the mood, maybe I'll turn on the camera and give him a glimpse. I almost always stop for a woman, but there aren't too many of those. I'm making it sound like I'm on here all the time, but I'm not. Just a few times."
"I want to watch you," I said. "Turn on your camera and find somebody sexy." She smirked, but her eyes were shining, and they didn't budge from the screen, on which I imagined a series of bodies moving past. Finally her clicking stopped, and after moment she tapped out a few words, fingers flying. "Man or woman?" I asked.
"Man," she said, still not looking up at me. "Young, quite cute. He wants to see my tits."
"Then by all means, show them to him." Only then did she look over at me and smile. And pull the neck of her robe open wide while still looking at me. And cup her breasts in her hands. She hadn't put on a mask, as she claimed she'd done the first time, and I wondered how much of her the camera could see. What was clear was that she didn't care, a realization that turned me on more than anything else up until that point. Her confidence, her fearlessness, had me rock hard, had me sliding down my pants till my cock sprung free. Later when we talked about it, she would say: "I was nervous about that at first, and thought people were crazy to show their faces, but then the idea started to excite me, at least with people I'd chatted with a bit, and I realized that if they could see me, then I could see them, and on the distant chance we knew each other, it's not as if either of us would ever talk about it in public." Her easy acceptance of herself as a sexual being excited me wildly. Sex is a club. When we tell club secrets, we identify ourselves as a member. Our lust protects us.
In any case, though she may have been nervous, especially with me watching her, she was fundamentally fearless, and I was so excited, so quickly, that I wanted to have the cameras turned on me, wanted to show my lust. But I watched her instead, slowly stroking my throbbing cock where I sat across the room. I watched as she pulled one side of her robe slowly away from her body so that the end of the silken belt trailed across her body like a soft finger. As her left shoulder – her left side was still partially covered – shrugged free of the silk, an act that seemed even more erotic to me than the revealing of her breasts, the silk that still covered her extended body fell to the side. She giggled at something the man had typed and leaned in to blow a kiss.
Then she moved the laptop further down her thighs, spreading them slightly. Could he see her glistening pussy, whose crevasse she hid with the length of her middle finger? Could he see her dizzy face? I stood and moved forward to assist, kicking my pants and underwear down to the floor. We had to free her body to move, away from that laptop. I pulled a side table down along the couch until it was about at her knees and moved the computer off of her and onto it. Her legs spread almost instantly, one foot down to the floor, as if her pussy had been impatient to open itself wide to the cock I imagined her seeing on the screen. Without a glance for me, as if I were some minor on-set assistant to be taken for granted, she quickly reached out to expertly adjust the angle of the screen so that the camera could see all of her. Then she licked a finger and began rubbing her clitoris with it, in a tight, circular motion, eyes half-closed, moaning slightly, such that I wondered whether these video chats had sound. If he was already groaning, I doubt I would have heard. My teeth were set, and there was just me, and her, and this screen I couldn't see.
A finger dipped deep inside her as she continued to rub her clitoris with her thumb. She was wildly excited, it was clear, eyes fixed on the screen, the muscles of her ass clenching, pressing her cunt towards the camera. Her tongue crept out of her mouth. Was he seeing her tongue and getting close to the edge?
I couldn't take it anymore. I whipped off my shirt and strode over to the couch until my hard cock was just inches from her face. She turned to it like a blind woman towards a flash of light, her lips parting with hunger. She began to move towards me, but no, I didn't want it like that. I wanted to come to her, to step into the frame and participate in this virtual fuck. So I did, pressing forward with my hips as her head fell back on the pillows and she took my frantic cock between her lips.
Oh, she was was aware of the camera, she was aware of fucking for him (I did not look at the screen). She grabbed my ass with her right hand to control the movement of my cock into her mouth…and so that her left arm would not block the camera. She sucked me with a fervor that she had not brought to cock-sucking in a long time, and her fingers stroked down into a cunt that was sopping.
No, I didn't look at the screen. I just let her take my cock deep into her mouth, over and over again, over and over, and I wondered what he was seeing, and wondered if he was still managing to contain what must have been wild excitement.
I'm never quick to come with a blowjob, but after no more than a minute, I was coming quick. She pulled my cock free of her mouth for a moment, eyes wild and delighted, and said, "In my mouth."
And the words were as exciting as the sucking itself, as the exhibition itself, and as her fingers went wild she pulled me towards her again, and I came into her mouth with one savage groan.
Share something sexy:
Sex is a club. Our lust protects us from outsiders. Tweet
Need to catch up? Read the Sex Experiment from the beginning: Table of Contents
Then subscribe to our newsletter for a free copy of Mr. X's hot, hot novel, The Known Experiment, and choose to get updates on blog posts, books, and special offers.